Polk State President Speaks at SAAB National Conference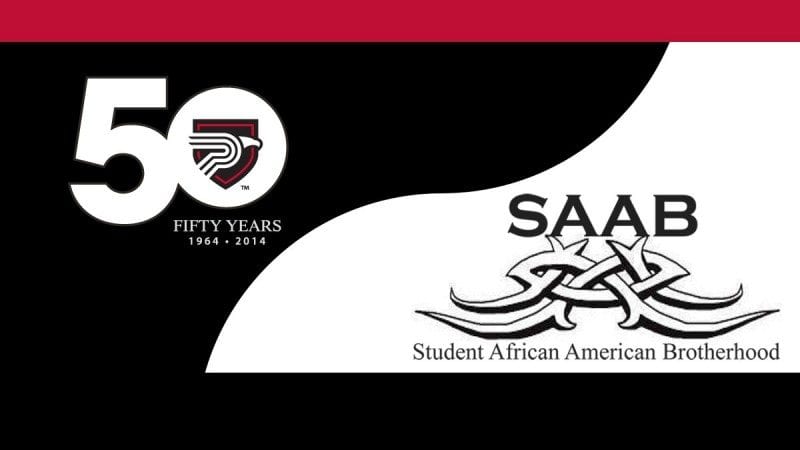 Polk State College President Eileen Holden was a guest speaker at the Student African American Brotherhood's 10th annual national conference.
The convention took place March 28 and 29 in Dearborn, Mich.
SAAB was founded in 1990 and now includes more than 200 chapters at universities, colleges, high schools and middle schools across the United States. The organization's mission is to support African-American and Latino men in their quest for a college degree by promoting positive peer relationships, mentoring and community service.
Earlier this year, Polk State College joined SAAB's national network with the establishment of its SAAB Chapter, which is being called Brother 2 Brother. The organization is open to all Polk State students.
In early March, as a kickoff event for Brother 2 Brother, Polk State Winter Haven hosted SAAB founder Tyrone Bledsoe, who delivered an inspiring talk to a standing-room-only audience at the Fine Arts Theatre.
Bledsoe followed up his successful appearance at Polk by inviting Holden to speak during the opening session of SAAB's national conference.
In her remarks, Holden expressed the College's pride in joining an organization that shares the College's dedication to student success.
"Polk State is very excited to join SAAB, an organization founded on the principles of hard work and helping others. They are simple concepts, but ones that Dr. Bledsoe, and so many of us in this room, know can truly change lives," she said.
Seven members of Polk State's Brother 2 Brother joined Holden in Michigan, and she recognized their efforts to establish the chapter in her remarks. 
"The members of Polk State's Brother 2 Brother chapter are the kinds of students every educator goes to work for each day. They study hard. They help others. They set an example. They make a difference on campus and in their communities.
"Now, with SAAB behind their backs, these students, like all of you, will expand their impact exponentially. At Polk State, we are the Eagles, and we expect all of our students to soar. I know that the students representing us here today will do just that — and to even greater heights than they may have ever imagined."
Students representing Polk State at the event included James Arnold, Lake Alfred; Stephen Baker, Winter Haven; Antonio Cuello, Lakeland; Charles Goode, Lake Alfred; Jesus Jamie, Winter Haven; Casmore Shaw, Kissimmee; and Darrell Sirmons, Kissimmee.
Polk State's Student Activities and Leadership Office sponsored their travel to Michigan.
Brother 2 Brother is one of more than 50 clubs and organizations offered through Polk State's Student Activities and Leadership Office (SALO). In addition to clubs, SALO offers students opportunities to participate in activities and events, engage in community education, play in intramural sports and serve on college-wide committees.