Polk State Philosophy Club's Fall Events Include Clothesline Project, Concert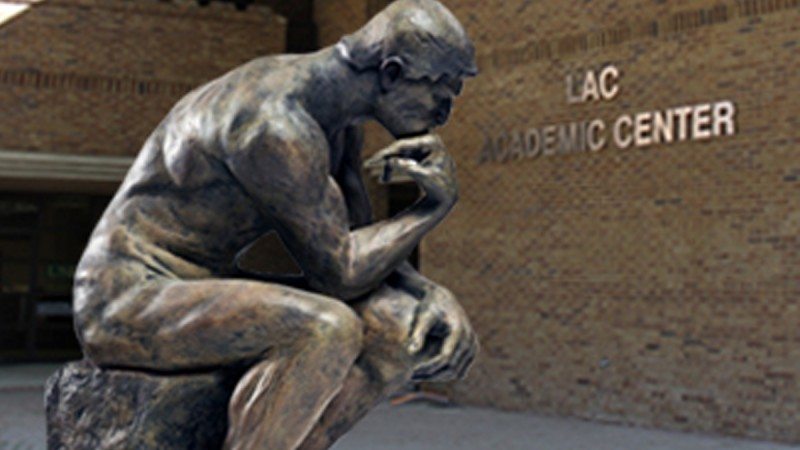 The fall semester is halfway through, but Polk State's Philosophy Club is just getting started on its busy slate of events.
In October, the Club will host a Clothesline Project to raise awareness of domestic violence.
The Clothesline Project began in 1990 in Massachusetts. Participants write messages related to domestic violence — be it emotions they felt as victims or survivors, or words of support for others — on T-shirts that are then displayed.
Since it began, Clothesline has spread to states across the U.S. and foreign countries, too, and the Philosophy Club is pleased to host the project here at Polk State.
"There are a couple ways of looking at philosophy, we can look at it through the lens of semantic ascent, which is when we think of things more theoretically than practically," said Philosophy Club Adviser and Humanities Professor Derek Menchan. "Then there is philosophy as activism. The heart of the Club is sympathetic to activism, and certainly the Clothesline Project is another manifestation of how we bond together and join hands together to show our solidarity."
Polk State's Clothesline Project will take place from 3 to 5 p.m. on Oct. 1 behind the Lakeland Student Center. All students and employees are invited to participate. T-shirts may also be made at 2 p.m. on Oct. 2 in LLC 2298. The Clothesline will remain in place until 1 p.m. Oct. 4.
The Club will then turn its attention to its second Voices of the People concert, titled America, America, which will take place at the Polk State Lake Wales Arts Center, 1099 State Road 60 East, at 7 p.m. on Oct. 26. The concert is free and open to the public.
Now in its second year, Voices of the People is a joint effort by the Philosophy Club and SALO (Student Activities and Leadership Office). Renowned musicians from Central Florida and beyond participate in the concerts. America, America will feature Jarvis Benson, a violist who performs with ensembles throughout New York City; Emilia Mettenbrink, principal second violin of the Firebird Chamber Orchestra in Miami; and Francisco Salazar Vara, a violinist who trained at The Juilliard School. Menchan, an accomplished cellist, will also perform.
The Lake Wales event will feature string quartets by American composers Samuel Barber and Charles Ives, and readings of the works of Henry David Thoreau and other American writers.
Later in the semester, the Club will host a presentation with Houston-based artist David McGee, a renowned painter whose works are held in collections at the Museum of Fine Arts Houston, Rhode Island School of Design Museum, Dallas Museum of Art and Harvard University.
The Club will host McGee at Polk State Lakeland's LLC 2188 on Nov. 13 from 3-5 p.m. McGee will discuss his paintings and the comments they make on aesthetics, politics, and race theory.
McGee will follow the Polk State Lakeland event with a similar engagement at the Polk State Lake Wales Arts Center at 7:30 p.m. on Nov. 14.
Both McGee events are free and open to the public.
The Philosophy Club takes on its fall events under the new leadership of Okandja Beckford, who recently took on the position of president.
Beckford, 19, a Lakeland resident, is originally from Jamaica but graduated from Kathleen High School in 2011. He is planning on continuing his education beyond Polk to earn a bachelor's degree in computer science.
For Beckford, the Philosophy Club engages him more deeply than any other extracurricular activity or club he's tried before, and he encourages others to try the club and its events for themselves.
"This is closer to me than anything else I've ever done," Beckford said.
"The more time I spend in the Philosophy Club, I get a better understanding and appreciation of things. Philosophy helps me to make sense."
The Philosophy Club is one of nearly 50 student organizations offered at Polk State that target a wide variety of interests, from movies to veterans' issues, dance to politics. For more information, visit the Polk State Student Activities & Leadership Office at polk.edu/salo.