Polk State OTA and Kids at College programs collaborate to provide students opportunities through pandemic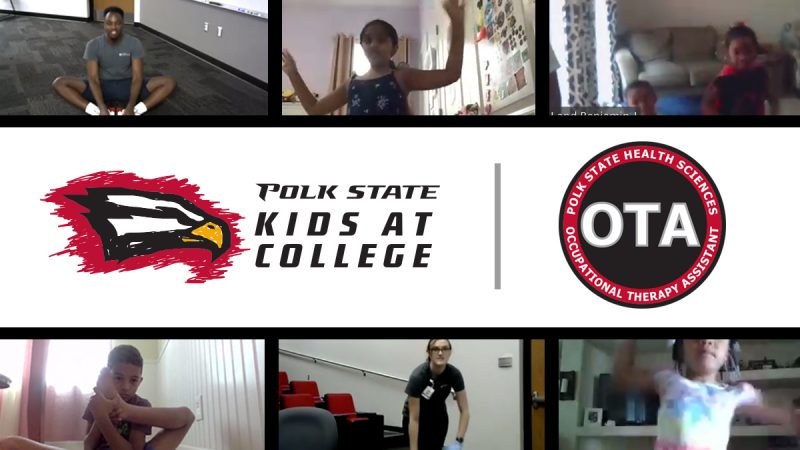 As Polk State College, the greater community, and the world navigate the COVID-19 health emergency, students, faculty, and staff continue to collaborate and innovate ways to facilitate quality learning experiences in the remote environment.
Polk State's Occupational Therapy Assistant (OTA) Program and Kids at College (KAC) Program – two staples in the community for more than 20 years – worked closely and creatively to provide OTA students, as well as KAC children and parents, with creative and engaging learning opportunities as the pandemic has prevented the College from holding traditional programming on its campuses.
"Our students have successfully stayed on track despite COVID-19 thanks to collaborative opportunities such as the partnership between OTA and KAC," OTA Director Anjali Parti said. "Our seniors acted as student therapists and course instructors, focusing on emotional regulation skills, wellness, and yoga, as well as gross and fine motor skills, handwriting, and muscle strengthening."
"Many OTA Program students would have needed to graduate late. But because of collaboration across the College, we were able to provide learning opportunities such as these activities through KAC, and now they won't have to," she added.
Traditionally held on two of the College's campuses in June and July, the KAC Program is popular with families across Polk County for its fun, educational options for children ages 5 through 14. Due to evolving CDC guidelines during what would normally have been the registration window for KAC, the planned two-session, on-campus program had to be quickly revised and reimagined to provide options for the College's summer campers, many of whom loyally participate every year–sometimes in both sessions.
Brenda Bracewell and Heather Heminger quickly adapted the program by developing an innovative virtual platform for hosting KAC favorites via video conferencing and Facebook. Many courses were free, while some had fees between $10 and $40 for materials.
OTA Program students led Energy Engine (an emotional awareness course), Get the Wiggles Out! and Move It! (wellness courses), and the Happy Handwriting courses under the supervision of the OTA program director and academic fieldwork coordinator.
Emily Yates instructed Get the Wiggles Out! for children ages 5 through 8, focusing on gross motor exercises and emotional regulation techniques including deep breathing and sensory seeking. These tasks enable individuals to monitor emotions and feelings, which benefit academic success and social participation, she explained.
"We helped kids identify tasks they can do to 'rev up' and 'cool down' their 'engines,'" Yates said. "The clients – the kids – that I worked with made it incredibly fun and rewarding. I learned a lot about interacting with a group of children of varying ages and interests, in addition to the challenges that technology can present during a virtual treatment session."
Aiden Reyes shares a similar appreciation for the opportunity to instruct a KAC course.
Leading the Energy Engine class, Reyes educated students on emotional regulation techniques and strategies for effectively managing feelings.
"My favorite aspect of the endeavor was having the opportunity to learn from the experience," Reyes said. "Online learning is new for many college-level students and having the opportunity to virtually instruct a class for the first time while demonstrating different skills that I didn't even know I had was wonderful and unforgettable."
Both Reyes and Yates gratefully acknowledged the OTA Program's success in adapting to the public health emergency while providing students with the support they need to persevere during this unprecedented time.
"Barriers to online access were identified and students were provided with different resources and solutions," Reyes said. "Polk State's OTA Program provides quality, affordable education that prepares students with the knowledge and skills needed to be successful, valuable employees after graduation."
The OTA Program boasts a 100 percent licensure pass rate, illustrating its rigor and success in preparing students for the field.
OTA student-instructor Sophia Narayanan said her favorite part of the OTA Program has been learning from experienced, knowledgeable, and compassionate faculty members who genuinely want success for all students.
"As adaptations are part of occupational therapy, it has been interesting to see how our program, faculty, and students have adapted very quickly and effectively to meet program requirements and, most importantly, maintain safety precautions by following Centers for Disease Control and Prevention guidelines," Narayanan said.
As the instructor of KAC's Happy Handwriting course, Narayanan taught exercises and muscle training to enhance coordination and control for neat handwriting. She guided students through letter formation, spacing, sizing, and legibility, while using appropriate pencil pressure to help strengthen fine motor skills.
"My favorite part about participating in KAC was joining the Zoom conference to see the children's smiling faces and excitement for each session," she said. "I am grateful for the opportunity to provide students with fun, interactive handwriting activities which are essential for academic success."
These activities relate directly to OTA students' aspirations to assist future clients with learning or relearning skills for daily tasks in life, she added, as occupational therapy assistants help patients develop, recover, improve, and maintain the skills needed for daily living and working.
"I decided to become an occupational therapy assistant because the profession has a positive impact for people of all ages," Reyes said. "I want to help people to become as independent as possible and reach their full potential while engaging in meaningful activities."
Through the OTA Program's partnership with the KAC Program, students have gained valuable experience in working with children, working in the virtual environment, and sharpening their overall OTA skills despite the challenges presented by the pandemic.
Polk State OTA prides itself on its high pass rate on the national board exam and strong feedback from clinical sites. The application period for the OTA Program opens September 1. The College's Occupational Therapy Assistant Program page provides more information for interested students.