Polk State Nursing Students, Faculty Receive Honors at State Convention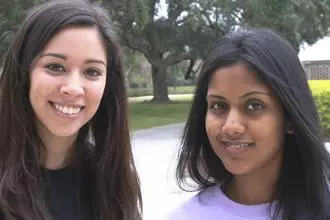 Members of Polk State College's chapter of the Florida Nursing Students Association recently returned from the organization's state convention — and they brought numerous distinctions home with them.
The 58th annual FNSA convention took place Nov. 1-3 in Daytona Beach, and was attended by more than 1,100 students and faculty members from schools around the state.
A dozen students from Polk State's chapter traveled to the event, and of those four were elected to offices on the FNSA executive board.
Farah Ali was elected as director of Region 1, which includes Chipola Junior College, Florida State University, Florida A&M University, Gulf Coast Community College, Pensacola Christian College, Pensacola State College, Tallahassee Community College and the University of West Florida.
Allison Allore was elected as director of Region 4, which includes Florida Southern College, Hillsborough Community College, Pasco-Hernando Community College, Saint Petersburg College, the University of South Florida, the University of Tampa and Polk State.
Also, Edlin Garcia was elected treasurer, and Danielle Pasquince was elected recording secretary.
Polk State Nursing Director Annette Hutcherson also received the FNSA's Director of the Year award. It is her third time winning the award, having previously received it in 2009 and 2011.
"Dr. Hutcherson is a very influential director. We can always go into her office and talk about nursing. She always listens and is very supportive," said Polk State FNSA Chapter President Brittany Parr.
Director of the Year recipients are selected based on students' nominations.
According to FNSA consultant Willa Fuller, Hutcherson is the first director to win the award three times.
"This award means so much to me because it is awarded based on student nominations. Students are the reason I do what I do. It's already reward enough to play a part in their learning and professional development, and then to have them honor me in this way is just incredible," Hutcherson said.
Among other developments at the convention:
Two students, Christina Coomer and Janessa Vasallo, also won an NCLEX review course; the NCLEX is the national exam to become a registered nurse. Coomer and Vasallo competed with other students by answering NCLEX-style questions. The value of each review course is $300.
Polk State students also won the project award. Playing off the FNSA State Convention theme of "United We Can Change the World," students designed a globe affixed with small paper cutouts of nurses, each labeled with a different nursing specialization, such as Intensive Care or Pediatrics. The project was headed by Coomer.
Acting as delegates to the convention were students Ali, Allore, Coomer, Garcia, Pasquince, Polk State FNSA Chapter President Brittany Parr, and Adam Thorpe.
 Polk State students also combined their efforts to raise $600 during the convention that will benefit FNSA scholarships.
Polk State Nursing Professor Lisa Stadelbacher received the Childhood Amblyopia Prevention Screening (CAPS) faculty award. That award is given to a faculty member who has significantly incorporated CAPS into his or her curriculum. Amblyopia is the most common vision problem among children, and can lead to poor vision or vision loss. Stadelbacher has worked to provide hundreds of children with the screening each year for nearly 20 years.
Polk State's Nursing Program is one of several Health Sciences programs offered by the College. The Nursing Program offers Associate in Science and Bachelor of Science degrees, and serves approximately 400 students in any given term. Approximately 60 percent of Polk County's Registered Nurses graduated from Polk State.