Polk State Nursing Alumna: Profession Requires Scientific Mind, Compassionate Heart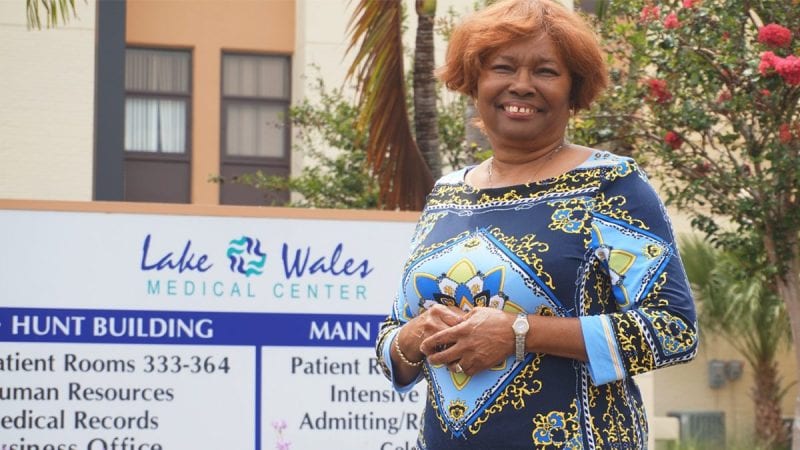 Nearly five decades ago, as a way to pay her tuition, Ivadene Howell went to work as a certified nursing assistant.
It was just a job. Nothing more than a way to pay the bills while she worked toward an Associate in Arts and, eventually, a bachelor's degree in biology.
As it turns out, her work as a CNA would morph into a career that's spanned more than 40 years — and brought her more fulfillment than she ever could have imagined.
"I've been able to see the difference I make for patients every day," she said.
Howell, 67, is a native of Lake Wales, the third of seven children born to Katherine, a domestic worker, and Amos, who tended plants at a local nursery. Neither of her parents had a college degree, but they were relentless in their encouragement of education.
"They wanted us to have better lives," Howell said.
In 1967, Howell graduated from Roosevelt High School, a school for African-Americans before desegregation, and like her parents wished, enrolled at Polk State, which had opened just three years earlier.
Always scientifically inclined, she set out to study biology, until a chance conversation at work changed her plans.
"I was working as a CNA in a nursing home, and one of the nurses there said to me one day, 'You ought to be a nurse,'" said Howell. "She thought I really had what it takes to be a nurse."
What "it takes," Howell said, is a scientific mind and a compassionate heart. Her coworker had noticed both in Howell, and Howell is eternally glad she did.
"I've served my neighbors," she said. "I've taken care of them when they've been at their sickest."
After graduating with her Associate in Science in Nursing from Polk State, she went on to earn a Bachelor of Science in Nursing from Florida Southern College. (Polk State now also offers a BSN Program.)
Her first job was at Winter Haven Hospital, where she worked as a nurse in the surgical intensive care unit.
"Those were the sickest of all the patients. They'd just come out of surgery, and I had to closely monitor their drips, their vitals," she said.
On March 15, 1972 — Howell recalls the exact day — she started at Lake Wales Medical Center. She spent the next 28 years working in the hospital's ICU, eventually becoming the unit's director. She also managed the progressive care unit, where patients are transferred after they've recovered enough to leave the ICU, and served as director of education, instructing the nursing staff on best practices in patient care.
Today, she works as a core measure specialist, which entails closely monitoring patient data to ensure the hospital is meeting standards set by Medicare. Though she spends most of her day at a desk, not at the bedside, Howell is still performing the work closest to her heart: caring for patients.
"I see this as an extension of my role as an educator," she said. "The guidelines are always changing and we're always hiring new staff. I'm an on-the-spot educator, making sure our nurses know what standards they need to meet to assure the hospital is in compliance and that our patients are receiving a high level of care."
Howell also serves on the hospital's Healthy Woman Advisory Council, on the boards of Ridge and Traviss career centers, and on the board of the J.A. Wiltshire Foundation, an organization that provides financial assistance to students pursuing careers as medical doctors. She also spent many years teaching CPR.
For current Polk State Nursing students, Howell hopes she can serve as a role model of what is possible with a nursing degree. Though the word "nurse" conjures images of working one-on-one with patients in a hospital, there are many less obvious opportunities available in the field.
"There are so many things. You can become a nurse practitioner, a school nurse, a nurse anesthesiologist. You can work in research or for regulatory agencies. I've known quite a few nurses who became hospital CEOs," she said. "There is a big world that opens up with a nursing degree."
No matter the course their careers may take them, Howell said, nursing graduates will find that the combination of a scientific mind and compassionate heart will — now and always — be vital to their success.
"Nursing is hard work, and a lot of times, you won't get thanked," Howell said. "When people are sick, they aren't always on their best behavior, and nurses care not just for their patients, but also for their patients' families, friends, and caretakers. We have to be compassionate, and we have to remember that, as nurses, people's lives rest in our hands."
Polk State's Nursing Program is one of several Health Sciences programs offered by the College. The Nursing Program offers Associate in Science and Bachelor of Science degrees. Other Polk State Health Sciences programs include Cardiovascular Technology, Diagnostic Medical Sonography, Emergency Medical Services, Occupational Therapy Assistant, Physical Therapist Assistant, Radiography and Respiratory Care.
Polk State College's history is rich with stories of alumni who have gone on to make impacts, whether in the classrooms and laboratories of prestigious universities, the rough and tumble of commerce, or the halls of political power. Over the years, thousands of Polk State graduates have leveraged their education and experiences at Polk to transform their own lives and the lives of others. This transformation is the essence of what it means to "be Polk." Whether in big ways or small ways, Polk State alumni embrace the challenge of living lives that matter. News@polk regularly profiles these alumni. Their story is the story of Polk. They are The Pride of Polk.