Polk State Mourns Former Trustee Neriah Roberts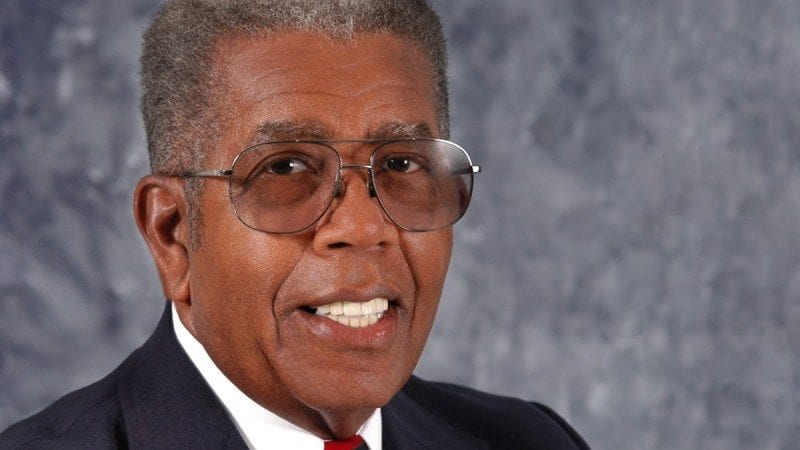 Neriah Roberts, who served as a member of Polk State's District Board of Trustees for 12 years, and who is described as a trailblazer, mentor, selfless friend, and tireless advocate of education and his community, died Monday evening. He was 83.
"Dr. Roberts was passionate about education at all levels. He wanted to make sure Polk State remained accessible and affordable," said Polk State President Eileen Holden. "I fondly remember his guidance during his time as a trustee, and I will miss him."
Added Polk State District Board of Trustees Chair Teresa Martinez:
"This is a great loss to Polk County. He was the essence of educational professionalism. He was a great educator. He inspired me and so many of us. I enjoyed working with him and learning from him," she said.
A native of Lakeland who attended Rochelle Junior-Senior High School during the days of segregation, Roberts went on to earn four college degrees, including a doctorate in education from Nova Southeastern University.
A passionate believer in the power of education to transform lives, Roberts dedicated his life to teaching and ensuring access to higher education. He began his career as a history teacher at Rochelle, steadily climbing the ranks to become an assistant principal, principal and, ultimately, deputy superintendent of the Polk County Public Schools.
Dr. N.E. Roberts Elementary in North Lakeland, just a few miles from the neighborhood where he spent his entire life, is named in his honor.
Roberts, in a post that fit perfectly with his life's work, also served as a member of Polk State's District Board of Trustees from June 1999 to August 2011. During his terms, the College added its first bachelor's degree, the Bachelor of Applied Science in Supervision and Management. Today, the College also offers the Bachelor of Science in Nursing, Bachelor of Science in Criminal Justice, Bachelor of Science in Aerospace Sciences, and is preparing to launch two baccalaureate degrees in education this fall.
Trustee Cindy Hartley Ross recalled Roberts' excitement at being able to offer four-year degrees to the residents of Polk County.
"He wanted to be sure that everyone had a fair opportunity and the resources to get a higher education," she said. "He knew the bachelors' degrees were going to open doors for our community."
While he led entire schools, wielded districtwide influence, and served on Polk State's District Board of Trustees, many consider his true legacy to be the impact he had on individual lives.
Polk State Lakeland Dean of Student Services Sylvester Little was a student at Lakeland Junior High School when Roberts was principal. Little described Roberts as a "distinguished disciplinarian," who strived to make students see the big picture of their lives, and how their decisions in the sixth or seventh grade could have long-term repercussions.
"I was sort of a bully. When I was sent to Dr. Roberts' office, he told me that people who are bullies either end up in prison or dead. He told me that he needed to keep that from happening to me," Little said.
"I could have gone down the wrong road, but that caught my attention. It was very powerful to hear. When you say that to students, it gives them a different perspective."
Little added that while it was his elementary school teachers who sparked his interest in a career in education, it was Roberts who inspired his ascent to administration.
"As a black man, Dr. Roberts showed me I could achieve anything," Little said.
"He was a trailblazer."
Polk State Vice President of Student Services Reggie Webb shared Little's sentiments.
"He was a very strong role model for the black male. He proved that you didn't have to leave the neighborhood to be successful," Webb said.
Tanya Matthews, a member of Roberts' church who followed in his footsteps from classroom teacher to principal, sought his counsel throughout her own career.
"He loved helping people," Matthews said.
"We've lost a giant of a man, but also a very humble man. He didn't like accolades. He didn't like to be praised. He just wanted to always be there for everyone else."
Matthews recalled that Roberts didn't even like to receive gifts at Christmas, and to take him out to dinner, she and her friend would have to trick him, telling him that they just wanted to "show him something" in town.
Late in his life, Roberts authored and self-published a book about Lakeland's history titled, "The Evolution of African-Americans, Lakeland, Florida (1883-2014)." Matthews said it was important to Roberts that future generations understand the contributions of African-Americans to Polk County.
"He was determined that we know our roots and that we pass it down," Matthews said.
Thelma McCann taught with Roberts early in his career. When her husband died in 1987, Roberts began calling her every morning, just to make sure she was OK. He continued that practice until two weeks ago.
"He would call to see how I was doing. Sometimes he would just say, 'good morning, you guys OK,' and then he had to go," she said.
When McCann told Roberts how much his friendship meant to her, his self-effacing reply was: "That's just what I'm expected to do."
Aside from education and helping others, Roberts' greatest passion was his church. He was a longtime member of Harmony Missionary Baptist Church, where he had served in numerous capacities, including as a deacon and, until just a few months ago, Sunday school teacher. His wife, Yvonne, said that he considered teaching Sunday school to be among his greatest achievements.
"Sunday school was his heart," she said.
Yvonne recalled meeting Neriah and thinking "I wish this man would leave me alone," but her initial annoyance grew into a love that would endure through 61 years of marriage. Ross commented that Neriah's would grin and light up even at the mention of Yvonne's name.
"People ask how do you stay married for 61 years," Yvonne said. "I think we just understood each other."
Their union produced one son, Ronald.
"He set the bar for my growth as an African-American male, and raised the bar and supported me in my ascent to success and being responsible. He was the epitome of a role model and father," Ronald Roberts wrote.
Neriah Roberts is also survived by two grandchildren.
Service arrangements have not been determined. Those wishing to share a memory or sentiment may do so at the Polk State Facebook page. Polk State provides counseling to students, faculty and staff in need.