Polk State Mourning Loss of Longtime Art Professor Gary Baker; Celebration of Life Planned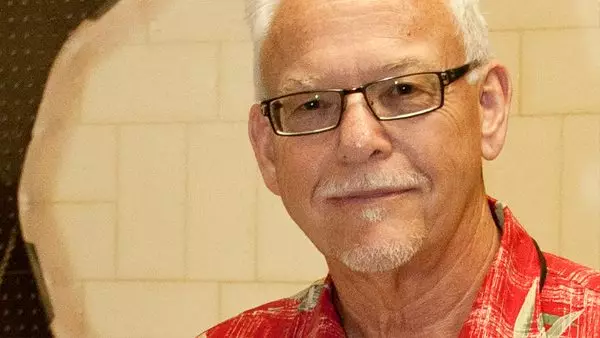 Just weeks after honoring him for nearly four decades of service, Polk State College is mourning the loss of Art Professor Gary Baker, who died earlier this week at age 66.
Baker worked at Polk State for 37 years, a tenure that was celebrated on numerous occasions prior to his retirement in December 2013.
"Professor Baker touched so many students in his career, as well as his colleagues, and the news of his death has hurt us all," Polk State President Eileen Holden said.
"If there is any peace to be found during this difficult time, it's that Gary knew how much he was appreciated. I know I'll never forget the smile on his face during  last fall's commencement ceremony and at the retirement reception we held for him late last year. He didn't leave this place — or sadly, this earth — without Polk State having thanked him for his dedication and his tireless work for our students. He knew we loved him dearly."
Baker was born in Oklahoma, and discovered his passion for art through his mother's craft-of-the-month club. The crafts would arrive by mail and Baker's mother would give them a try, but many times she had to abandon them to attend to the more pressing demands of day-to-day family life. Baker often ended up completing the projects.
"I remember one of them was flower-making. I got really into making those flowers," he recalled in a 2012 interview with News@Polk. "If you gave me a bunch of wood pulp, you would get a whole bouquet of flowers."
By the time Baker was in high school, his family had moved to Connecticut, where he studied under his first art teacher and his interest in art began to crystalize as his life's passion. He went on to earn a bachelor's degree in art from the University of Connecticut and a master's degree from Florida State University.
In 1977, he arrived at Polk State College, where he quickly established himself as a teacher who would critique honestly, but always constructively, helping students to recognize and maximize their strengths and improve on their weaknesses.
"His critiques are very honest, but also kind," said Melissa Hallock, a Polk State graduate, in 2012. "What he says is meant to make you better at what you do. I always appreciated that. I don't want someone telling me it's good when it's not, because in the real world, no one is going to give you any gold stars."
Baker's influence was not limited to students he taught later in his career; even those decades removed from the College still carry his advice with them.
"He taught me that the education you receive is good, but to always rely on your instincts and stick with what you know," said Vicki Jenkins, who studied under Baker in the late 1970s, in a 2012 interview with News@Polk.
Tied to his style of critiques, Baker once said, was his deeply held belief that everyone possesses some form of artistic ability.
"People think that art is this rarified thing and that only a few people in the world are creative," he said. "But my response is that everyone is creative in some way, whether it's in how they dress or playing the piano."
Baker, who at some point during his career taught nearly every art class the College offers, was perhaps best known for teaching basketry. He began offering the class in 1980, and through the decades it was always a popular choice among students.
In 2011, one of Baker's basketry students won Best of Show in the Student Art Exhibit at Polk State's Winter Haven Fine Arts Gallery, the first time a basketry student had won the top prize.
"I was so thrilled. He is a very supportive teacher," Peg Critendon said in 2012.
Critendon said she struggled with basket weaving, and Baker's class was even more difficult for her because a health condition hindered her ability to keep up with the volume of work the rest of the class was producing.
Baker, however, never doubted her potential. Even when her baskets came out round instead of square, he encouraged her work.
"Mr. Baker created a very generous environment," she said.
Critendon wasn't the only student who said Baker helped her express herself artistically even when physical limitations posed a challenge.
Laura Hawkins shared a similar story in August 2013, when describing a vase she'd recently finished.
Hawkins has severely limited eyesight, but Baker helped her work around her condition, teaching her how to compensate for imperfections resulting from her condition.
"Professor Baker has taught me to accept that with art, sometimes what it isn't is the best part about it," she said. "Going with your project, and making it work for your abilities, is the best part."
News of Baker's passing has hit Polk State Fine Arts particularly hard.
Art Professor David Woods, who knew Baker nearly 20 years, remembered him as "a wonderful friend, compassionate teacher, and an understanding and caring person who was loved by all."
Woods added that even during the recent winter break, Baker was on campus to finalize a student's grade — just another example of his enduring commitment to the College.
Fellow Art Professor Holly Scoggins said:
"I was disheartened walking into Gary Baker's classroom today, knowing he was gone. But I turned the corner and on the whiteboard, his students had written, 'We will miss you so much Professor Baker.'
"They wrote this for him on his last day, showing their love for him as a teacher and a friend. He left his classroom knowing his students loved and appreciated him."
She continued:
"I arrived at Polk State and the first thing Gary Baker said to me was, 'you know, I was your age when I arrived here, and I have never wanted to leave.' He was more than a mentor. He took me under his wing. He guided, loved, encouraged and validated me. He answered my questions, listened to me, and even fed me when I was hungry. His energy and spirit is so engrained in the walls of the Art Department. I will cherish every day I have the honor to teach in his room."
Art Professor Pavel Amromin, who was hired to fill the gap Baker's retirement would leave, said:
"He was always really open and welcoming, even before Day 1, when I was still in the interview process.
"People have referred to me as the 'new Gary Baker' but he was always very careful to say that this is my program now, that I should do what I think is best. He was always careful to give me my space and encourage me to take leadership of the program, and I really, really appreciated that."
The College will host a celebration of Baker's life on Jan. 14 from 4 to 6 p.m. in the Polk State Winter Haven Fine Arts Theatre. A reception, which will feature Baker's works of art, will take place afterward in room WST 126.
Those wishing to share a memory or sentiment may do so at the Polk State Facebook page. Also, the Polk State College Foundation is establishing a scholarship in Baker's name. Baker's family has asked that contributions be made to that fund in lieu of flowers.
Polk State provides counseling services to students, faculty and staff in need.