For Polk Student, Vase Is a Lesson In Perseverance, Adaptation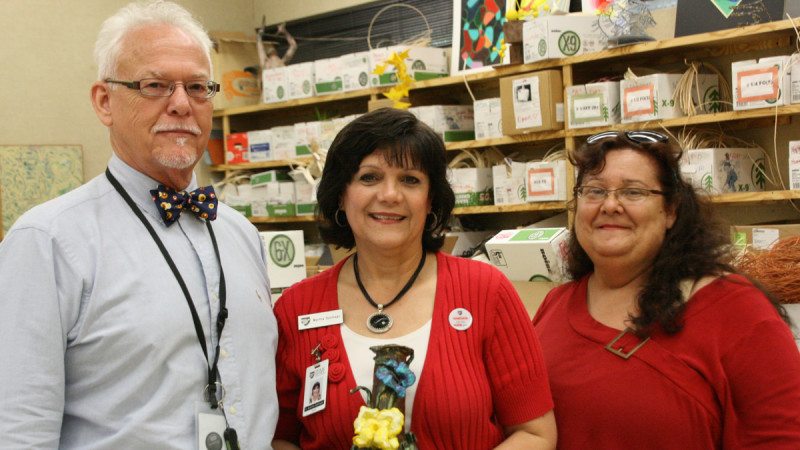 To anyone else, the vase student Laura Hawkins recently presented to a Polk State administrator is precisely, and only, that — a vase.
To Hawkins, Art Professor Gary Baker and Dean of Academic Affairs Martha Santiago, however, it's handmade, kiln-fired proof that there's no obstacle — not even severely limited eyesight — that a determined student can't beat.
"Since coming to Polk State, I've learned to turn stumbling blocks into stepping stones," said Hawkins, 56, a resident of Bartow. "Every time I pick up a hunk of clay, I have to overcome. But I will overcome."
Hawkins said she suffers from a number of visual impairments, including kerotoconus, an eye disease that affects the structure of the cornea, causing blurred vision, cataracts, and a form of color blindness that leaves her unable to perceive certain shades of blue.
The latter condition is part of what first brought her to the attention of Baker.
Hawkins was enrolled in the online course Art for Teachers and was having trouble completing assignments because she couldn't see blue text on her screen or on materials she printed for the class.
She went to Baker, frustrated. When he finally figured out what the problem was, he adjusted the color settings for the course materials  — and so began what has been a long teacher-student relationship.
Hawkins has since taken numerous Visual Arts courses, including Design, Drawing, Digital Photography I and II, and Ceramics I and II.
Her eyesight poses a challenge every day. She has particular trouble with distance; even objects just a few feet away are difficult to discern.
"As far as teaching her, I've learned that whatever I'm showing to others, I have to bring a version that she can see up close," Baker said. "If I'm showing a PowerPoint, I'll print the slides off for her.
"She also uses some devices, like a magnifying glass, in class. Because of her eyesight, some things take her longer than they would others, but anything she puts her mind to, she does well."
About a year ago, Hawkins was toiling over a vase in Baker's classroom, when Santiago stopped in for a visit. She spent a few moments speaking with students, admired their work, and went on her way — but the encounter left a strong impression on Hawkins.
"It was so sweet for her to come in. It was a privilege to show her my project," Hawkins said.
Hawkins so appreciated the time Santiago spared that she decided to make a second vase just for her. Hawkins even named the work "Martha."
"I'm amazed that she would even think about giving me such a wonderful gift," said Santiago, shortly before receiving the vase in Baker's classroom last week.
Santiago will display the vase in her office, WSC 101-A at Polk State Winter Haven, and Hawkins hopes it will serve as constant reminder of the difference the College makes in lives every day.
The vase took longer for Hawkins to make than it would have other students. Students were to use templates, building their projects to be perfectly symmetrical, Baker said. However, because of her eyesight, using the templates proved difficult for Hawkins.
With Baker's encouragement, she added three-dimensional elements — a butterfly, vines and a flower — to compensate for any imperfections in the vase's overall shape.
It wasn't the first time that Baker's support has kept her moving forward, Hawkins said.
"Professor Baker has taught me to accept that sometimes art, what it isn't is the best part about it," Hawkins said. "Going with your project, and making it work for your abilities, is the best part."
What she's learned at Polk under the direction of Baker — to just keep going, do the best you can, and make situations work for you — has an impact on all areas of her life.
Hawkins is studying toward her Bachelor of Applied Science in Supervision and Management, following the Business Information Technology track. In addition to her educational pursuits, she hopes to eventually work with the physically and mentally challenged, helping them to to express themselves through art.
Thanks to her vision impairments, none of her goals will be easy to attain — but she won't give up.
"My art classes have taught me to take things one step at a time, to learn one thing and then another, and keep building on it, like building blocks. They've taught me not to quit. I won't quit and I will get my degree," she said.
In addition to Polk State Visual Arts, Polk State Fine Arts includes the College's Music and Theatre departments, all of which enjoy outstanding statewide reputations.