Polk State's Gary Baker Honored for Reaching 35-Year Milestone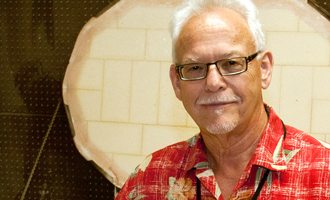 The longest-serving employee honored at Polk State's annual convocation this week was art professor Gary Baker, who in his 35-year career has inspired countless aspiring artists, encouraging them to always see the possibilities in their brushstrokes or basketry.
"I've tried to eliminate the word 'can't' from the vocabulary in the Polk State art department," said Baker. "I truly believe that everybody has something that they can contribute to art."
That philosophy, and his tireless commitment to it, is the basis for his rich legacy at Polk. Generations of students have grown as artists under his watch, and faculty and staff have watched that process with admiration time and again.
"Some people last a long time in institutions like ours by staying under the radar — by not being noticed. Gary Baker, however, has made an impact every day he's been at the College. His passion for his art, for his students — and, ultimately, for the mission of our College — have, I think, given him no choice but to be noticed and to make a difference. I brag about the quality of our faculty on a regular basis, and I can't think of a better example of what our faculty members represent than Gary. He's an absolute treasure," said Polk State President Eileen Holden.
Finding Art
Baker, himself an accomplished artist who has excelled in practically any medium one can imagine, said his passion for art education is linked to the influence of his first art teacher.
Born in Oklahoma, Baker didn't show a particular affinity for art in his early childhood.
"I was just a kid being a kid. I played sports and fought with my brother," he said.
By middle school, his mother, a stay-at-home mom married to a Marine, had joined a craft-of-the-month club as a frugal way to make the elegant home decorations and clothing that were expected of a military wife.
"Living on a military base, the wives were required to be genteel and elegant even though the military didn't pay sufficiently for families to live that way. There was very much this idea of military life being like 'An Officer and a Gentleman,'" Baker said.
The crafts would arrive by mail and Baker's mother would give them a try, but many times she had to abandon them to attend to the more pressing demands of day-to-day family life. Baker often completed the projects for her.
"I remember one of them was flower-making. I got really into making those flowers," he said. "If you gave me a bunch of wood pulp, you would get a whole bouquet of flowers."
By the time Baker was in high school, his family had moved to Connecticut, where he studied under his first art teacher, Constance Dodge, and it was under her direction that his interest in art began to crystalize as his life's passion.
"She really tried to put a positive spin on all her critiques," Baker said. "She would always put the emphasis back on the student and what a student could do to improve and become a more balanced artist. That's something I've tried to emulate."
Reached at her home in New York state, Dodge said Baker's enthusiasm for art made an unforgettable impression on her, and she isn't surprised to learn he's had a long-term teaching career.
"He was an excellent art student," Dodge said. "He just had a wonderful personality and he was able to really connect with others, which I'm sure has helped him in his teaching."
Florida Bound
After earning a bachelor's degree in art from the University of Connecticut and working for a short time as a public school art teacher in Bridgeport, Conn., Baker headed south and enrolled in graduate school at Florida State University.
He came to Polk State in 1977, and quickly established himself as a teacher who would critique honestly, but always constructively, helping students to recognize and maximize their strengths, and improve on their weaknesses.
In the more than three decades since — years that saw him teach with his infant daughter strapped to his chest and his hair turn white — his approach to instruction has remain unchanged, and generations of students have been the beneficiaries.
"His critiques are very honest but also kind. What he says is meant to make you better at what you do. I always appreciated that. I don't want someone telling me it's good when it's not, because in the real world no one is going to give you any gold stars," said Melissa Hallock, who graduated from Polk State in spring 2012 and is continuing her education at Warner University.
The suggestions Baker gives during critiques transcend media, Hallock said, making students better all-around artists.
"I'm a better artist because of him," she said. "I'm even a better photographer because of what I learned in Gary's classes. What I learned in Gary's design classes helped me to understand how to set up a composition better. He gave me a better foundation in a lot of other areas."
Hallock currently teaches art in Winter Haven, and says she channels Baker in her work as an educator, too, especially when critiquing her high-school students.
Baker's influence is hardly limited to his recent students — even those decades removed from the College still carry his advice with them.
"He taught me that the education you receive is good, but to always rely on your instincts and stick with what you know," said Vicki Jenkins, who studied under Baker at Polk in the late 1970s.
Jenkins now works as a secretary in Gainesville, but also paints, designs fabric and makes jewelry that she sells online.
"He introduced me to drawing what you  feel, not being too structured," she said.
Tied to his style of critiques, Baker added, is his belief that everyone possesses some form of artistic ability.
"People think that art is this rarified thing and that only a few people in the world are creative," he said. "But my response is that everyone is creative in some way, whether it's in how they dress or playing the piano."
Bringing Basketry to Polk
In his time at Polk, Baker has taught nearly every art class the College offers, from Painting to Drawing to Ceramics, as well as Humanities and Mythology — the only one he hasn't led is Photography, a medium he feels is best left to professionals.
The course he may be best known for, however, is Basketry, which he began offering 32 years ago — and which has been a popular choice for students ever since.
Baker had never attempted basket weaving until a pair of artists visited the College and hosted a workshop.
"I just fell in love with the process and the structure of making baskets," said Baker during a conversation in his office, where the walls are lined with his woven creations.
To continue exploring the medium, and share his newfound joy with his students, Baker began offering the course — and the reception couldn't have been more positive, with students signing up each semester, eager to weave their reeds and build baskets in all shapes, sizes and colors.
One of Baker's recent Basketry students was Peg Critendon, who in fall 2011 won Best of Show in the Student Art Exhibit at Polk State's Winter Haven Fine Arts Gallery. It was the first time a Basketry student had taken the top prize.
"I was so thrilled. He is a very supportive teacher," Critendon said.
Critendon, an Eagle Lake resident whose long career as an artist has primarily focused on painting, said the win was even more satisfying because she had struggled in Baker's Basketry course — but he never gave up on her potential.
During the course of the semester, baskets that Critendon intended as square would often turn out round. Also, hindered by a health condition, she couldn't keep up with the volume the rest of the class was producing.
"In the fall semester, I only made four baskets, but everyone else could make eight," she said.
Baker never pried into the details of her health problems, providing a refuge from her reality outside the classroom. Rather than dismissing her baskets as misshapen, he encouraged her to work with the forms that emerged —and to put a piece of herself into each one.
"Our duty as students was to attend class and follow his written directions when it came to materials and dimensions, but the students were permitted great latitude in choosing supplemental materials and embellishments such as beads or feathers. He guided the students to creating a successful structure, but he permitted them to employ great creativity," she said.
"I've taken 11 semesters of painting at Polk State, and most of my items were sold or entered into art shows. But I had a different thought with basketry: I wanted to create them as gifts, and because of that I wanted to put my whole personality and self into them. Mr. Baker created a very generous environment for doing that."
While basket weaving is often the butt of jokes — used as the ultimate example of an easy or useless class — Baker knows well that is not the case.
In his classes, students must envision the architecture of their baskets. They must tame the stubborn reeds and build with precision. The class, he said, is really about problem-solving.
"Creativity really is just problem-solving," he said.
One More Year
Baker plans to work at the College for another year before retirement, but his plans do not involve coasting in any sense of the word.
He'll still teach his usual nine to 10 classes per semester, and he'll help the College expand its arts presence in Lake Wales, both through classes offered at Lake Wales High School and classes that will soon be offered at the Polk State College Lake Wales Arts Center.
When he does finally pack up his office, and all those baskets it contains, he'll focus on his own art, especially his most recent passion of creating collages using Japanese tissue paper. He might even return to Polk as a student to study that one medium — photography — he's never taught himself.
No matter where he goes after retirement, his legacy will remain, both in the hearts of students, as well as his faculty members.
David Woods, who teaches photography at the College, said Baker has been a mentor to him for 15 years.
"Gary has the most positive attitude and he is very good at what he does," Woods said. "He is one of the people who is the heart of the College."
Woods jokingly added that no story about Baker would be complete without some mention of his always-casual wardrobe of shorts and sneakers.
"The one thing I hope I can carry with me in my future here at Polk State is Gary's wardrobe. He's inspired me to carry on his tradition."