Polk State Metallica Scholar overcomes adversity, gets opportunity to take guitar company to next level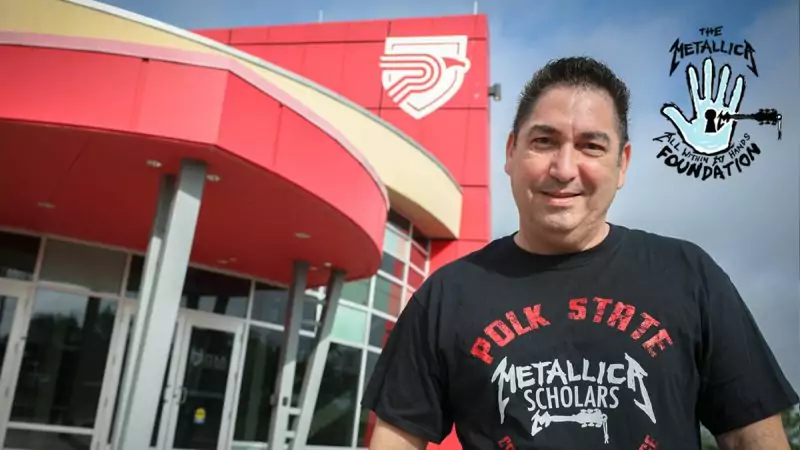 As a musician, Noel Rosa's resume speaks for itself, but there have been numerous trials and tribulations along the way. Rosa, 55, of Lakeland, takes great pride in finding solutions to his own problems.
This time, he had some help from a nonprofit founded by another group of well-known musicians. Through Metallica's All Within My Hands Foundation, in partnership with the American Association of Community Colleges, Rosa is receiving valuable computer numeric control machining training at Polk State College at no cost to him. His new skills will greatly help his guitar company, New Sound Acoustics.
"It was an incredible help at a time when I needed it the most," he said. "I'm so grateful for this opportunity because I would have never been able to afford to do this course if it wasn't for Metallica's scholarship. The fact that they're doing this is absolutely amazing."
All Within My Hands aims to build sustainable communities by supporting workforce education, the fight against hunger, and other critical local services. The CNC Machining Program at Polk State Corporate College is a high-intensity, eight-week course that readies students for in-demand, high-paying careers and is supported by the Metallica Scholars initiative.
"I could see a person who really wants to excel and better themselves and they can't afford to do so," Rosa said. "To be able to receive this grant to go through a course like this that will enrich their life with better pay and with a skill set they did haven't before; now, that's life-changing."
"It's not only life-changing for the person, but it's life-changing for their children, for their family, for their community," he added. "The impact that it makes on a big ripple scale is absolutely amazing. Props and thanks to Metallica and their…foundation for doing such a beautiful thing."
"A Natural-Born Passion"
Rosa's passion for music goes back as far as he can remember. Family members recall him dancing to the radio as a young child. His first drum set came at the age of 5 and featured Snoopy from the Charles Schulz comic strip, "Peanuts".
"It's just a natural-born passion," he said.
For more than 30 years, Rosa has been touring and performing in musical shows. A man of Christian faith, Rosa has opened for the likes of Switchfoot and Eddie Money along with other well-known contemporary Christian bands such as DC Talk and Audio Adrenaline.
Born in the projects of North New Jersey, Rosa's musical career began in the church. By the age of 8, he was playing for local churches. Rosa was signed by CBS Records shortly after high school.
"I had two absolutely incredible parents," Rosa said. "You couldn't ask for better parents than my parents.
"I grew up basically in the church environment, surrounded by a strong community – very loving," he added. "Really, that's where my music flourished."
Through Adversity Comes Opportunity
In the 1990s, an injury from a car crash limited Rosa's ability to play the drums. To avoid having to give up or take an extended break from music, a fellow musician urged Rosa to learn to play the guitar. Four years later, he won his first award as a guitar player.
Following a performance in 2009, Rosa's ability to play the guitar was also in jeopardy after a large piece of equipment fell on him. The accident caused Rosa severe back pain. Through his newest bout with adversity, New Sound Acoustics was born.
"I couldn't find a guitar light enough that didn't bother me on stage, so basically, I did a world search and I wasn't satisfied with anything I found, so I designed my own guitar," he said. "I toured with it and I said, 'I'll never tour with another guitar again.' It's the greatest sound-wise and it only weighs three pounds."
New Sound Acoustics makes custom lightweight acoustic guitars. With his arms and shoulders unable to take the weight that comes with a typical guitar, Rosa's creation allowed him to continue to perform and tour. He soon learned that his creation had market demand.
Originally, Rosa thought that his target audience would be millennials as he marketed his product as the guitar of the next generation. Soon after, he learned that older musicians with bumps, bruises, aches, and pains saw his product as a remedy to continue playing while limiting the stress on the body.
"As I was touring, other professional artists started to ask me for these guitars and the entrepreneurial light bulb went off," he said.
Another Roadblock
In 2016, Rosa's career hit another roadblock. While on tour, Rosa found himself battling feelings of severe fatigue. Shortly after, he was diagnosed with stage 4 cancer and forced to quit touring for a year.
"When I got diagnosed, I said, 'how soon can we get rid of this thing and treat it?', so I could move on with my plans here on earth to affect other people's lives and also make life better for my children," he recalled.
A divorced father of three children — Gavin, 22, Megan, 16, and Grayson, 5 — Rosa's cancer is currently in remission. When Rosa arrived at Polk State to begin the eight-week program, he was still having to take oxygen. Rosa said he was grateful for how understanding his fellow students, staff, and professor James Gibbons – better known as "Mr. Gib" — were of his situation.
"The staff here is absolutely amazing," Rosa said. "I was just blown away at how kind Jamie (Rowan), the director of the program, and 'Gibb,' my professor, were and just so accommodating. They took away any fear."
Lessons Learned and What Comes Next
Since his company's inception in 2009, Rosa has sold thousands of custom guitars. The designs are his, but to this point, he has had to outsource the manufacturing. Once he completes the program, Rosa will be able to do the work he's currently outsourcing himself.
"The course has been absolutely amazing," he said. "It will save my business thousands of dollars."
Rosa has been working out of the Lakeland-based incubator called Catapult. He looks forward to the day when he can produce guitars with the machines that he once had to pay others to operate.
"I felt every time I walked into Catapult that I don't have the knowledge to run these machines, yet I'm producing this incredible product," Rosa said. "By taking the course, it will give me the ability to run the machines, know the machines, and know the guitars…from their inception."
The Maker Space, where the guitars are manufactured at Catapult, opened in July 2021. Christin Strawbridge, president of Catapult, is excited about what the CNC Program is accomplishing.
"What we're seeing is that there is a real labor demand for people who work these types of machines," she said. "For Polk State to work to meet that demand is really a wonderful thing."
Rosa said he appreciates how nice the machines are on campus and the tutelage that his professor gives. Gibbons, Rosa said, teaches by the book, but has four decades of real-world experience to explain how the concepts translate to the workforce.
"My favorite thing about this course is the way my teacher is teaching it," Rosa said. "He takes us through the formulas, the mathematics of it, and why it's important that everything lines up perfectly."
In addition to touring and designing guitars, Rosa also enjoys teaching and trying to inspire others. He holds guitar clinics and workshops at local high schools, colleges, and other venues. Rosa also uses those opportunities for motivational speaking and sharing his story.
"I like to stay busy, but I make sure I take time management and make sure I spend time with my kids and my family and balance the things I have to do business-wise," he said.
Rosa is set to graduate in early May.
"What I plan on doing after I graduate the course is to grow New Sound Acoustics, start working with a new producer on a new album, start touring again," he said. "My goal is to grow my guitar company and there are also other products in the music industry that I have patents for that I want to produce."
Over the last 13 years, Rosa has sold thousands of custom guitars to musicians in countries across the world. He hopes the legendary band that has given him this opportunity will have the chance to use his signature product.
"I want Metallica to play with my guitars," Rosa said. "Absolutely."
The next class of Polk State Metallica Scholars will begin on August 8. More information is available at www.polk.edu/metallica.