Polk State Medical Imaging Programs Thrive With Homegrown Talent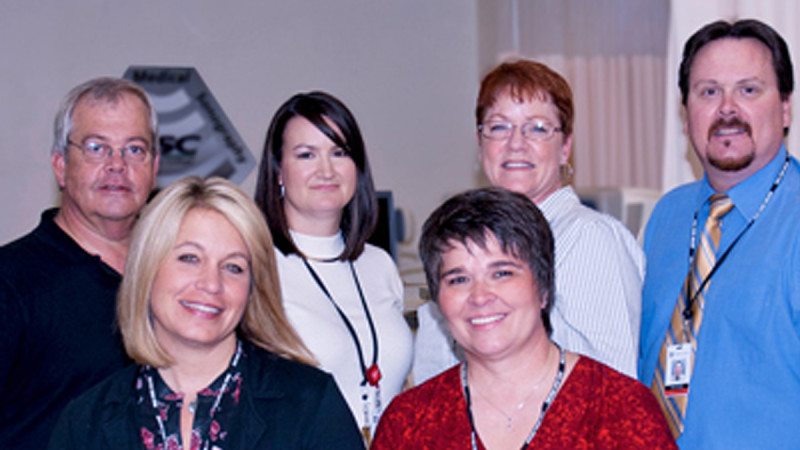 School pride runs deep in Polk State Health Sciences, especially in its trio of medical imaging programs, where all three program directors are alumni of the College.
Merrybeth Etherton, Kevin Ferrier and Beth Luckett all graduated from the College's Radiography program. They each worked in the field, gained advanced training and specializations, and eventually found their way back to their alma mater — where they share a special bond and a deep connection with their students.
"We're all very proud to have graduated from Polk State, and we're humbled to have had the opportunity to come full circle," said Luckett, Radiography program director.
Talk to Etherton, Ferrier and Luckett about their professional connections and a mental image of a triangle filled with crisscrossing lines begins to form — and many of those lines trace back to Luckett.
Luckett graduated from Polk State's Radiography program in 1985 and went on to work for 16 years at Winter Haven Hospital. In the last seven of those years, she worked as a clinical instructor, giving Polk State students a dose of real-world experience before they graduated.
In 2000, she became Polk State's Radiography clinical coordinator, overseeing all that is involved when students work at clinical sites.
"While I was working at Winter Haven Hospital, I always stayed in connection with the program, and watched as the program progressed and grew," she said.
In the late 1990s, while still a clinical instructor at Winter Haven Hospital, she trained her now-colleague, Ferrier.
Ferrier graduated from Polk State in 1994 and followed Luckett to Winter Haven Hospital, where he worked as a radiography technologist for about a year. He then moved to North Carolina and trained in Cardiovascular Technology (CVT), a medical imaging specialization that involves assisting physicians with the diagnosis and treatment of heart diseases.
In 1998, he landed a job as a cardiovascular technologist at Johns Hopkins Hospital in Baltimore, but returned to Florida two years later, working at both Lakeland Regional Medical Center and Heart of Florida Regional Medical Center in Haines City.
"Then I got a phone call from Beth, who wondered if I would be interested in coming back to Polk State to start the College's new Cardiovascular Technology program. I was honored that she thought I was the right person for the job. I came back to Polk in March 2007, and the CVT program started that August," he said.
That same year, Luckett became interim program director of another fledgling program at the College — Diagnostic Medical Sonography (DMS), which trains students to collect ultrasound images.
As the program was getting off the ground, it caught the attention of Etherton, who graduated from Polk State's Radiography program in 1990.
Etherton had worked for five years as a radiography technologist at Bond Clinic in Winter Haven, then pursued the diagnostic medical sonography specialization at Hillsborough Community College.
"Diagnostic medical sonography was just something that really stuck in my head. I loved doing X-rays, but I wanted to be more specialized. This was interesting and challenging for me," Etherton said of her field.
After working as a sonographer in the area for several years — including two years at Winter Haven Hospital and 10 at Gessler Clinic in Winter Haven — Etherton came to Polk State as an interim clinical coordinator for the Diagnostic Medical Sonography program in 2007.
"It just felt right," Etherton said of returning to Polk State and working alongside Luckett and Ferrier, whom she had known for several years. "I like knowing that I'm giving back to the community and the school where I started. I get to express the love of my field to people every day."
In 2011, Luckett became the Radiography program director, taking the helm of the program that had trained her years before, and Etherton became program director for DMS.
"I was absolutely happy and proud to have Merrybeth become program director for sonography. She has a passion for her profession and exceptional knowledge of her field. She has a proven track record of competency and excellent relationships with physicians in the area," said Luckett, who earned a master's degree in Career and Clinical Education in 2010.
With so much in common — especially their Polk State experience — the three say they share a special blend of friendship and professionalism.
"We're a team. We know each other's work ethic and pride in the profession, but there's also a comfort zone because we've known each other for so long," Luckett said. "We can have a fun, goofy lunch and then give each other constructive feedback."
Their closeness allows the three program directors to exemplify one of the most important aspects of healthcare, Luckett added.
"We all believe very wholeheartedly that in health sciences, you have to be willing to be part of a team. Teamwork is what delivers excellent patient care," she said.
Being Polk State alums also means the three connect with their students on an even deeper level.
"We've been through this. We've been in their shoes," Etherton said. "I think it says a lot to our students about Polk State College that we're all so dedicated to it, that we all had careers in the field and then came back here because we love it so much."
The circle of Polk State graduates now working in the imaging programs continues to grow. Jaime Selph, clinical education coordinator for radiography, and Bill Luckett, clinical education coordinator for CVT,  who is married to Beth Luckett, are both Polk State alumni. Joanne Buchanan, clinical education coordinator for DMS, is currently pursuing her bachelor's degree at the College.
Cardiovascular Technology, Diagnostic Medical Sonography and Radiography are all included under Polk State's Health Sciences umbrella. Other Health Sciences programs include Emergency Medical Services, Nursing, Occupational Therapy Assistant, Physical Therapist Assistant and Respiratory Care. These programs attract students from throughout Central Florida. Polk State Health Sciences students regularly outperform their peers in the state and nation on required licensing exams.