Polk State Lakeland Students Bring New Life to Garden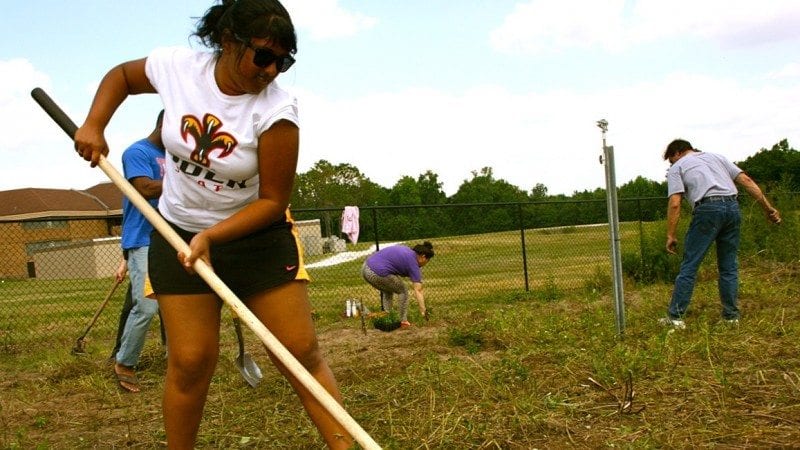 Students at Polk State Lakeland are restoring an abandoned, overgrown garden into a place for flowers and vegetables to thrive.
Several years ago, an environmental club at the campus planted the fenced-in garden behind the LTB building. But when the club ceased to exist, the garden lost its caretakers, and weeds eventually overtook the 40- by 80-foot plot.
That all started to change last week, as members of the Polk State Lakeland Student Government Association and other students got to work, chopping down the overgrowth and tilling the soil.
"We want to bring new life into the garden," said Gina Kim, coordinator of health and wellness for Polk State Lakeland SALO, who is pursuing her Bachelor of Applied Science in Supervision and Management degree.
Kim is one of the student-leaders on the garden project.
Last Thursday, under a blazing sun, students continued to clear the weeds and were preparing to plant sunflowers, yucca, peas, mint, basil and peas. The garden already has an irrigation system in place, so students are hoping to see results from their labor within a few weeks.
Details of the garden, including who will be able to plant in or pick from it, are still being determined. Regardless, the students involved in the project are sure it will serve as a source of inspiration, learning, and tranquility for the campus.
"This is a place where what you learn in class, like Earth Science, can come to life," said In'sky Marcelin, a Lakeland resident pursuing his Associate in Arts degree.
Marcelin added that it's especially fitting that students began the garden project during the same week as Earth Day.
"You hear about different things you can do, like turn out the lights to save energy," he said. "We're showing that you can come together with others and make a difference."
Diane Thomas, a Polk State Lakeland SGA senator who is also pursuing her Associate in Arts degree, sees another lesson in the project.
"I think students will appreciate the hard work we put into this. For me, I know, this project is about teamwork and sportsmanship."
Added Kim:
"A garden needs patience and hard work, and it can become a place to relax and reflect. I think students who come and enjoy it will see that it was student-led, and that when students come together, they can achieve something great and keep it going."
Polk State has Student Government Associations at both its Lakeland and Winter Haven campuses. The SGA is one of more than 50 clubs and organizations offered through the College's SALO (Student Activities and Leadership Office).