Polk State Lakeland Students Begin Winter Break By Helping Others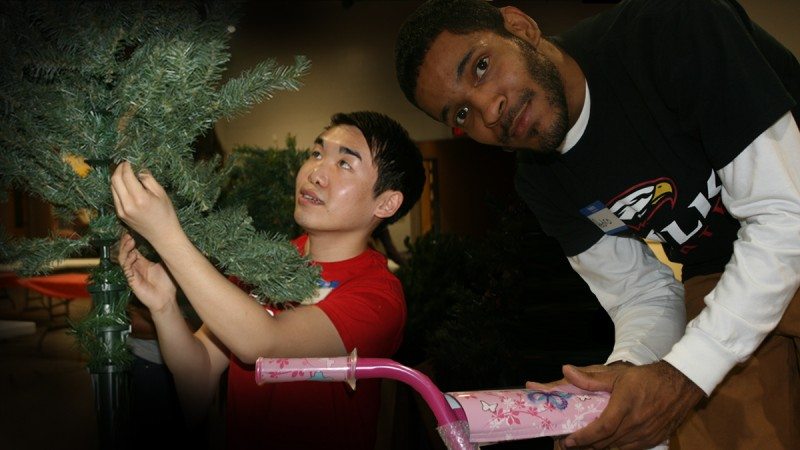 More than a dozen Polk State Lakeland students spent the first night of winter break transforming a gym into a store where the less fortunate could buy gifts for their kids.
The students, all members of the Polk State Lakeland Student Government Association, toiled for hours on Dec. 13, helping Parker Street Ministries create its annual Christmas Store.
The Christmas Store comes to life each year in Parker Street's gymnasium, located on North Massachusetts Avenue in Lakeland. The charity collects toys — this year its storage room was piled high with everything from bikes to play makeup — and then sells it all at a steep discount.
"Most of the people who are served by the Christmas Store are single moms," said Parker Street Ministries Executive Director Tim Mitchell. "Sometimes they're working two or three jobs but still not making any money.
"We sell the toys to them at 75-percent off the original price. They get to give a real Christmas to their kids, but still have the dignity of shopping and paying for the gifts themselves."
Parker Street began its Christmas Store in 1998. This Christmas, Mitchell said, about 300 parents had registered with the organization to shop in the store; to register, parents must show proof of address and a birth certificate for each child.
The Polk State Lakeland students spent hours unloading the toys from the storage room, setting up tables and artificial trees, making decorations, and assembling bicycles.
"This is huge," Mitchell said of the Polk State presence during the effort. "It's impossible to do what we do without help from the community. There is such energy and excitement here tonight. The world seems to be getting darker, so it's awesome to see so many young people come out to help."
Among the students working during the evening was Chris Ly, a Lakeland resident and secretary of the Polk State Lakeland SGA, who helped assemble trees to set the festive atmosphere of the store.
"Not being selfish and doing something for others, it teaches me to be humble and loyal," said Ly, who is working toward his Bachelor of Applied Science degree from Polk.
Pedro Martinez, a Lakeland resident who is studying toward his Associate in Arts degree, volunteered to assemble bikes during the evening, which also happened to be the evening of his 21st birthday.
"To be honest, I was going to do other stuff," he said. "But I wanted to be part of this, give back to the community during the holidays, and help make some kids happy."
Their work at Parker Street Ministries was just one example of the Polk State Lakeland SGA helping to make the holidays brighter for others. A few days later, they visited a Lakeland nursing home, where they sang carols for the patients.