Polk State Lakeland Offers Food Pantry for Needy Students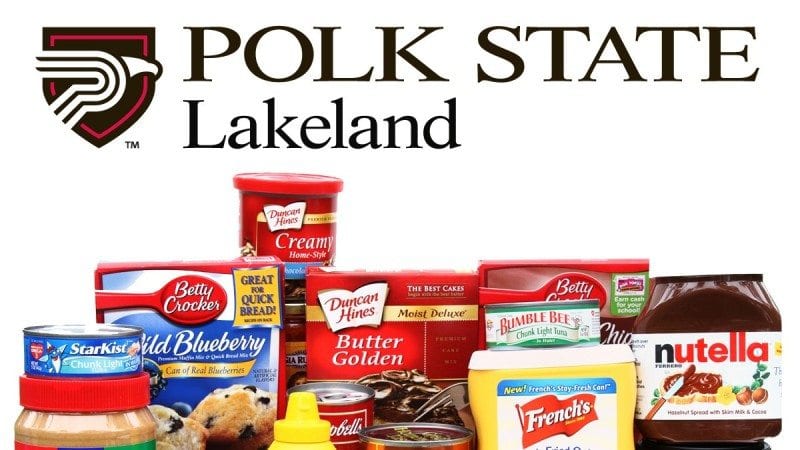 The holidays may be over, but at Polk State Lakeland, the spirit of giving knows no season.
Last semester, the Wellness Center relaunched the campus's food pantry, an effort that had gone by the wayside for several months — but that the student body still needs.
"People figure that if you can go to college, then of course you have food to eat," said Wellness Center Director Steve Linamen, who is also the College's soccer coach. "It comes as a shock, but there are a lot of students here who are hungry and need help."
The food pantry is located in a small room in the LMA building on the eastern edge of campus. Shelves are lined with crackers, soup and Ramen noodles. Everything here is donated; a recent "Hunger Games"-themed collection among student clubs and organizations garnered 400 canned food items. There is also a selection of toiletries, from deodorant to lotion.
The food pantry operates on an honor system and is available to all students. It is open Monday-Thursday from 9 a.m. to 3 p.m., and on Friday by appointment. Students are only asked to complete a short form to help pantry organizers better understand their needs. Student ID numbers are used instead of names to protect students' anonymity.
Last semester, only about 30 students took advantage of the food pantry, but Linamen and student-organizer Gina Kim expect that number to grow as word spreads.
As she discusses the food pantry, Kim is brought to tears. This is not a side project she fits into her spare time. This is a cause to which she gives her whole heart.
"There have been days when I have been really hungry and needed help," said Kim, 25, a Lakeland resident who has largely supported herself since she was 17.
"When you wake up hungry, or you know you're not going to have enough to eat later in the day, it makes you not even want to get out of bed."
The pantry is one of three components of what the Wellness Center has dubbed IMPACT (Implementing Positive Action for Campus Togetherness). IMPACT also includes the Lakeland campus garden, where students plan to grow fruit and vegetables to stock the pantry, as well as a clothes closet, where students can get free items suitable for class and job interviews.
"We just want to help the students," Linamen said.
But "helping the students" can mean different things, Linamen said. Yes, the students who get food or clothing are helped, but so are the students who donate to or volunteer for the effort.
"A lot of times, you grow up thinking everyone is like you, and that if you have enough food to eat and clothes to wear, then your classmates do too," Linamen said. "But that's not the way the world is. When students come here and see what we're doing, they realize that and it's an eye-opener."
For more information on IMPACT, contact Linamen at slinamen@polk.edu or 863.297.1010, ext. 6371, or Kim at gkim@polk.edu or 863.297.1010, ext. 6473.
In addition to Polk State Lakeland IMPACT, the College also operates My Brother's Keeper at its Winter Haven campus. My Brother's Keeper provides food, toiletries and other forms of assistance to needy students.