Polk State's My Brother's Keeper Celebrates First Anniversary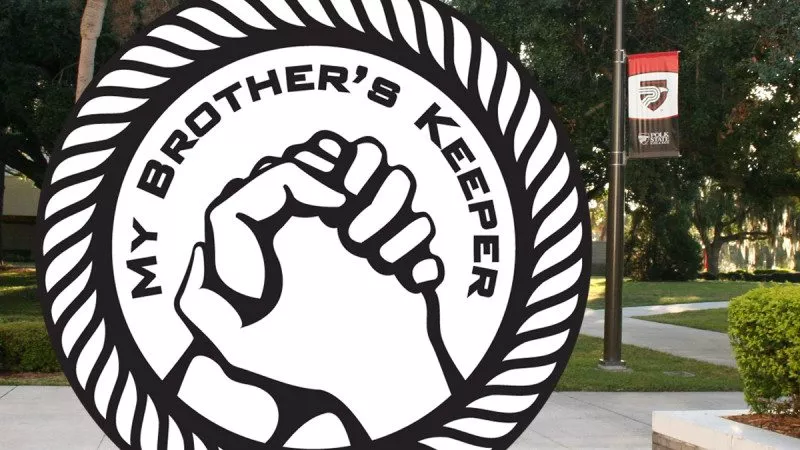 Polk State's My Brother's Keeper (MBK) began with a bowl full of cereal bars in one professor's office.
Today, it is a modular building on the campus of Polk State Winter Haven, with shelves full of canned and microwavable food, bins brimming with deodorant, shampoo and other personal necessities, and a bank of computers for students who need to write a resume or search for a job.
It is a physical place where students — no matter what they need — can come to get help.
And come they have — My Brother's Keeper has served more than 500 students since it opened its doors a year ago.
On Thursday, Polk State celebrated that progress and thanked the litany of donors who have made it all possible with a luncheon at the College's Winter Haven Student Center. Members of the College faculty and staff, as well as supporters from the broader community, attended the event.
"Instead of pretending we don't have homeless students, Polk State, with the help of so many generous donors, has addressed the issue head on. We want to be part of the solution," said Polk State President Eileen Holden.
"If we chip away at it a little at a time, we will make systemic change."
My Brother's Keeper had its beginnings in the observations of Carole Toney, a Psychology professor and the College's coordinator of veterans' services.
Toney, who served 10 years in the Army's Quartermaster Corps, the service that provides soldiers with food and supplies, always kept a stash of snacks in her office. In time, she realized her students weren't coming to her just for something to quell their afternoon munchies.
They were coming to her for the only food they might eat all day.
"They were genuinely hungry. If I had cereal bars, for instance, I would see students take one and then take a couple more to put in their backpack so they would have something to eat later," she said.
Her bowl of cereal bars would sometimes only last a couple hours.
As the students came by more frequently, some asked her for personal hygiene items. Or if she knew of a place where they could wash their clothes. She became aware of some students "couch surfing" — that is moving from one friend's house to the next, with no permanent place to live. There were others who lived out of their cars.
"I started stockpiling all this stuff at my desk," Toney said. "Then I started asking other professors if they'd seen the same thing — and they had."
Something had to be done.
Toney teamed with Polk State Winter Haven Provost Sharon Miller, Director of Grants Administrator Jennifer Fiorenza and fellow Psychology Professor Katrina Smith to solve the problem.
The solution became My Brother's Keeper, whose name expresses the responsibility we all have to help others, Toney said.
MBK is a service-learning project, one of many at the College in which students to utilize their in-class learning to benefit the community. Students work at the modular, accept donations, and connect those in need with appropriate resources.
As word of Polk State's new project to help needy students has spread, businesses and individuals from across the College and county have stepped forward with food, personal hygiene items, furniture for the modular building, money, and so on.
The Mission, a Winter Haven family and youth services organization, helped My Brother's Keeper organizers develop a system of storing food and managing expiration dates.
Dr. Jonathan Silbiger, an ophthalmologist at Fischer Schemmer & Silbiger in Winter Haven, volunteered to give free eye exams, while Eye Express in Winter Haven offered free glasses.
Silbiger's wife, Krista, who attended the luncheon, rallied friends and associates. During Thursday's event, she scrolled through emails on her phone, reeling off names of those who'd answered the call by writing checks or sending supplies.
"Everyone was in shock. They can't imagine going to college and not having a place to live," Krista Silbiger said. "These students are getting a college education so they can become productive members of society. They just need a little help to get there."
A local Realtor, Teacora Wright, who also works as a student services assistant at the College, helps students find affordable housing. The Lake Wales Care Center helps with transitional housing, too.
State Farm has given food, water and money.
Indeed, the donations just kept coming, and still do, creating a circle of support that only grows wider by the day.
To strengthen  connections with the community that has so warmly received My Brother's Keeper, Toney began assigning students in her classes the task of collecting business cards. Those cards now cover the walls of the My Brother's Keeper building, and serve an important purpose, Toney said.
"It helps them to think about what they might want to do as a career, and it gets them started on networking. Getting a job nowadays is all about who you know," she said.
Some students have gotten jobs by calling the numbers on those cards and mentioning MBK, said student supervisor Casmore Shaw, a huge step on the path out of whatever circumstances led them to seek help in the first place.
While food remains the largest portion of the help MBK provides, it has expanded to encompass other services, too, including resume-writing and specialized assistance for veterans.
The Mission's Executive Pastor, David Barry, said My Brother's Keeper has done the most essential thing right: Offer consistent, reliable help.
"You have to foster an environment of trust, and that's what My Brother's Keeper has done — it has done what it said it was going to do every single day," he said.
Miller says she sees even more opportunities for helping students through MBK.
"I think we've just scratched the surface of it. The next phase is really solidifying that medical phase. If students are homeless and need food, they need medical assessment, too," she said.
The students who utilize MBK largely like to remain anonymous, but they all have inspiring stories. Toney shared the story of a student who gradually became thinner during the course of a semester. His family was going through economic hardships and he wasn't eating. MBK helped him find a food assistance program.
Another student had her laptop stolen, leaving her unable to take her online courses. She got a new one through MBK's scholarship fund.
There was another student who found a place to live and a job through MBK. She recently graduated.
What's just as inspiring as stories such as these, Shaw said, is the extent to which the College and community have banded together to help students who need it most. He's certain those who've learned about MBK, been touched by its mission, and offered their help have gained just as much as those who have received food or toiletries.
"It gives me chills," Shaw said. "People here genuinely care."
MBK is open Monday through Thursdays from 10 a.m. to 3 p.m.