Polk State Lakeland Gateway to College Collegiate High School valedictorian, salutatorian persevere to the top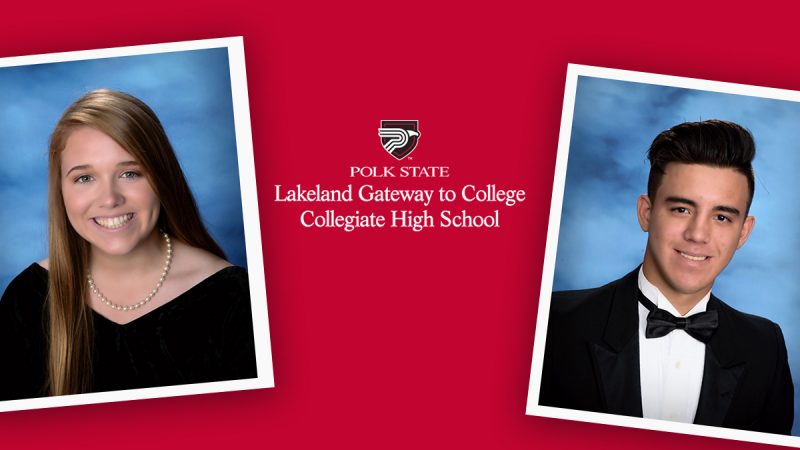 Polk State Lakeland Gateway to College Collegiate High School valedictorian Brandy Barquin and salutatorian Alfredo Kroll have persevered on their paths to the top spots, their high school diplomas, and their Associate in Arts degrees.
Barquin, who accomplished a grade-point average of 4.655, and Kroll, who achieved a 4.611 GPA, embody the resiliency of the 2020 graduating class and addressed their peers and the community during Polk State Lakeland Gateway to College Collegiate High School's virtual graduation. The virtual graduation is available at www.polk.edu/lakeland-gateway-to-college-high-school.
"This part of our lives does not define us, but what we do next does. As we move on to the chapter of our lives, wherever that may be – college, the military, or the workforce – I challenge all my fellow graduates to reach for their fullest potential and strive for whatever they want in life," Barquin said. "Because if there is one thing we can learn from COVID-19, it is that life can change at any moment and life is short. Live it."
Barquin is a shining example of her own advice. The six-year varsity starter for McKeel Academy Softball and Academic Player of the Year for the district was told by a coach when she was young that she would never be good enough to play softball successfully.
Now, she's heading to Flagler College on a softball scholarship.
"Don't let people tell you what you can and can't do," Barquin said.
She added that achieving the valedictorian spot feels surreal.
"I just couldn't stand getting B's," she admitted.
In addition to her studies, she co-founded the Interact Club and was involved in the National Honors Society and Student Government Association.
Barquin will major in sports management and marketing and aspires to pursue her Master's in Business Administration as well as a career in athletics.
"Collegiate allowed me to accomplish two years of college already," she said. "The staff is hands-on and the classes are small and personal. It has been a great experience."
Kroll echoed a similar sentiment and, similar to Barquin overcoming the doubts of her youth softball coach, he persevered through a moment of uncertainty in his high school career.
He shared that at first, he was scared to transfer from McKeel Academy to Polk State Lakeland Gateway to College Collegiate.
"It was stressful and I didn't think it would be possible [to be top of the class] because I came in late and was behind," said Kroll, who started at Gateway mid-junior year. "My advice is to keep pushing when you want to give up – that's critical."
He took five courses over the summer to catch up and supersede his goals.
Additionally, he was involved in the National Honors Society and continued to play basketball for McKeel Academy.
Kroll will study civil engineering at the University of Central Florida with a Top 10 Knights scholarship awarded for academic merit.
In his salutatorian speech, he expresses great gratitude for his parents, teachers, friends, and supporters.
"I think it is safe to say that I speak on behalf of the whole graduating class of 2020 that if it was not for all of your efforts that you have invested in us, this day would not be possible," he said.