Polk State Lakeland Collegiate receives two VISTE awards for outstanding student volunteers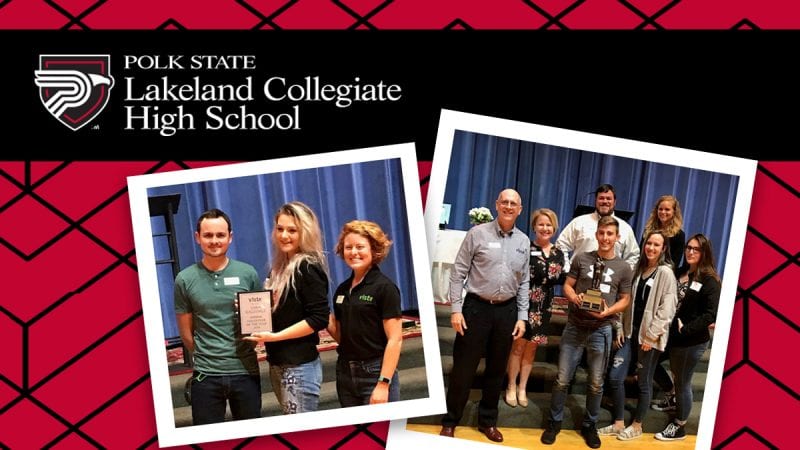 Polk State Lakeland Collegiate High School's students are immersed in a culture of community service and the Volunteers in Service to the Elderly (VISTE), one of the many organizations in Polk County that benefits from their volunteer efforts, recently recognized them for their outstanding service to the community.
Polk State Lakeland Collegiate's United Way Club received the VISTE Jeffrey Perkins Memorial Award for Outstanding Youth Organization and student Sara Ragsdale received the VISTE Volunteer Rookie of the Year Award during the organization's 2019 Volunteer Appreciation Luncheon.
"Three years ago, when our school decided to make community service a part of our school culture, I could not have dreamed that our students would have become so deeply involved in serving our community," Principal Rick Jeffries said. "These awards from VISTE, which is just one of the many organizations our students are involved with, are proof that they are making a difference where they live, and I am so proud of each and every one of them!"
Since Polk State Lakeland Collegiate adopted its focus on community service, the high school has created several opportunities for students to get involved on campus and in the community with organizations including Big Brothers Big Sisters, EMERGE Lakeland, Achievement Academy, InnerAct Alliance, United Way of Central Florida, and VISTE – a nonprofit organization serving the elderly in Lakeland, Bartow, Mulberry, and Ft. Meade by assisting them in living independently and safely.
With only 25 paid employees, VISTE lives up to its name by serving more than 4,000 clients with the help of approximately 1,000 volunteers. Students in the United Way Club volunteer with VISTE by delivering meals to the elderly, assisting in the office, or baking cakes for clients' birthdays. Ragsdale once baked 22 layers of cake in one night – only one illustration of the students' steadfast commitment to volunteering with VISTE.
"Sara started volunteering at VISTE last September and came in like a ball of lightning ready to work and win everyone's hearts," VISTE Community engagement Director Ashley Miller said in a press release. "At every turn, she has exhibited fearlessness at taking on any task we have thrown at her… At this point, she's done it all!… No matter what, she goes the extra mile every time and does it with a smile and ease."
VISTE also recognized Polk State Lakeland Collegiate's United Way Club, which has worked closely with VISTE since the club's inception in the 2016-2017 school year. The club has more than 45 members who participate in a variety of volunteer opportunities and community events, including United Way's Day of Caring and Lakeland Volunteers in Medicine. The students also adopted nearby Oscar J. Pope Elementary School, where they make regular visits to volunteer as mentors to the elementary students.
In 2017-2018, Polk State Lakeland Collegiate's United Way Club participated in 19 events, completed 1,109 hours of service, and collected more than 4,000 items to donate to those in need.
"The club's intentions originated to help students connect with agencies who welcome volunteers. However, that quickly progressed into additional volunteering, as students continue to deliver birthday cakes, help with Thanksgiving meal packing and delivery, assist in the VISTE warehouse and office, as well as helping clients with yard work, and various other tasks that often become more difficult as we age," Miller said in a press release. "We have the best volunteers"