Polk State Lakeland Collegiate High School valedictorian, salutatorian share messages of hope with their peers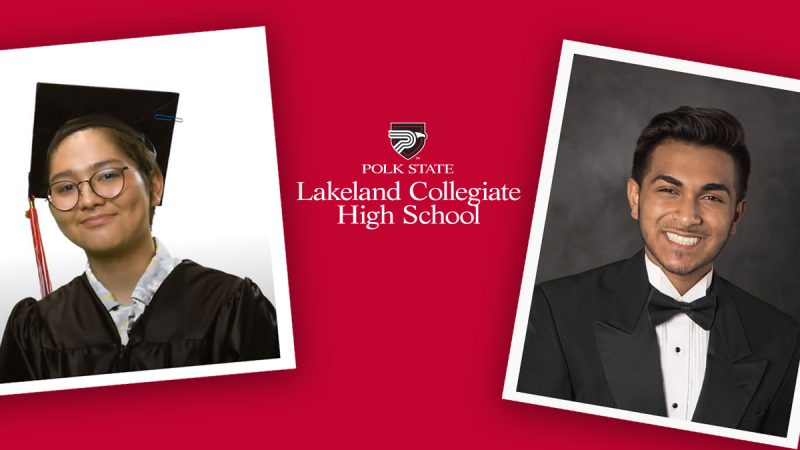 Polk State Lakeland Collegiate High School's valedictorian Gina "Gene" Nadeau and salutatorian Ashfaq Arian are celebrating their milestone accomplishments with the class of 2020.
Nadeau, who accomplished a grade-point average of 4.716, and Arian, who achieved a 4.714 GPA, will share messages of hope with their peers and the community during Polk State Lakeland Collegiate High School's virtual graduation at 6:30 p.m. May 12 at www.polk.edu/polk-state-lakeland-collegiate-high-school.
"Certainly, I never imagined I'd be giving a speech this way," Nadeau said. "The future is and should be bright, even if it doesn't seem that way right now."
Nadeau, who is graduating with both her high school diploma and Polk State Associate in Arts degree, plans to study illustration at Ringling College of Art and Design with a $32,000 merit-based scholarship from the school.
She has been illustrating and creating stories since middle school and participated in the Technology Student Association in high school, competing at the state level with her children's stories and illustrations.
She aspires to become a concept artist for Blue Sky Studios, DreamWorks, or Disney.
Previously enrolled in the International Baccalaureate at Bartow High School, Nadeau came to Polk State for a more flexible schedule and the opportunity to earn college credits in high school, she said.
"My favorite thing about Lakeland Collegiate is the freedom," she added. "The schedule is lax, we have the opportunity to choose our own classes, and we have time with our friends."
Arian, who spent his time at Polk State Lakeland Collegiate fostering a culture of community and school spirit for his peers, echoed a similar sentiment.
The senior class president is graduating with his Polk State Associate in Arts degree in addition to his high school diploma and plans to take a pre-med track at the University of Chicago.
"Despite what is happening [with COVID-19], it is important to have hope," Arian said. "My friends know me as an optimistic person. Optimism is a virtue of success. As senior class president, I worked to build a culture at our school that would create everlasting memories and a connection to our school that cannot be taken away."
Arian will attend the University of Chicago on a full-ride scholarship from QuestBridge for high-achieving, low-income students. He is also a recipient of a $20,000 Bailey Family Foundation Scholarship.
Additionally, he received The Ledger's Silver Garland Award in Science for his work as founder and president of Polk State Lakeland Collegiate High School's Health Occupation Students of America (HOSA) chapter.
He credits his parents for his motivation and achievements. Arian and his family emigrated from Bangladesh in 2005.
"The country was in crisis. My mom tells very vivid stories of the towns burning down around her. My parents took every penny they had to get visas for us to escape," he said. "I attribute everything I have accomplished to my parents and the risk they took to bring us to the United States for a better life."
Arian is the first in his family to achieve a high school diploma and a college degree.
With his Polk State Associate in Arts degree, scholarships, and the knowledge gained throughout his high school journey, Arian is on his way to becoming an anesthesiologist.
"I feel very fortunate," he said. "I feel like my struggles have been erased."