Polk State Lakeland Collegiate High School takes a bite of the Big Apple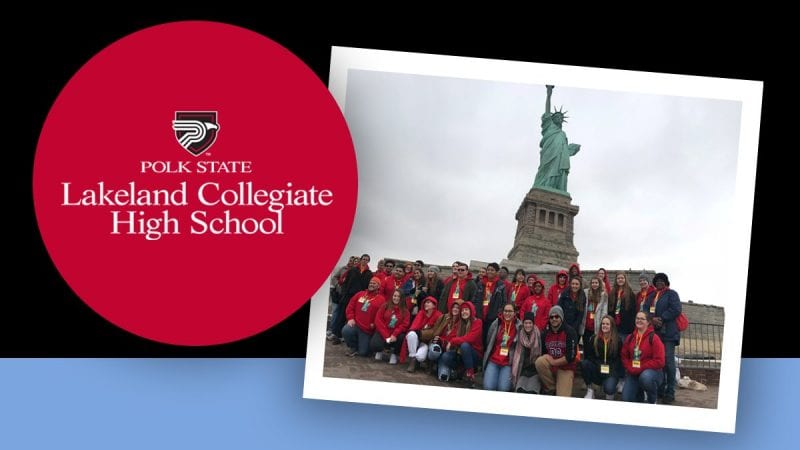 Polk State Lakeland Collegiate High School students enjoyed the brisk New York weather while others were soaking up Florida sun rays over spring break.
Thirty-four juniors traveled with faculty and staff to the Big Apple, where they toured the Statue of Liberty, Ellis Island, and the United Nations; visited Central Park, Time Square, and the Empire State Building; saw "Wicked" on Broadway; and enjoyed many slices of authentic New York pizza.
Principal Rick Jeffries said one of his goals is to provide a well-rounded travel experience to students, and with this inaugural New York trip and a European excursion planned for summer 2019, students entering Polk State Lakeland Collegiate High School will have the opportunity to participate in three trips during the course of their junior and senior years, including a visit to Washington, D.C.
"The idea is to provide them with a unique experience and open their eyes to things outside of school, Polk County, and even Florida," Jeffries explained. "Some students have never been out of the state, or on an airplane, and haven't had the opportunity to travel before coming to Lakeland Collegiate."
Through the Lakeland Collegiate Travel Club, students are able to travel at a reasonable price to New York during their junior year, to Europe over the summer, and to D.C. during their senior year.
Jeffries explained that these trips were chosen because each provide a different experience.
"New York is cultural, D.C. is more educational and historical, while Europe will provide students with an even broader travel experience where they will be able to experience a different culture," he said. "By the end of their time here at Lakeland Collegiate, they can say they have experienced all of these things."
In March, the students spent four days in New York City, where they visited the Rockefeller Center and Radio City Music Hall, toured the TODAY show, walked the Brooklyn Bridge, and more.
Junior Niles McNair said he couldn't pick a favorite part of the trip, "because it was all great."
"But if I had to pick, it would be the pace of the city and how different it is from Florida," he added. "The trip also taught me as a young adult how to take care of myself, as we had a lot of freedom on the trip, including managing our money and time, which are two skills I picked up on the trip."
"I loved every second of New York," McNair said. "I want to go back to experience and learn more about the city and our country."
Jeffries said igniting that spark and curiosity to travel and learn more is what the trips are all about.
"These trips provide invaluable life experiences and lessons for our students that are important for their development into well-rounded individuals," he said. "Students were fascinated by the experience, and we hope it motivates them to want to learn more."
At Polk State's three charter high schools, students are able to achieve their Associate in Arts degrees, as well as their high school diplomas. For more information about the collegiate high schools, go to polk.edu/charter-high-schools.