Polk State Kids at College: Online Edition! a huge hit with families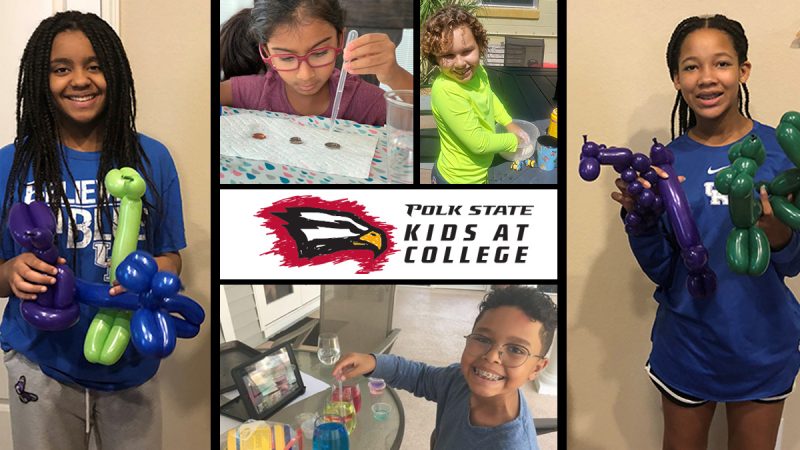 Although Polk State College's campuses were closed this summer due to the pandemic, quality programming and educational opportunities continued despite unprecedented challenges, even for Polk State's youngest "students."
Polk State Kids at College (KAC) has served as a summer staple for Polk County families over the last 25+ years and this year was no different with the launch of the Kids at College: Online! and Kids at College: Facebook! editions to keep children engaged in the remote environment.
In fact, the new format allowed KAC to reach children beyond Polk County and Florida state lines. KAC Program Assistant Heather Heminger explained that a family of second-generation KAC participants attended this summer from their home in Texas, illustrating the tradition, trust, and enjoyment families have for the Polk State Kids at College Program.
"Who knew Kids at College: Online Edition! would go national," Heminger said.
"Our first priority is always to ensure the safety of our students, staff and community. Therefore, in an abundance of caution and concern, the difficult decision was made to cancel the on-campus sessions of Kids at College. We still wanted to continue the Kids at College tradition of offering an exciting opportunity to celebrate summer with fun educational activities," said Brenda Bracewell with KAC. We scoured the internet and posted lots of great interactive web pages or other learning opportunities on our Facebook page. We also offered a few online Kids at College classes and almost every seat available was filled. The online classes were very popular, and I was so encouraged by the positive response from the students and parents.
Bracewell and Heminger quickly and creatively adapted the program by utilizing video conferencing and Facebook tools to connect instructors with students. Many courses were free, while some had fees between $10 and $40 for materials.
KAC held 14 sections of program favorites for children between that ages of 5 and 14, including Model Rocketry, Balloon Twisting, Video Creation, Science Club, and courses led by Polk State Occupational Therapy Assistant students as part of a collaborative effort to give both College students and KAC children unique learning experiences. Nearly 150 students participated in 27 classes.
"For the first time being online, it was very successful," said Laura Mansfield, an accountant at the College whose two children participated in KAC for the second time. "We, as a family, were able to have fun and learn with the teachers…, the OTA students were always happy and kind to the kids, and they were willing to have fun and entertain the little ones regardless of the online hurdles."
Responses to a survey yielded more kudos for the KAC Program's online and Facebook editions.
"[My daughter] was so disappointed this year that it was cancelled so we were very appreciative of the online courses this year," one parent shared. "Her absolute favorite was Science Club and I just wanted to recognize Mrs. Katie as she was an amazing instructor and kept the kids engaged the entire time. Thank you again for offering the online courses this year and we are excited to attend in person next year!"
"As a family, there just isn't enough space to say what a blessing this online program was, as it taught my child new skills, gave him purpose and something to look forward to, and gave some excitement to an otherwise dreary COVID summer," another parent wrote. "My son has shared several of the videos he made through Mr. Dill's instruction and he performed a bit with his puppet on Skype with his godparents last night. Absolutely priceless."
"Please offer this online opportunity again! It was such a rewarding and worthwhile opportunity for our son. In an otherwise bleak COVID summer, he gained several tangible skills and critical-thinking abilities–and the entire family was able to share what he learned with him each night over dinner," shared another. "Providing this opportunity was such an act of kindness to kids and parents, and our family is so grateful. We would enthusiastically rejoin another online session with Kids at College."