Polk State grad shares how Aerospace Program puts exciting careers within reach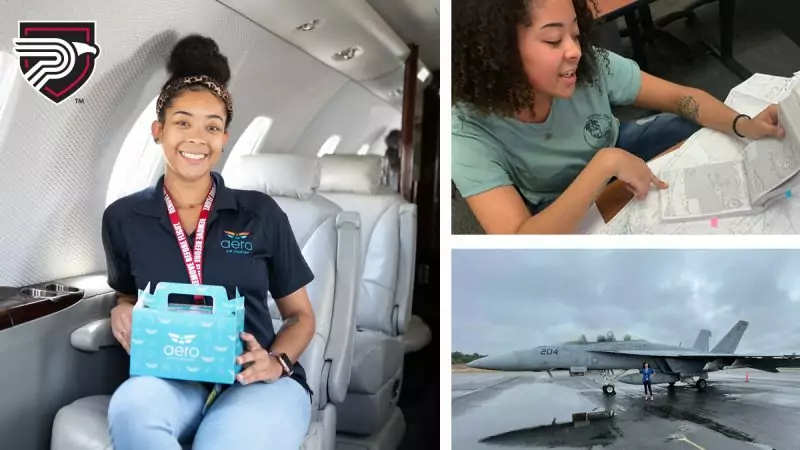 Shaundra Gibbs is a flight operations coordinator for Aero Air Charter in Pensacola, where she is exercising her education and training from both Polk State Aerospace's aircraft dispatcher certification and aerospace administration degree programs.
"When people hear aviation, they think it's expensive, out of reach, and something they can't possibly learn because most people don't know a pilot or someone in the industry," Gibbs explained. "But I encourage people to take a test flight, sit in a class, find a way to get into it because there is something for everyone, especially at Polk State."
"Aero Air Charter snatched me up before I even graduated. They made a position for me because they liked my skills, knowledge, and the way I presented myself," she added. "It was the best feeling ever to not even have to go out and look for a job, and I have Polk State to thank for it."

Gibbs graduated from high school in 2015 and enrolled in college without knowing what she wanted to pursue. At the same time, she needed a part-time job to help fund her education, so she joined a friend at Delta Global Services.
With the exposure to aviation, she learned about the career opportunities in aerospace and the educational pathways to achieving them.
"I wanted to see what I could do, I wanted to make a greater salary, and I wanted to find something that wasn't as backbreaking as throwing luggage all day," she said.
When a coworker was hired as a dispatcher for Southwest Airlines, she thought "what's that?"
"I did my research and found Polk State's aircraft dispatcher certification program, which was new at the time. I packed up my life for six weeks to move from Pensacola to Lakeland to take the classes at the Airside Center, which was awesome to go to school right on the runway," Gibbs said. "It was also one of the toughest things I've done in my life, but I really enjoyed the program. The instructors are really personable, the class sizes are small, and the program is affordable."
She achieved her aircraft dispatcher license, but a week later, COVID-19 made headlines and caused shutdowns.
"COVID-19 hit the industry hard," she explained. "It blew my mind. I moved home to Pensacola and worked as a server. I did whatever I could."

Her perseverance and aspirations in aviation didn't waver, however, and she was hired as a customer service representative and ramp attendant at a fixed base operator (FBO). She also began pursuing a Polk State Bachelor of Science in Aerospace Sciences with a concentration in Aerospace Administration.
The ability for students to pursue their bachelor's degree in Aerospace Sciences online provides the flexibility for them to balance their studies with full-time employment. Additionally, Polk State's Aircraft Dispatcher Certification Program provides students with college credits that count toward associate and baccalaureate degrees at the College.
"While I was working at the FBO, I was in a class called FBO Operations," Gibbs said.
"It was interesting to see how what I was learning in class related to what I was experiencing in the field. What's great about Polk State too is that the instructors are professionals from the field, so we are getting that knowledge firsthand."
She worked at the FBO for six months before Aero Air Charter learned about Gibbs and made a position just for her. In her job as a flight operations coordinator, Gibbs says she is utilizing the education and training she received across the Polk State Aerospace Program, including the aircraft dispatcher program although she is not working as an aircraft dispatcher herself.
"People request flights from us, and I will look at our schedule, compare the times and what type of jet they are requesting, and book them," she explained. "I am able to apply the knowledge I learned in the dispatch program because I learned that pilots and crews have specific duty times, pilots have a maximum amount of flight time, and you have to make sure they are getting enough rest. I am able to apply this knowledge to each booking to make sure we are following protocols and regulations."
Once a trip is booked, Gibbs coordinates jet preparations, fuel orders with the FBO, paperwork with the pilots, as well as feedback from clients upon their return.
"It's demanding, but it's exciting," she said. "With my schedule, it is also important for me to have the flexibility that Polk State offers while I continue to pursue my bachelor's degree."

"I've been to three different colleges over the course of my educational journey, and one of the biggest things is that programs and instructors don't always understand that life happens; that some people can't go to school because we have jobs and lives that we are trying to fit school into," Gibbs added. "At Polk State, the instructors understand. They are flexible and they work with the students to make it possible for us to balance our responsibilities successfully. They have given me the support and resources to stay on the President's List throughout my time with the College."
Gibbs has four classes left and looks forward to graduating in the near future. She may even revisit dispatching, with aspirations to work for Delta Airlines as an aircraft dispatcher one day.
"It's hard for me to find something that keeps my interest, but aviation is such a large industry of interesting things," she said. "I started with ramp stuff, realized I wanted more, and got my dispatch certification, and now I'm in private flight operations. I'm not a pilot, but a few friends and instructors are encouraging me to fly."
"One thing at a time," she laughed. "But I would tell everyone to go for it. Polk State Aerospace is a great program that puts aviation within reach for anyone who puts their mind to it."