Polk State Grad Finds Fulfillment Each Day in Work as Paramedic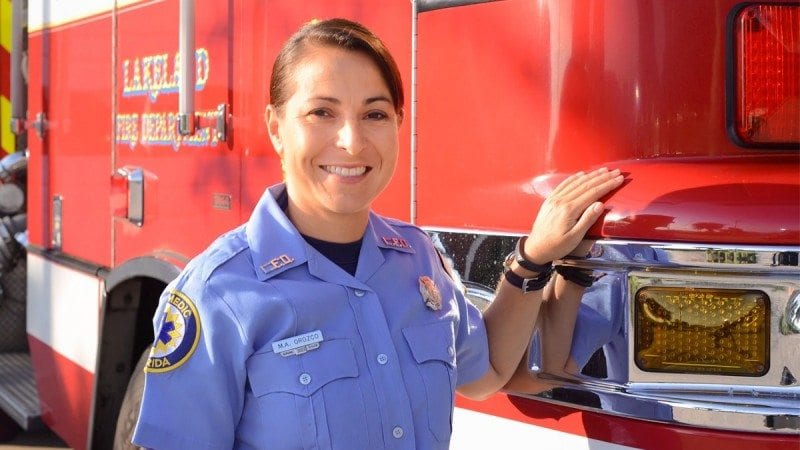 Two pivotal years and a Polk State degree set Margaret Orozco on a path she never thought possible, and in following it, she's found fulfillment she never could have imagined.
"I love coming to work," said Orozco, a firefighter/paramedic for the Lakeland Fire Department. "I love that my purpose is to serve and help people."
Orozco grew up in Colombia, the daughter of an industrial engineer and an accountant. After high school, she left her parents and three siblings behind to move in with an uncle in Orlando.
The arrangement was intended to be temporary. She would be immersed in English and study it at a nearby technical college. She'd work odd jobs, where she'd get even more practice with the language. After a year, she'd return to Colombia, go to college, study graphic design, and then enter the workforce with the competitive edge of being bilingual.
In the midst of that plan, the lights of ambulances and fire trucks caught Orozco's eye. She saw them on the interstate, at busy intersections, on TV. Even more striking for Orozco was that women were often riding — or even driving —those flashing, blaring, important vehicles.
"In Colombia, the fire department is not as active. I very seldom saw firefighters," she said. "And I'd never seen a female firefighter. I remember thinking, 'Wow, they hire girls to do that.'"
Orozco couldn't stop thinking about firefighting. It was calling her. She enrolled at a fire academy in Orlando, where she earned her EMT certificate.
Within two years, she'd left Colombia, abandoned her plan to study graphic design, and decided instead to stay in America and become a firefighter.
"I gained so much new knowledge, and I loved the physical challenges of firefighting, and there are so many opportunities for a career in America. In Colombia, public service jobs aren't as prestigious as they are here. It's seen as a job, not a career," she said. "I knew I wanted to stay in America and that this is what I wanted to be."
In 2003, Orozco went to work at the Lakeland Fire Department, where she was encouraged to continue her education. Polk State, with its regionally revered Emergency Medical Services program, was the obvious choice.
Here, she earned her paramedic certification in 2007, her Associate in Science degree in Nursing in 2011, and her Associate in Arts degree in 2013.
"The EMS program at Polk is very structured and disciplined. They do a lot of scenario-based training, so you get in to the routine of thinking fast and reacting to different situations," she said.
"I can see the difference now, when new people come from Polk or from other schools. The ones from Polk State are just better prepared for the job."
Orozco went on to earn a Bachelor of Science in Nursing from the University of South Florida. Nursing is her "plan B," a fallback if she ever gets injured and can no longer work in EMS.
For now, though, she never doubts the choices she's made. She's seen some awful things in her line of work — she remembers an older woman killed by a drunk driver, a child killed in a house fire — but the dominant feelings in her career are pride and a sense of purpose.
"I don't do what I do for the money. It's noble. It's about helping people," she said. "I'm thankful for the education that got me here. Education is the one thing that no one can ever take away from you. Education opens new doors."
The field of EMS has three tiers, with paramedics at the top, above emergency medical technicians (EMTs) and emergency medical responders. Polk State EMS offers training options for those seeking to work at any level of the EMS ladder, and an associate's degree in EMS for paramedics interested in career advancement. In addition to EMS, Polk State Public Safety offers associate's and bachelor's degrees in Criminal Justice, and an associate's degree in Fire Science. In addition to EMS, Polk State Health Sciences programs include Cardiovascular Technology, Diagnostic Medical Sonography, Nursing, Occupational Therapy Assistant, Physical Therapist Assistant, Radiography and Respiratory Care.
Polk State College's history is rich with stories of alumni who have gone on to make impacts, whether in the classrooms and laboratories of prestigious universities, the rough and tumble of commerce, or the halls of political power. Over the years, thousands of Polk State graduates have leveraged their education and experiences at Polk to transform their own lives and the lives of others. This transformation is the essence of what it means to "be Polk." Whether in big ways or small ways, Polk State alumni embrace the challenge of living lives that matter. News@polk regularly profiles these alumni. Their story is the story of Polk. They are The Pride of Polk.