Polk State EMS Gives Annual Instructor, Preceptor Awards to Alumni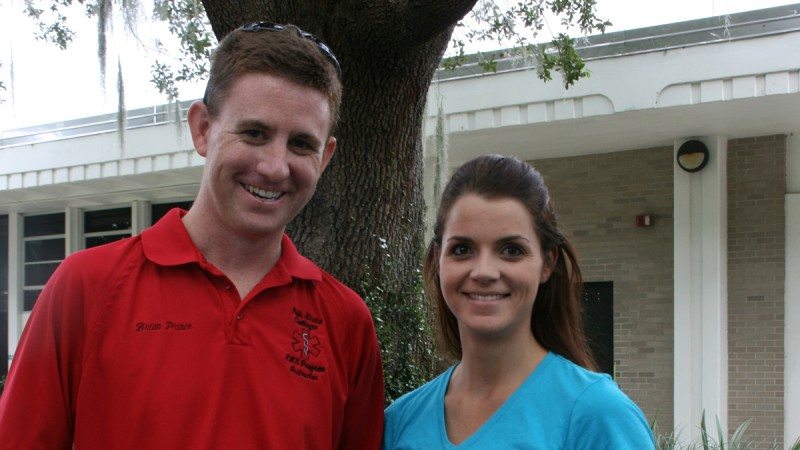 Polk State College's Emergency Medical Services program presented its annual Instructor and Preceptor of the Year awards Saturday, recognizing two alumni who now dedicate countless hours to teaching current students.
Receiving Instructor of the Year was Brian Prince, who graduated with his Associate in Science in EMS in 2012, and receiving Preceptor of the Year was Rachel Radford, who completed her paramedic certificate at the College in 2009.
Prince, a paramedic and firefighter for the Reedy Creek Improvement District, which operates municipal services for Walt Disney World, took his first classes with Polk State EMS more than a decade ago, earning his Emergency Medical Technician (EMT) certificate in 2001 and paramedic certificate in 2006, before completing his degree.
His involvement with the program has expanded throughout that time. He worked as a lab instructor, then as a preceptor for EMT and paramedic students, and now has spent two semesters teaching Emergency Medical Responder (EMR) courses.
"He has nearly a decade with the program," said EMS Program Director Don Guillette.
"He's always willing to help out, and has become more and more involved. He's a very thorough instructor, and his students always do well on their exams."
Prince said Saturday's award aside, he is honored to help train the next generation of EMS students.
"I really want to help them learn, and will work with them as much as they want me to," said Prince, who prior to joining Reedy Creek spent nearly 12 years with Polk County Fire Rescue.
"It's my goal to help the EMR students gain the foundation to continue their education to the next level, and help them develop a real commitment to the profession."
Radford was a clear choice for Preceptor of the Year, clinical education coordinator Ramon Chico said, for the sheer workload she takes on each semester and the quality of instruction she delivers to each student who rides in her ambulance.
"All the students like going to her. They know she's tough, but they always want to ride again," he said. "She doesn't let them slack. She teaches them."
Radford is a paramedic with Polk County Fire Rescue. She has been a preceptor since graduating from the program, each semester volunteering to train numerous Polk State students.
"Our preceptors fill the gap from the book to the field. They teach our students what we can't teach in the lab and allow our students to get real-world experience — and they do it for free," Chico said.
Like Prince, Radford said the chance to train students following in her footsteps is worth it — award or no award.
"It's fulfilling to teach them and help them learn right," she said. "One day, they'll be in my spot and they could be coming to take care of me or my family. I want them to be good."
The field of EMS has three tiers, with paramedics at the top, above emergency medical technicians and emergency medical responders. Polk State EMS offers training options for those seeking to work at any level of the EMS ladder, and an associate's degree in EMS for paramedics interested in career advancement. In addition to EMS, Polk State Public Safety offers associate's and bachelor's degrees in Criminal Justice, and an associate's degree in Fire Science. In addition to EMS, Polk State Health Sciences programs include Cardiovascular Technology, Diagnostic Medical Sonography, Nursing, Occupational Therapy Assistant, Physical Therapist Assistant, Radiography and Respiratory Care.