Polk State District Board of Trustees Elects Dan Dorrell as Chair, Teresa Martinez as Vice Chair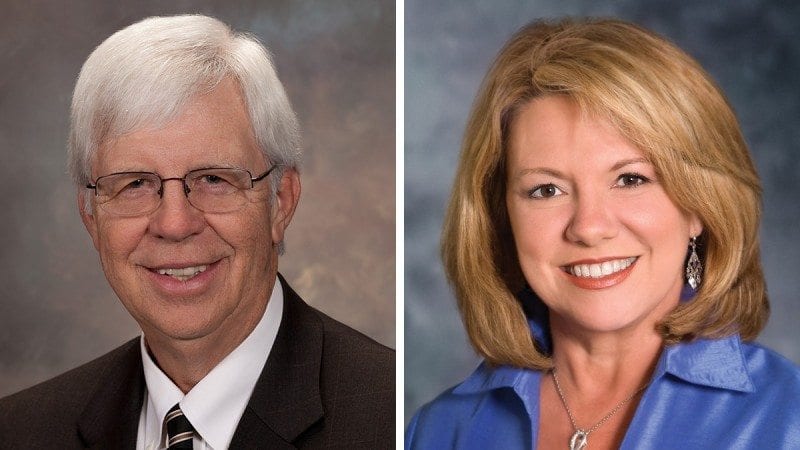 Fifty years ago, Dan Dorrell was one of Polk State College's first students.
Now he's the leader of its District Board of Trustees.
Dorrell, who enrolled at Polk State when it opened its doors in fall 1964, was unanimously elected DBOT chair during Monday's meeting at Polk State Winter Haven. He replaces Linda Pilkington as chair; Pilkington continues to serve as a trustee.
According to state statute, the DBOT must elect a chair and vice chair each year in August; their terms end the following June.
"I am very excited to have Dan as our chair during this year, as we continue to celebrate the College's 50th anniversary," said Polk State President Eileen Holden.
"Dan is a perfect example of what is possible when you get a Polk State education. He came to Polk State because he needed affordable, accessible education. He worked his way through, got his degree, moved on to a university, and now he's a partner in a CPA firm and the chair of our DBOT. He illustrates perfectly the power Polk State has to change lives, and we appreciate his ongoing commitment to making sure new generations of students have the opportunities he did."
Holden also extended her thanks to Pilkington for her service as chair and for her decades-long support of the College.
Dorrell, who described his new post as "a great honor," is a CPA and partner at Cross, Fernandez & Riley, LLP in Lakeland.
Dorrell's extensive involvement in his community includes service to the board of Sun Trust Bank, the local grievance committee of the Florida Bar, the accounting advisory committee for Florida Southern College, the Sebring Utilities Commission, the Sebring Chamber of Commerce, the Highlands County Family YMCA and Highlands County Leadership Program, both of which he helped to found, and the Florida State University and Polk State College alumni associations.
Dorrell is a veteran of the Florida National Guard. He holds an Associate in Arts degree from Polk State and a bachelor's degree in finance from Florida State University.
Dorrell has been a member of the DBOT for approximately three years. This is his first time as chair, and he is looking forward to contributing to the leadership of the College.
"There is great leadership in all facets of the College, in all the programs and departments, from (Polk State President Eileen Holden) on down," he said.
Dorrell said he looks forward to continuing the College's half-century tradition of providing affordable, accessible education that targets specific workforce needs right here in Polk County.
"The College is always looking at the needs of the community, to find gaps in education that businesses need filled," he said. "We've done a great job of that and we will continue to do so. Polk State helped me a lot and I'm proud to serve it."
As chair, Dorrell takes on the added responsibility of presiding over the DBOT's meetings. He said he also feels it is his duty as chair to attend as many College events — from graduations to pinning ceremonies — as possible.
Also unanimously approved Monday was Teresa Martinez  as vice chair; she replaces Dorrell in the position. Martinez will preside over meetings in Dorrell's absence.
Like Dorrell, Martinez began her higher education at Polk State. After graduating from the College in 1975, she went on to earn a bachelor's degree in Spanish from the University of Central Florida.
Martinez is the founder and president of the Institute of Spanish Communication, Inc. She is also chairwoman of the Hispanic Club of Lakeland, which is in charge of the annual Hispanic Festival of Polk County. She has served on the boards of the Lakeland Area Chamber of Commerce, Central Florida Speech and Hearing Center, and the Imperial Symphony Orchestra.
"It's always an honor to serve," Martinez said. "We will continue to make Polk State the best in Polk County and continue to keep the Eagles soaring."
Members of Polk State's DBOT, like those of Florida's other state colleges, are appointed by the governor, with approval from the state Senate, and serve four-year terms without compensation. They are vested with decision-making power in matters of College policy, programs, building, budget and personnel.