Polk State Corporate College Selected as 2017 Bellwether Award Finalist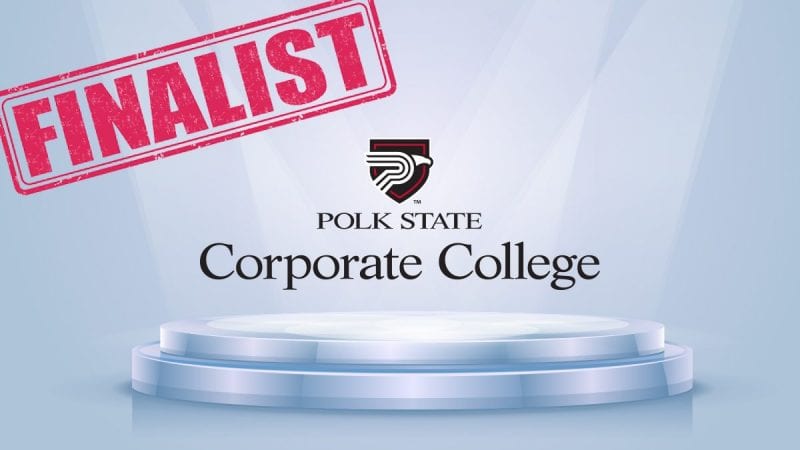 Recognized for the Leadership Development in Public Safety Certification
The Polk State Corporate College has been selected as a finalist for the 2017 Bellwether Awards, which is a collaboration between the Community College Futures Assembly (CCFA), the National Council of Instructional Administrators, the Council for Resource Development, and the National Council for Continuing Education and Training. From the over 200 programs nominated, ten finalists were selected in 3 categories — Instructional Programs and Services, Planning, Governance and Finance, and Workforce Development. Polk State's Corporate College is a finalist in the Workforce Development category for its Leadership Development in Public Safety Certification Program.
The program, established in 2016, is offered to non-degree-seeking individuals. It provides 160 hours of leadership training in the public safety sector, with the opportunity to earn up to nine college credits toward a degree program. The program was instituted through a collaboration with Polk County Fire Rescue who wanted to develop an affordable, high-quality training program that would create customized solutions for the needs of the organization. The program, taught in 20 full-day meetings spread over three months, focuses on leadership skills, strategic operations, human resource management, communication and computer skills.
"We believe that this is the future of public safety leadership in Polk County," said Nyrka Riskin, program coordinator of the Polk State Corporate College's Professional Development Institute.
"The purpose of this program is to develop leaders in the public safety field. The students have increased opportunities through this program, and their career development is enhanced by learning from top talent in the public safety and leadership fields."
After a full year of implementation, the program has been recognized for achieving excellent results both for the program and its partners. Because of this innovative approach, Polk State is now considered a subject-matter expert and is working collaboratively to produce a national-caliber leadership program.
All finalists will present at the Assembly on January 30, 2017 in Orlando, Florida. A winner will then be selected from each category by a panel of national experts and announced at the CCFA annual meeting the following day.
The Polk State Corporate College provides customized workforce training through eight institutes, including the Advanced Manufacturing Institute, Child Care Training Institute, Contractor Safety Training Institute, Insurance Institute, IT/Computer Institute, Professional Development Institute, Real Estate Institute, and Supply Chain Management Institute.