Polk State College students share advice and motivation for their peers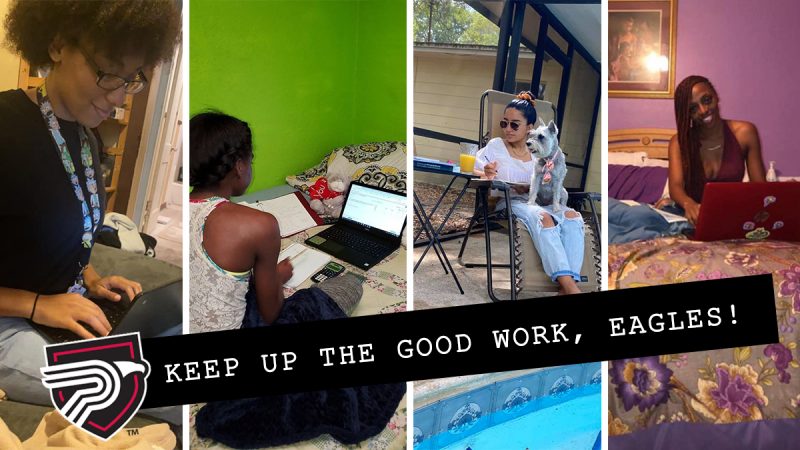 As Polk State College students successfully completed the first week of the fully online learning environment to help prevent the spread of COVID-19, they took to social media to connect and share some words of encouragement with their peers.
Posts featuring Snapchat-filtered selfies, canine "coworkers," and coursework poolside were accompanied with advice and motivation.
"Life will always throw obstacles, but it's up to you on how you handle them," wrote Jasmine Brown, who hinted with a coffee cup emoji that caffeine is helping her through.
"Take it one step at a time and don't forget to breathe," Chourine Elneus shared. "However, it's okay to cry… I have. Wish you guys the best. Let's finish strong!"
"Do not let this virus stop your grind," Carmeisha Worth wrote. "No matter what, keep pushing, believing, and pursuing your dream."
"Remember to use all your resources as best as possible," shared Joshua Jackson.
Jackson, a Polk State Associate in Arts student who plans to continue at Polk State in the Bachelor of Applied Science in Supervision and Management Program to study Business Administration, stressed the importance of taking advantage of the College's many services, which remain available to students in the online learning environment. He pointed to resources that are beneficial to him, including tutoring and the opportunity to participate in student life.
As president of the InterVarsity Fellowship Council, a Student Activities and Leadership Office (SALO) organization that fosters student connections through their faiths, Jackson has been able to keep a group of students connected through weekly Zoom web conference meetings.
"Remember to practice physical social distancing, but not spiritual distancing," he recommended. "Make sure to stay motivated. Study and ask questions. Use all your online resources."
His peers shared similar thoughts and advice.
Rei Lewin, a Polk State Associate in Arts student who aspires to transfer to the University of Florida to study zoology, said it is her faith in the general public that is keeping her motivated.
"I enjoy seeing so many people come together in order to help one another," she expressed.
Lewin has never taken an online class until the College's transition to the fully online learning environment this semester. Classes will continue online through the 2020 spring and summer semesters.
"It is proving to be a bit difficult because the change was so sudden," Lewin said. "But I am able to access my professors via email and keep up with my peers via social media."
"My words of advice are to not fold under the pressure that has been placed on you," she added.
Aaliyah Jones is a Polk State Associate in Arts student who aspires to move on to the College's Bachelor of Applied Science in Supervision and Management Program to study Business Administration. She is dedicated to not "folding under the pressure."
"She would always say, 'You owe me a high school diploma and a college degree,'" Jones said, quoting her late mother. "I know failure is not an option."
With some online class experience, Jones is making sure to use all her resources as well as mental health tips to ensure her success.
"There have been many challenges," she said, "[but] when I feel tired or mentally overwhelmed, I close my laptop and walk away for maybe an hour or two, and then go back at it."
For organization and mental focus, Jones has sectioned her coursework by class throughout the week, with Oceanography from Monday through Wednesday, and Managerial Accounting from Thursday through Sunday.
"When it comes to College resources, I use my peers, the Student Government Association, advisors, and even President [Angela Garcia] Falconetti," Jones said. "When I need help with my classes, I'll email my professor with any additional questions I may have."
It is important for students to maintain communication with their professors, advisors, and peers. It is also critical to monitor Polk State email and accounts, www.polk.edu, and the College's social media for updates and resources.
A list of resources for success in the online learning environment is available here.
The College has also established the Academic Support Line for students who have equipment and internet needs. Students may call the line at 863.669.2833 between the hours of 8 a.m. and 5 p.m. Monday through Friday for assistance.
SALO has launched the Virtual Student Center with activities to participate in on Canvas.
Students can also connect with peers on Polk State's social media pages: Polk State College on Facebook, polk_state on Instagram, and polkstate on Twitter. They are also encouraged to use the hashtags #WeArePolk and #WeGotThis to share their good news and advice.