Polk State College Sees Steady Increase In Enrollment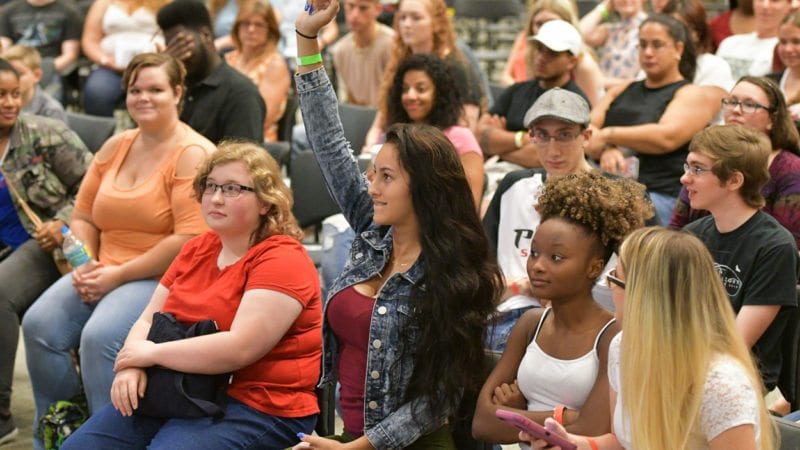 Fall enrollment is up this year from last at Polk State College, and a focus on engaging and retaining first-year students is to thank.
Enrollment is 1.1 percent higher for the start of the 2017-18 fall semester than it was this time last year, with 11,414 students enrolled in classes among Polk State College's six sites. That's 123 more students. The College serves about 16,000 students over the course of the academic year.
The headcount from Thursday, August 24, is not final while students still have the ability to add and drop classes through Sunday, August 27. Students will also have the opportunity to enroll in a 12-week session that starts September 18 and an eight-week session that starts October 18.
But the headcount is expected to increase.
"The increase we are seeing in enrollment is reflective of our concerted effort to engage students through targeted and relevant programs and services," said President Angela Garcia Falconetti.
That includes the College's First-Year Experience program for incoming freshman, which kicked off with the First Flight Convocation last week before classes started.
The program includes a course — the First-Year Seminar — a focus on peer mentoring, and a series of events aimed to entertain, engage, and educate freshmen. The kickoff event Friday, August 18, had a record number of attendees with 1,142 students participating.
They heard from Dr. Falconetti; Student Government Presidents Gonzalo Gutierrez of the Winter Haven Campus and Felicity Ruiz of the Lakeland Campus; and Polk State alumna, Sumer Allen. Students also went on a campus tour before having the opportunity to chat with the College President during an ice cream social, where four freshmen were surprised with $350 scholarships – each equivalent to the cost of one class.
"What a way to start the semester," said Guadalupe Lara, a Lakeland student who was one of the scholarship recipients. "It is just my mom and me, and this scholarship will be such a blessing to us. I am so excited to help my family with our college expenses."
When the First-Year Experience program began in 2014, full-time freshmen had a one-year retention rate of 58 percent. Today, nearly 70 percent of full-time freshmen who participated in the First-Year Seminar and FYE in Fall 2016, have enrolled in classes for the Fall 2017 semester, according to Director of Academic Success Initiatives Cate Igo.
The College has also seen a 2 percent increase in retention of first-time-in-college and first-time-upper-division students from Fall 2016 to now.
Polk State College continues to see an improvement in its retention rate overall, according to Vice President for Student Services Reggie Webb.
Dr. Falconetti said she is proud of the College's retention efforts.
"Ranging from academic advising, financial aid support to our First-Year Experience program, we are ensuring that our students receive the necessary support to succeed," she said. "This is the impetus behind engaging students in their Polk State College journey."
Located in Winter Haven, FL and established in 1964, Polk State College is a multi-campus institution serving more than 16,000 students with Bachelor of Applied Science, Bachelor of Science, Associate in Arts and Associate in Science degrees, as well as a wide range of certificate and workforce training options. The College also operates three charter high schools. Polk State's advantages include small class sizes; hands-on learning; dedicated faculty; day and night classes; online options; affordable tuition; excellent financial aid; and a diverse community and vibrant student life, including fine arts opportunities, clubs, and intercollegiate athletics.