Polk State College Presidential Search Update: Application Period Ends, Screening Process Begins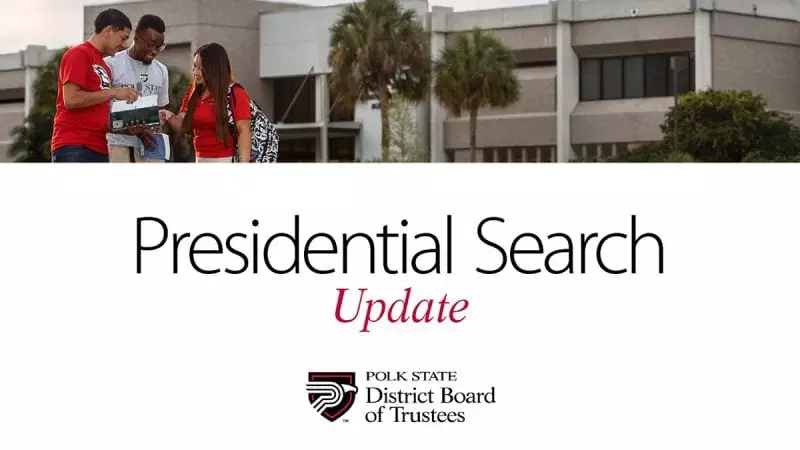 The application period for the position of President of Polk State College ended Wednesday, March 29. The national search for Polk State College's fifth president resulted in responses from 61 applicants from 24 states, Bermuda, and Scotland. The College received 20 applications from Floridians alone, including many from high-level administrators employed by other Florida College System institutions. Applicants include current college or campus presidents as well as provosts and vice presidents.
"This is a very impressive group of applicants," said Dr. Jeff Hockaday, Polk State College's search consultant. "Candidates of this caliber are responding because they are aware of Polk State's reputation of academic excellence, and they are impressed with how Polk County supports its state college."
The Polk State College President Screening Committee will begin a process to reduce the list of candidates to approximately 5 finalists for consideration by the Polk State College District Board of Trustees. The Screening Committee members were present at two community forums held earlier this year to hear about the desired attributes for the next Polk State College President. They will be asked to consider those comments as they narrow the field. Mark Turner, chairman of the committee and Vice Chair of the District Board of Trustees said, "I cannot stress enough how grateful we are to have the participation of the members of the screening committee in this very important process. I am confident that they will deliver to the Trustees an excellent slate of finalists who have the skills, experience and passion to take this College, and our county, to the next level of excellence."
The Screening Committee will meet on April 5, April 17 and May 1 to complete their recommendations. It is expected that finalists will be announced in early May. A full list of the applicants can be found here: Applicants for Polk State College Presidentv1.
Updates regarding the search process are posted to the College's Presidential search webpage: polk.edu/presidential- search/.
Located in Winter Haven, FL and established in 1964, Polk State College is a multi-campus institution serving over 20,000 students with Bachelor of Applied Science, Bachelor of Science, Associate in Arts and Associate in Science degrees, as well as a wide range of certificate and workforce training options. The College also operates three charter high schools. Polk State's advantages include small class sizes; hands-on learning; dedicated faculty; day and night classes; online options; affordable tuition; excellent financial aid; a diverse community and vibrant student life, including fine arts opportunities, clubs, and intercollegiate athletics.