Six Finalists for Polk State College President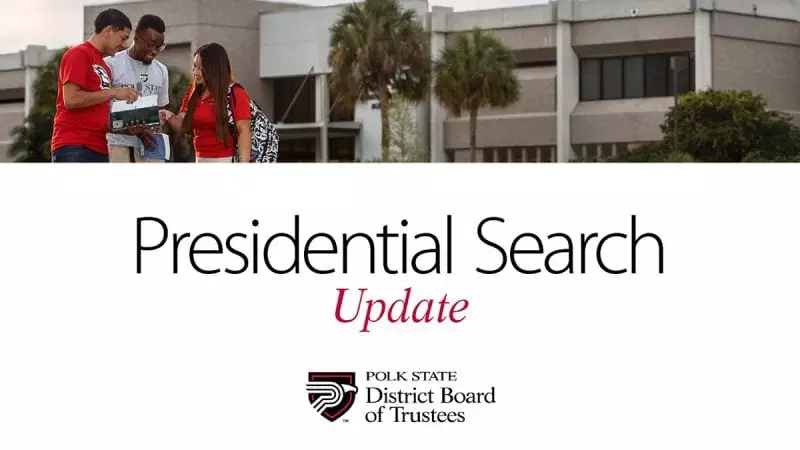 The Polk State College President Screening Committee convened its final meeting May 1 to select 6 finalists for the position of president of Polk State College. Finalists will be invited to Polk State to meet with College students, faculty, staff, and community members and to be interviewed by the Polk State College District Board of Trustees. The finalists are:
Jay Allen, President/CEO, Hopkinsville Community College
Edward Bonahue, Provost & Vice President for Academic Affairs, Santa Fe College
Angela M. Garcia Falconetti, Vice President, Institutional Advancement, Virginia Western Community College
Jean A. Wihbey, Vice President – Workforce Development/Provost, Palm Beach State College
Tonjua Williams, Senior Vice President Student Services, St. Petersburg College
Allen Witt, President SouthShore Campus, Hillsborough Community College
The finalists are expected to be on campus during the second, third, and fourth weeks in May. The Polk State College District Board of Trustees will make their final selection at a special board meeting on May 26.
Information about each finalist and updates regarding the search process are posted to the College's Presidential search webpage: polk.edu/presidential-search/.
Located in Winter Haven, FL and established in 1964, Polk State College is a multi-campus institution serving over 20,000 students with Bachelor of Applied Science, Bachelor of Science, Associate in Arts and Associate in Science degrees, as well as a wide range of certificate and workforce training options. The College also operates three charter high schools. Polk State's advantages include small class sizes; hands-on learning; dedicated faculty; day and night classes; online options; affordable tuition; excellent financial aid; a diverse community and vibrant student life, including fine arts opportunities, clubs, and intercollegiate athletics.