Polk State College Names Angela M. Garcia Falconetti as President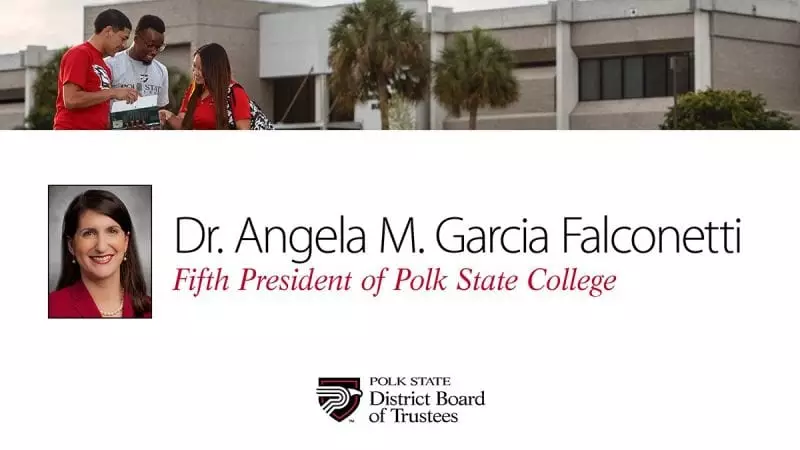 The Polk State College District Board of Trustees today named Angela M. Garcia Falconetti as the College's fifth president. Dr. Falconetti, currently the Vice President of Institutional Advancement of Virginia Western Community College in Roanoke, Virginia, will assume office in July, following the retirement of current Polk State President Dr. Eileen Holden.
"Through a national search process that involved members of the College and the Polk County community, the Trustees have unanimously selected Dr. Falconetti to lead Polk State College into the future," said Greg Littleton, chairman of the College's District Board of Trustees. "We are thrilled to have found someone who truly understands and exemplifies the College's values and who has shown through her experience, her commitment to fulfilling the College's mission. We are very excited for what the future holds."
Dr. Falconetti has 18 years of experience in higher education at the state and national levels. She has been the Vice President of Institutional Advancement of Virginia Western Community College since 2012. In her current role, Dr. Falconetti is responsible for college strategic planning, legislative advocacy, and resource development. She serves as the acting president in the absence of the president. She holds a Master of Education degree and a doctorate in Educational Leadership from the University of North Florida, and a Bachelor in Arts with specializations in Communications and Education Cognate from New York University. Prior to her work with Virginia Western Community College, Dr. Falconetti was the Vice President of Planning, Development, and Institutional Effectiveness for Daytona State College; the Dean of Transitional and Institutional Effectiveness Services for Daytona State; and the Education Program Specialist and Special Assistant Secretary for Community Colleges with the US Department of Education in the Office of Vocational and Adult Education.
Falconetti had the opportunity to meet with staff and faculty during the search process.
"Dr. Holden has fostered a culture of authentic participative governance that has become the fabric of Polk State. A sense of shared ownership in the College and the overarching desire to uphold high standards and promote quality education for students have driven the faculty to be highly engaged in the selection process. We are excited to welcome Dr. Falconetti into our College family, and are devoted to engaging side-by-side in the collaborative, positive working environment that models collegiality for our students and promotes their success," said Dr. Bill Caldecutt, Polk State's Faculty Senate President.
Commenting on her appointment, Dr. Falconetti said, "I am honored and humbled by the opportunity to serve the students, faculty, and staff of Polk State College and the greater Polk County community. I look forward to working with them to continue to build upon Polk State's history of excellence."
Located in Winter Haven, FL and established in 1964, Polk State College is a multi-campus institution serving over 20,000 students with Bachelor of Applied Science, Bachelor of Science, Associate in Arts and Associate in Science degrees, as well as a wide range of certificate and workforce training options. The College also operates three charter high schools. Polk State's advantages include small class sizes; hands-on learning; dedicated faculty; day and night classes; online options; affordable tuition; excellent financial aid; a diverse community and vibrant student life, including fine arts opportunities, clubs, and intercollegiate athletics.