Polk State College kicks off Spring 2019 Arts Schedule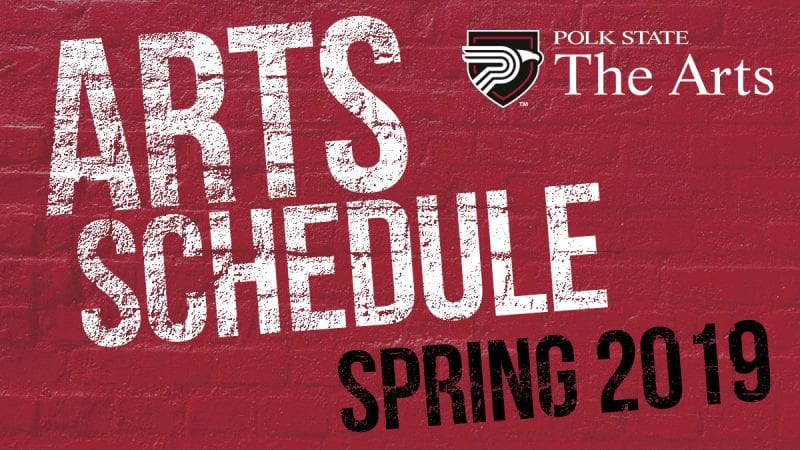 Polk State College has kicked off another season of The Arts with a schedule filled with Music, Theatre, and Visual Arts events for students, faculty, staff, and community members to enjoy.
With annual favorites including Music concerts, Theatre productions, student and faculty art shows, and Polk State's Special Performance Series, this season is sure to entertain.
"Each season, Polk State offers a diverse, eclectic mix of arts programming that not only gives students, faculty, staff, and the greater community access to quality art experiences, but also allows the College's students and faculty the opportunity to showcase their incredible talents," Program Coordinator Nancy Lozell said.
Polk State's Winter Haven and Lakeland campuses are hubs for local arts programming where the community gathers to enjoy high-quality theatrical productions, musical performances, and gallery exhibits curated by the College's talented students and award-winning faculty members.
This season kicked off Jan. 3 with the Central Europe & Scotland Study Abroad Exhibition in the Polk State Winter Haven Fine Arts Gallery and the Precious Cargo exhibit by Jacoub Reyes in the Polk State Lakeland Art Gallery. The exhibits will run through Jan. 31 with the galleries on both campuses open Mondays through Thursdays from 10 a.m. to 2 p.m. Faculty will take over the galleries in March and students will display their work in April.
Polk State's Special Performance Series also kicked off this semester, boasting six showstopping performances with world-class musicians from across the country. The performances range in price from $25 to $30 each, but the best way to enjoy Polk State's 2019 Special Performance Series is with a season ticket. For $115, a season ticket reserves seating for all six shows with a savings of $50.
On Jan. 18, the College will host "The Music of Sam Cooke: A Change is Gonna' Come" starring Bradd Marquis. Marquis will transport audience members back in time to experience the life of Sam Cooke – from birth, to a preacher's son, to his recruitment into top gospel group The Soul Stirrers before rising to pop-icon status. This storytelling through music will allow audience members to grasp the influential impact Cooke had on all genres of music as well as the civil rights movement.
For the full Spring 2019 Arts Schedule and tickets to all of the events, please visit polk.edu/boxoffice.