Polk State College Honors AT&T for Support of Robotics Program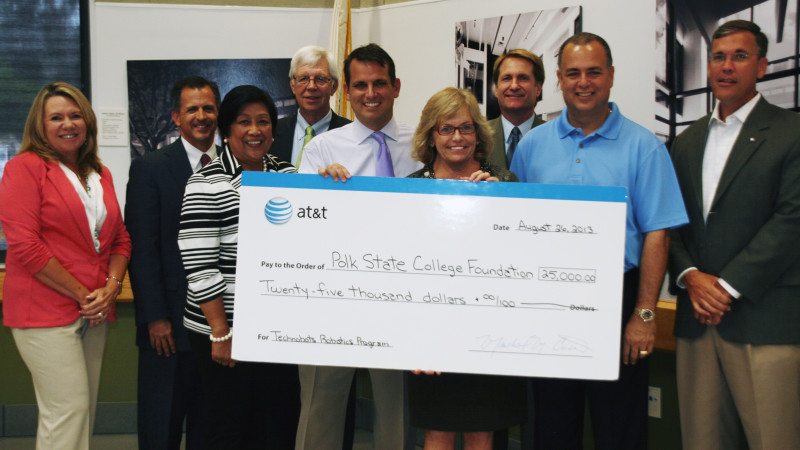 The Polk State Foundation on Monday recognized AT&T for its $25,000 grant, which made it possible for more students to take part in a fast-growing summer robotics program at the College.
"Two things go hand in hand at Polk State College — generosity and accomplishment. AT&T's grant is another reflection of that," said Polk State Foundation Treasurer Kevin Ashley at the meeting of Polk State's District Board of Trustees, acknowledging that the grant will result in student success.
AT&T's contribution provided funding for high-school students from across Polk to participate in Technobots, part of the College's annual TALON Robotics program.
TALON began in 2012, with options for both middle- and high-school students.
Technobots targets students in grades 9-12. During the program, they design, build and experiment with robots, visit area employers to see firsthand the use of robotics in various industries, and take part in an end-of-program robotics competition, the Robot Rumble. In addition to STEM (science, technology, engineering and math) skills, the program emphasizes critical thinking, problem solving and teamwork.
There is also a digital media component of Technobots.
Technobots in 2013 drew 21 students, nearly double the number from the previous year, when TALON launched.
The growth of Technobots is a direct result of AT&T's support.
"The AT&T grant allowed Polk State to extend this challenging, engaging program to interested students at a very nominal cost of $35. Its quality curriculum, taught by exemplar instructors, captured the attention and minds of high school students as a result of AT&T's investment," said Naomi Boyer, associate vice president for strategic initiatives at the College.
Boyer added that AT&T's support has the potential to impact the county's economy.
"As Polk County expands and enriches its high-tech interests, it becomes critical that a skilled, college-prepared talent pool have foundational knowledge in higher-level math and science, and develop the passion and drive it takes to succeed," she said. "AT&T has recognized that need and has responded in a very tangible way that will serve as a foundation for Polk County for transformational economic and educational change."
AT&T Regional Director Matt Mucci attended this year's Robot Rumble, where he saw for himself the results of AT&T's support.
"It's so rewarding to see these young, promising students so excited and engaged as their ideas came to life — there is no doubt that tomorrow's leaders are right here in this room today," Mucci said during the competition, which took place in June at Polk State Lakeland.
Mucci was also on hand for Monday's check presentation at Polk State Winter Haven, where he reiterated AT&T's enthusiasm over partnering with the College.
Since 2012, Polk State's TALON Robotics has been engaging students in STEM learning. The program is the result of the Polk County School District's request for specialized summer enrichment programs to provide interdisciplinary, STEM learning experiences to engage students in hands-on, active learning.
Polk State works as a partner with the school district to design, implement, coordinate, register, host and administer the program. Personnel and materials are selected from the best models within both organizations to develop a robust, sustainable, and unique learning option for students.
For more information about AT&T, visit att.com.
The Polk State College Foundation Inc. is a tax-exempt corporation whose purpose is to provide Polk State College with resources for the advancement of the College, its students, faculty, staff and other constituencies in fulfillment of the College's mission.