Polk State College Foundation's 9th annual Wine for Wisdom brings community together in support of students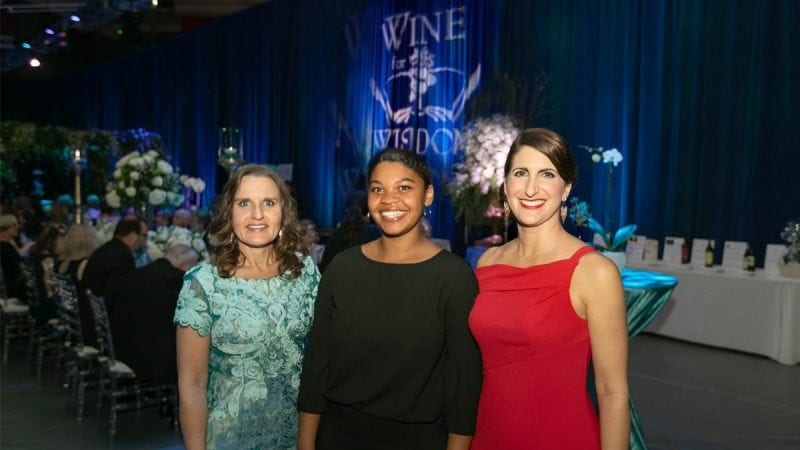 More than 400 community members traveled to the "Mediterranean" for the Polk State College Foundation's ninth annual Wine for Wisdom – the premier fundraiser for student scholarships.
The Winter Haven Campus Health Center was transformed into the sun-warmed, panoramic shores of the diverse, coastal region for Thursday's sold-out event sponsored by the Boyer Building Corporation.
The evening featured musical performances by student musicians, Mediterranean culinary fare and complementary wine pairings by Disney Catered Events, and one-of-a-kind gifts – ceramic wine coasters created by the College's art students.
The event's atmosphere was one of inspiration sparked by the coming together of community members in support of Polk State's students. And guests had the pleasure of hearing from one of the many who have the opportunity to pursue higher education thanks to the generosity of the Foundation's donors.
"Growing up, I was taught that education comes first and that I could – and will – succeed at anything I put my mind to," said Tranise Wheeler, an Associate in Arts student who plans to pursue a Bachelor of Applied Science in Supervision and Management with a concentration in Business Administration at Polk State. She also plans to pursue bachelor's and master's degrees in Art at the University of Central Florida. "The drive that my parents instilled in me has only heightened because of the generosity of the Foundation, and the tremendous resources that Polk State so willingly offers its students."
Wheeler will be the first in her family to achieve a college degree when she receives her Associate in Arts degree in May 2019, and she will graduate debt free. Eighty percent of Polk State students graduate with zero student-loan debt.
Wheeler aspires to blend business with her passion for art by opening an art gallery and ceramics studio.
"Therefore, on behalf of all the students who are helped through your support of the Polk State College Foundation, I thank you," she exclaimed.
In 2017, the Foundation awarded $1.5 million in scholarships to Polk State students, and since its inaugural event in 2010, Wine for Wisdom has raised more than $425,000 in student scholarships.
"Your support is powerful. Your support makes education possible for our students," President Angela Garcia Falconetti said. "It gives students opportunities beyond the classroom, and it instills in our students the importance of giving back."
"When our students become the next successful leaders of our community, they will remember the scholarships and special opportunities that gave them the resources they needed to achieve their dreams," she added. "That is the true power of philanthropy."
Falconetti noted that donations go far at Polk State, where a quality education is half the price of tuition at state universities. Additionally, 70 percent of Polk State's students remain in Polk County after graduation, with more than 96 percent of graduates enjoying successful job placement or continuing their education.
"When you support Polk State College, you are supporting the positive growth of our vibrant community," Foundation Executive Director Tracy Porter said. "There is nothing more powerful than giving the gift of education to a student who needs it, and your support is helping thousands of students right here in our community."