Polk State College collegiate high schools to host info sessions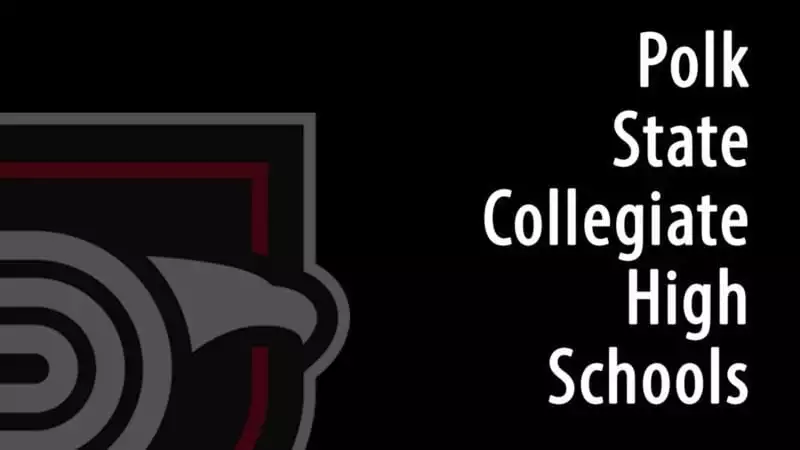 Polk State College Lakeland Collegiate High School and Polk State College Chain of Lakes Collegiate High School will host informational sessions in January and February for current sophomores interested in attending one of the charter schools in 2019-2020.
Polk State's collegiate high schools are high-performing, A-graded schools that serve juniors and seniors with rigorous academic programs and rewarding extracurricular activities. Students fulfill high school requirements while also earning college credits, with many graduating with both their high school diplomas and associate degrees.
Lakeland Collegiate will hold sessions on the Lakeland Campus, 3425 Winter Lake Road, in LTB 1100 at 6:30 p.m. on Jan. 31, Feb. 6, and Feb 12. Chain of Lakes Collegiate will hold sessions on the Winter Haven Campus, 999 Ave. H N.E., in WST 126 at 6:30 p.m. on Feb. 5 and Feb. 21.
The sessions will allow prospective students to learn about the application process, receive tips on preparing for the Postsecondary Education Readiness Test (PERT), tour the buildings, and meet with current students, faculty, and staff.
To be admitted to one of collegiate high schools, a student must have a minimum unweighted, cumulative 3.0 grade-point average (GPA) and be eligible for dual enrollment through their PERT score or an equivalent score on the ACT or SAT. Applications will be available Feb. 1 online at polk.edu/charter-high-schools.
In addition to the Associate in Arts and Associate in Science degree programs, the collegiate high schools offer courses that lead to industry certifications in health sciences and computer programming and infrastructure. Lakeland Collegiate also offers enhanced curriculum programs in community service, leadership, and pre-teaching; and Chain of Lakes Collegiate offers a pre-teaching academy and curriculum enhanced with science, technology, engineering, and mathematics (STEM).
Students attend the collegiate high schools at no cost, and transportation is available for most areas of Polk County.
For more information, call Lakeland Collegiate at 863.669.2322 or Chain of Lakes Collegiate at 863.298.6800.
Polk State Lakeland Gateway to College Collegiate High School will hold information sessions in April.