Polk State Chain of Lakes Student Accepts Baseball Scholarship to West Point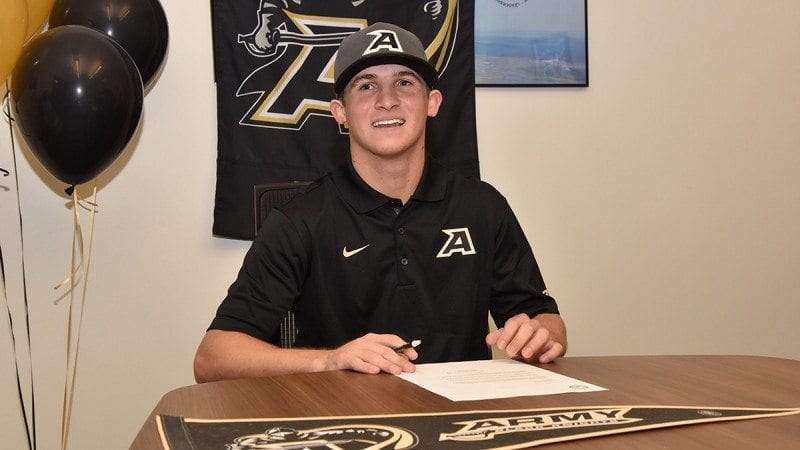 Austin Taylor, a senior at Polk State Chain of Lakes Collegiate High School, has accepted a baseball scholarship at the United States Military Academy Preparatory School in West Point, NY.
"It's been a long time coming, and I'm excited," said Taylor.
A shortstop-second baseman, he played baseball at Haines City High School.
He was contacted by West Point during his junior year, and he says one visit convinced him it was the best place for him.
"They invited me up for the Army-Stanford football game, and I just fell in love with the campus and the people and what the academy is about."
He plans to enter the academy after a year at the prep school, and he believes Polk State Chain of Lakes prepared him well for the challenges he will face.
"I chose Chain of Lakes because it was a great opportunity to get two years of college in for free, and it has better prepared me for harder school work next year," he said.
Does Taylor envision a career in the Army?
"Right now I'm looking at it year by year, but if the opportunity comes and I like it, I can very well see myself doing that."
"I'm so happy that Austin came to Chain of Lakes and that it worked out for him," said Principal Bridget Fetter, who added that Taylor is the first graduate of the school to be accepted to the U.S. Military Academy Preparatory School on an athletic scholarship.
"We're always happy when we can recognize a student for athletic and academic abilities, and certainly West Point is a great place to be."
Located on the grounds of the U.S. Military Academy, West Point Prep prepares cadet candidates for West Point with a foundation that will last them beyond admission to the Academy and well into the future as leaders of character for the nation.
Polk State College operates three public charter high schools, including Polk State Chain of Lakes Collegiate in Winter Haven, Polk State Lakeland Gateway to College Collegiate, and Polk State Lakeland Collegiate. All three high schools allow students to fulfill requirements for their diplomas while also earning college credits.