Polk State Chain of Lakes Collegiate High School Recruiting for Criminal Justice Program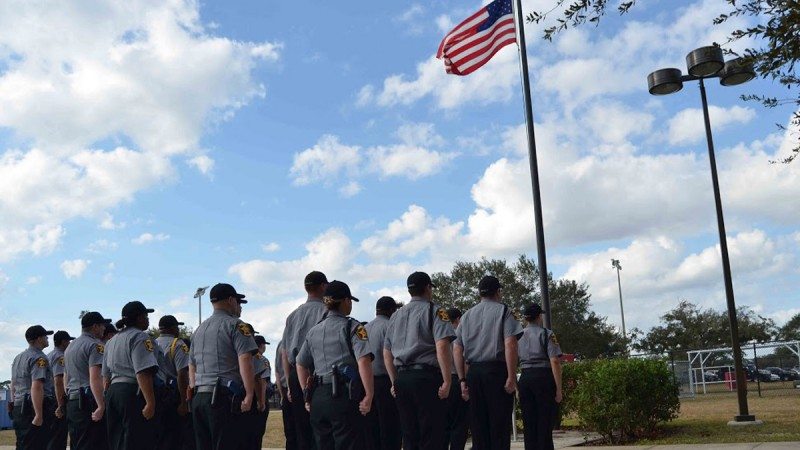 Polk State Chain of Lakes Collegiate High School is now recruiting for its enhanced criminal justice program that will begin in the 2012-13 school year.
Students will proceed through the program as a cohort, and local criminal justice professionals will teach scenario-based instruction.
"The student will be put in a real-life scenario depending on what aspect of criminal justice is being studied. For example, if it's criminal investigations, students might be presented with evidence about a burglary. They would have to think like a detective to figure out what steps to take," said Sgt. Christen Shea, the College's coordinator of the Associate in Science and Associate in Applied Science in Criminal Justice.
Students at Polk State's public, charter high schools – Polk State Chain of Lakes Collegiate in Winter Haven and Polk State Lakeland Collegiate – complete high school requirements while also earning college credit – all at no cost. In the case of the criminal justice program, high school students will earn credits toward their associate degree in criminal justice.
The College is also in the process of developing a bachelor's degree in Criminal Justice. The proposed new degree must be approved by the State Board of Education and the Southern Association of Colleges and Schools, Polk State's accrediting agency. Should it receive those approvals, the College is aiming to start the bachelor's in the fall.
Though Polk State Chain of Lakes Collegiate has offered criminal justice since the school began in 2006, students were limited in how far they could take the program because they had to be 19 to study at the Polk State Institute of Public Safety's Law Enforcement Academy. Since then, those limitations have been removed with the development of a criminal justice associate degree. The proposed bachelor's just opens up even wider opportunities for those interested in the field.
"Before, there was a gap between high school graduation and when they turned 19, but now we don't have that gap," said Polk State Chain of Lakes Director Bridget Fetter.
Students in all Polk State collegiate high school programs – including Allied Health, Fine Arts, Information Systems and the general Associate in Arts degree – must complete work-based learning experiences that give them a real-life introduction to their field of interest.
"In the case of Criminal Justice, we will be able to place students with the different law enforcement agencies within Polk County," Fetter said.
Fetter said the Criminal Justice program is being offered in response to student demand. The Polk County School Board has a criminal justice academy at Kathleen High School in Lakeland, but Fetter said students on the east side of the county were looking for a more convenient option.
Current high school sophomores and juniors are eligible to apply to Polk State's collegiate high schools beginning in February. Requirements include a minimum 2.5 grade-point average and a passing score on the PERT (Postsecondary Education Readiness Test).
Prospective students are encouraged to attend an information session at any of the following locations and times:
Polk State College Winter Haven Campus, 999 Ave. H N.E.
Student Center (WST) 126
Feb. 2, 7, 22
All at 6:30 p.m.
Polk State College Lakeland Campus, 3425 Winter Lake Road
Lakeland Technology Building (LTB) 1100
Feb. 6, 13, 20
All at 6:30 p.m.
Applications will be available at the information sessions or at the school offices. The application deadline for lottery admissions is March 2.
Those interested in the Criminal Justice program should indicate so on their applications.
For more information, visit www.polk.edu or call Polk State Chain of Lakes Collegiate at 863-298-6800 or Polk State Lakeland Collegiate at 863-669-2322.