Polk State Center for Public Safety to Open in 2016, Will House Criminal Justice, EMS, Fire Science and Public Safety Institute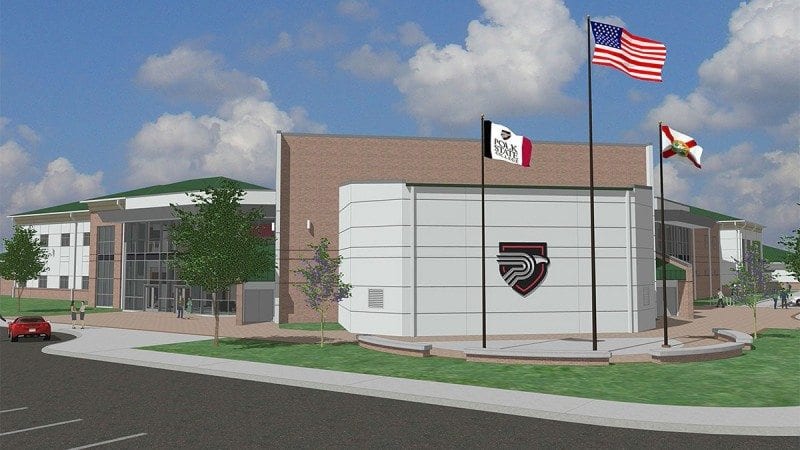 Polk State's physical footprint will expand yet again with the Center for Public Safety, scheduled to open in January 2016.
The Polk State Center for Public Safety will be located at 1251 Jim Keene Blvd. in Winter Haven, adjacent to the Polk County Sheriff's Office Operations Center.
The 101,500-square-foot building will house the College's programs in Criminal Justice, Emergency Medical Services, Fire Science Technology, and the CALEA-accredited Polk State Kenneth C. Thompson Institute of Public Safety.
During a groundbreaking ceremony in August 2014, the College thanked key people who helped the Polk State Center for Public Safety go from dream to reality.
In her remarks during the ceremony, Polk State President Eileen Holden extended special gratitude to Polk County Sheriff Grady Judd for his support and collaboration, Former State Sen. JD Alexander and Rep. Seth McKeel for their work in securing funding for the project, and the Polk County Board of County Commissioners for its 10-acre land donation.
The Polk State Center for Public Safety will cost $30 million. The College has so far received $27 million in state funding and hopes to receive the remaining $3 million in the 2015 legislative session.
Holden described the Polk State Center for Public Safety as an asset not just for the College, but also for the entire county.
"Here, the police officers who keep our neighborhoods safe, the firefighters who risk their lives for others and the paramedics who make every second count will receive cutting-edge, in-demand training," Holden said.
"They will use that training to serve you, me and all the people of Polk County."
Alexander shared the story of a personal friend who worked as a police officer and was shot while on duty. Public-safety professionals — like his friend — can face life-and-death decisions on any given day, Alexander said.
Then Alexander turned his address to the future law enforcement and EMS leaders in the audience.
"This building is about giving you all the tools we can so that you can protect yourselves and our community," he said.
McKeel said he was honored to be included in the groundbreaking event, and even more honored to play a part in helping the Polk State Center for Public Safety come to fruition.
"This building, and the partnerships that have made it happen, are a model for the nation," he said.
"I couldn't be more proud of this expenditure, not just for my community, but for the entire state."
Polk County Commissioner Todd Dantzler described the Polk State Center for Public Safety as a continuation of the College's half-century of service to Polk County.
"Polk State College has a 50-year tradition of strengthening our community by providing graduates who are amply prepared for the workforce," he said.
Following Dantzler to the speaker's podium was Judd, a Polk State Distinguished Alumnus and avid proponent of higher education.
"This is where the men and women who are our future leaders will get a quality education," Judd said.
"This project is about protecting the people of Polk County and making sure they get the highest quality of service."
Auburndale Police Chief and Florida Police Chiefs Chair Chris Nelson added: "The new Polk State Center for Public Safety will allow the men and women of the Polk County public-safety community to receive the highest level of training and continuing education available in order to protect our communities. As public safety leaders, we work hard to ensure we are providing the highest level of service to the citizens we are sworn to protect. The new training center will help us accomplish this goal, making Polk County a safer place to live, work and play."
Lakeland Fire Department Chief Gary Ballard, also a Polk State alumnus, said that half his department's paramedics came through Polk State's EMS training program, and he looks forward to the opportunities the Polk State Center for Public Safety will bring.
"I'm excited about this building and our deepened and continued involvement with Polk State College," he said.
Polk State College has contracted with Lakeland-based Furr & Wegman Architects, P.A., and Tampa-based A.D. Morgan Corp. for design and construction of the building.
The Polk State Center for Public Safety will open two years after the College celebrated the grand opening of is Polk State Clear Springs Advanced Technology Center, a state-of-the-art facility in Bartow that houses the Corporate College and high-tech degree programs.