Polk State Announces First Artist in Residence, Photographer and Poet Saddi Khali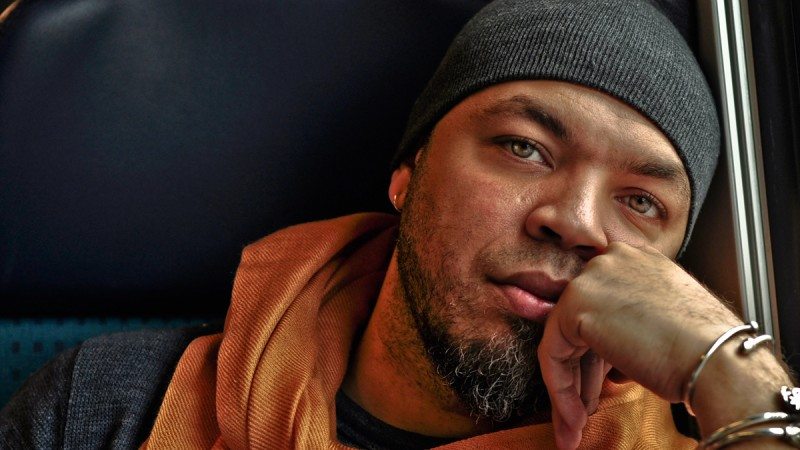 The Polk State College Lake Wales Arts Center will host its first artist in residence — photographer, writer and performance artist Saddi Khali — through Oct. 5.
During his three-week stay in Lake Wales, Khali will give lectures, performances  and workshops, and exhibit a new collection of his work at the Polk State Lake Wales Arts Center's Michael Crews Gallery. Some of his engagements will target College students, but many will be open to the public.
It will all add up to the opportunity for College students, and the broader community, to make meaningful connections with Khali, an artist they may otherwise never have the chance to know.  The College aims to regularly bring artists in residence to the Lake Wales Arts Center.
"It goes back to the mission of the College, of providing accessible education," said Polk State Lake Wales Arts Center Director Osubi Craig.
"People would say that if you want to see artists of this caliber, you have to go to Orlando or Tampa. But we're going to bring them here, into the College and this community. Our students and members of the public will be able to talk to these artists, ask them questions, and learn from their experiences."
Khali was raised in New Orleans and is a photographer, performance artist, poet and writer. He has been published in numerous national journals and anthologies, featured on HBO's Def Poetry Jam and headlined at the Apollo Theatre's Salon Series. His photographs have been featured in Essence magazine, and exhibited across the United States. He also toured for two years with the Uprooted: The Katrina Project, a collaboration between 12 Gulf Coast artists. Most recently, he headlined a photographic exhibition titled Decolonising Beauty: An Evening of Art, Answers and Activism with the Photovangelist Saddi Khali in South Africa. The event explored the links between self-image and oppression.
During his stay in Polk County, Khali will lecture to students in Photography, Theatre and Speech Communication classes, as well as meet with the College's Philosophy and Creative Writing clubs. In addition, he will be featured in events open to the public.
Craig said Khali's ability to connect with those interested in a wide variety of mediums was part of the reason the College selected him as its first artist in residence.
"His journey as an artist is one that's connectable. He was into words and images, and he blended those things together," Craig said. "A lot of people only know him as a poet, or only as a photographer. He's going to be able to touch a bunch of different classes and be received in different venues."
Likewise, the chance to share his various artistic passions was a draw for Khali.
"I see art as a language, and you use different languages to get different points across and speak to different audiences," said Khali. "I enjoy the opportunity to be multilingual."
Khali said he encourages Polk County residents to come to his events to see the artistic richness that is all around them.
"Polk County is a rich and fascinating place," he said. "But if it's what you see every day, then sometimes you don't recognize the richness you live in. It may be valuable to see it through different eyes.
While his schedule in Polk County is still being finalized, one date is certain: Oct. 4 at 7 p.m., at the Polk State Lake Wales Arts Center. That's when Khali will exhibit a series of photographs he's taken of people in Lake Wales during his time in the city.
Polk State Winter Haven Provost Sharon Miller said the Lake Wales Charter Schools and the Lake Wales Arts Council had previously explored an artist in residency program, and Polk State is pleased to have been able to make it happen for the Lake Wales — and broader — community.
"With an artist in residency program, many can access the artist, as opposed to just a few," she said. "It adds another layer of academic and cultural enrichment in the community."
For more information on events featuring Khali, visit polk.edu, email lwac@polk.edu or call 863.298.6847.
Polk State operates the Polk State Lake Wales Arts Center, 1099 State Road 60 East, and the Polk State JD Alexander Center, 152 E. Central Ave., in Lake Wales.