New Director of Polk State Lake Wales Arts Center Is Both an Artist and Administrator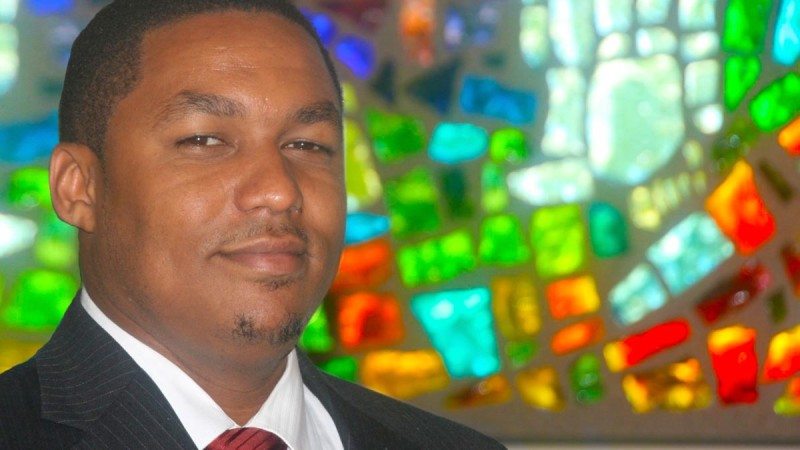 It's a steamy weekday morning in Lake Wales, sunlight glinting off State Road 60, and inside the Polk State College Lake Wales Arts Center, Osubi Craig is casually seated on the edge of the historic building's stage.
Sitting there, in his suit and necktie, Craig describes the intricacies of the djembe, a West African drum he has studied for decades.
It's a scene that perfectly represents Craig. He is at once the suited arts administrator, well versed in budgeting and grant development and, hands tapping against the stage in an impromptu drumming demonstration, the passionate artist whose talent has graced performance halls throughout the U.S. and beyond.
It's an intriguing balance that gives him unique perspective in his new role as the first director of the College's Lake Wales Arts Center.
Polk State College officially opened the doors to the Lake Wales Arts Center, 1099 State Road 60 East, earlier this year, after taking ownership of the building from the Lake Wales Arts Council in 2011 and completing a number of structural improvements.
Since it opened, the Center has offered arts-centered events for families, credit courses for students of the College, and free gallery exhibits for the public.
Now with Craig on board, the College will significantly increase programming at the location, positioning it as a countywide arts resource.
"We knew when we took ownership of the Arts Center that we had received a tremendous gift, not only in terms of the actual building but also its legacy in offering arts opportunities to the Lake Wales community," Polk State President Eileen Holden said.
"Now, as the Polk State Lake Wales Arts Center, we will broaden the draw of this location to extend throughout Polk County. It will be a place where children in Lakeland and Lake Alfred come to learn, where aspiring artists in Frostproof and Fort Meade come to refine their crafts, and where art enthusiasts from Bartow and Babson Park come to hear great music and view new exhibits. Like everything this College does, the Arts Center will serve all of Polk County. We are excited for the future of this location and all that it will mean to Polk."
As director, of course, Craig (whose first name is pronounced O-shoo-bee) will play an integral role in the future of the Arts Center, all the while drawing on his personal experiences in the arts — both on the administrative and creative sides.
Craig was born in Trinidad but grew up in Brooklyn before coming to Florida right before high school in the late 1980s. He was raised in a family in which music was simply a part of life. The oldest of eight children, Craig said that for 15 straight years, his family had at least one kid performing in a high school marching band or other ensemble.
For his part, Craig has always been a drummer.
"I've been drumming all my life. I can't remember a time in my life that I wasn't playing the drums," he said.
To be clear, Craig's not talking about the five-piece drum sets of rock bands and pop groups. He has extensive training in playing the djembe, a West African instrument that is shaped like an hourglass and is played with bare hands, and the conga, which has its roots in Africa but is also a mainstay of Latin American music.
The djembe, in particular, is not just an instrument, but part of his soul. Through it, he feels a deeper connection to his family's heritage; on his father's side, his lineage traces back to Nigeria, in Central Africa. He can hardly recall a wedding or a graduation in which he or his family or friends didn't gather in a circle to play the instrument.
"To me, it's life," he said.
After graduating from high school in Gainesville, Craig went to Florida A&M University on a music scholarship; while there, he played with its Marching 100 and jazz ensemble. Always strong in math and science, Craig earned a bachelor's degree in Industrial Engineering, though he also has a minor in Jazz Studies.
While studying at FAMU, when he wasn't poring over his engineering textbooks, he was playing — and getting his first taste of arts administration.
Also a trained and experienced dancer, Craig performed as part of FAMU's Orchesis Contemporary Dance Theatre. When the group's director retired, he got involved in backstage management, from budgeting to booking performance dates, even serving as the group's director for a while.
"It was my first taste of arts administration on a big level," he said. "From then on, I was always interested in both sides of the arts — not only the artistic side, but also the administration side. I knew I could do the administration side, and do it well," he said.
After graduation in 1999, Craig found himself at a crossroads — earn a good living as an engineer or pursue his lifelong passion for music.
He chose the latter.
"I knew people who had gone into engineering and they weren't happy," he said.
After college, Craig packed up and headed north to Philadelphia, where he knew he could afford to live and where he could be near both his then-girlfriend and big-city gigs.
For years, the life of a professional musician worked well for Craig, who filled the time with performances and teaching stints at a wide variety of venues, including the renowned Alvin Ailey American Dance Theatre in New York City.
By 2003, that interest in arts administration led him back south, where he enrolled at Florida State University; he graduated with his master's in Arts Administration with an emphasis in Grants Management and Program Development.
"The field of arts administration is still evolving, but I found that it was full of people who were performing artists and still wanted to be around the work. That was appealing to me," he said.
Before joining Polk State, he worked as the assistant director of the Office of Black Diasporan Culture at FAMU, where he coordinated special events and a scholarship program. He was also a grant specialist and research coordinator for the College of Engineering Sciences, Technology and Agriculture at FAMU before moving on to Florida Memorial University in Miami Gardens. There, he worked in grants and research, eventually becoming director of grants and sponsored research and Historically Black Colleges and Universities (HBCU) Title III programs.
Polk State Winter Haven Provost Sharon Miller said all of Craig's previous work will serve the College well.
"He has a very neat package of skills that will help propel the Arts Center to where it needs to be and will help the College build necessary partnerships. I think that we're most fortunate to have found the skill set that we've found in him. He has such a unique repertoire of skills," she said.
"He will help us build our partnerships within Lake Wales but also throughout the Polk county community at large."
Craig's experience and aspirations for the Arts Center have been warmly received outside the College as well. Jean Donaldson, executive administrator of the Lake Wales Arts Council, said she knew during his interview process he would fit well into the Lake Wales community.
"The main thing that really impressed me was that in his final interview, he included the Lake Wales Arts Council in his plan for the Arts Center. A lot of people tend to forget us, but he thinks of us as a partner. He wasn't just brushing the Arts Council aside; he wants to work with us," she said.
"He's intelligent enough to know he can't do all this on his own, and he knows he needs to get the support of the community."
In his new post, Craig says he's found everything he could have dreamed of — a beautifully renovated building, a college with the resources to host performances and exhibits, and a community ready and waiting for more arts opportunities.
In the coming years, he envisions the Polk State Lake Wales Arts Center following the example of another arts entity connected to a state college: the Appleton Museum of Art at the College of Central Florida. The Appleton is one of the South's premier art museums and education centers, with permanent collections of European, American, and contemporary art and a busy schedule of special programming all year.
The Polk State Lake Wales Arts Center will be that for Polk County, Craig said. It will be a place for music and paintings, for parents and children, for artists and art enthusiasts.
It will be, ultimately, a place where people learn about themselves through new things that they see, hear and experience — just like Craig did through the djembe.
"We're going to offer cultural experiences that are relevant to everyone, and through that diverse programming, members of this community will have a deeper understanding of themselves as individuals — but also those all around them," he said.