Polk State Lake Wales Arts Center Opens Doors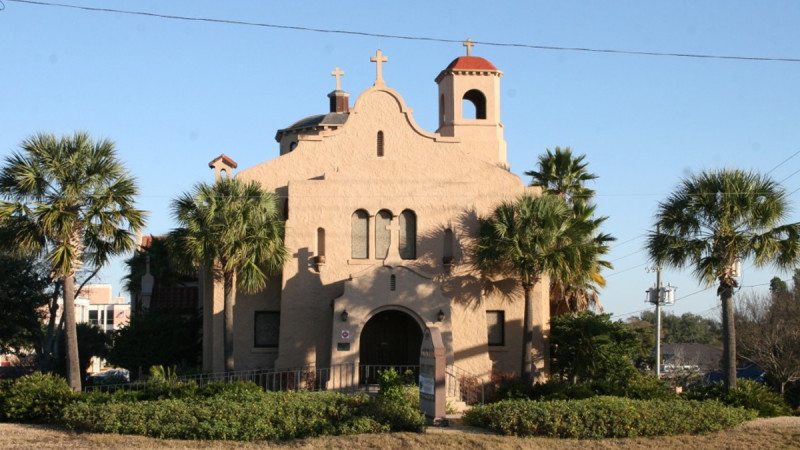 The Polk State College Lake Wales Arts Center is officially open, allowing residents of the area to study in a one-of-a-kind setting under the direction of expert faculty members.
And the excitement of these early days at the Center will only grow in coming weeks, as work to improve the building is completed.
"This building, long before it came under the scope of Polk State College, was a hub for creativity and arts activity in the Lake Wales community. Polk State is honored and pleased to continue that tradition for the residents of southeast Polk County," said Polk State President Eileen Holden.
"Careful structural improvements are being made and we've brought in incredibly talented faculty members to teach our students. The result is a beautiful, exciting and truly special place to learn."
In late 2011, the College and the Lake Wales Arts Council announced an innovative collaboration that involved the College accepting title to the Lake Wales Arts Center. In exchange for the 1920s building, which has been renamed the Polk State College Lake Wales Arts Center, the College agreed to renovate and maintain the facility.
Those renovations, meant to enhance the building's structural integrity and functionality without visually altering the historic character, began last summer.
The building's gallery was unchanged, but its two classrooms have received cosmetic upgrades, including new flooring and paint. Both classrooms are also now outfitted with modern instructional technology.
The building's bathrooms have also been remodeled to meet code requirements and have received upgraded finishes. A student seating area has also been created in the lobby of the building.
The exterior of the building has been repainted and a grassy courtyard space has been finished with pavers and outdoor seating, creating an inviting gathering space for students.
Now, the focus is on the rotunda of the building's sanctuary. Initially, the College expected to simply replace roofing tiles on the rotunda. As the project got under way, however, it became clear that the roof needed new structural supports as well.
The work on the roof is also affecting renovations to the building's basement to create a lecture hall and offices.
The entire project is on track to be finished in March.
While work continues in portions of the building, the College has begun offering credit courses in the classrooms and gallery. Classes under way include Design and Digital Photography.
Teaching Design is a new Polk State hire, Holly Sailors, who most recently worked for fashion house Chanel and taught in New York City.
"I've always loved teaching. Teaching is what keeps me going," said Sailors. "I wanted to find a way to start teaching full-time. I found out Polk was looking for someone full-time. I grew up in a small town and was determined at a young age to be an artist, so I headed for New York City. At this point in my life, I figured I could go anywhere, so I said, 'why not.'"
Sailors, an oil painter and printmaker whose paintings are also commentaries on women's issues and rights, grew up in western North Carolina and holds a Master of Fine Art from the New York Academy of Art and a bachelor's in Fine Art from East Carolina University. She has also studied in Italy with the University of Georgia, Penland School of Crafts and at the Savannah College of Art and Design.
Her work is in permanent collections in Georgia, Germany and New York City.
Sailors' teaching experience includes work at the New York Academy of Art and Long Island University in Brooklyn.
For all her success at the easel, Sailors said she has always thought of herself as equal parts artist and teacher.
"I learn just as much from my students as they do me — they just don't know it," she said.
When she interviewed at Polk State, two things convinced her this was the right place for her:
"I realized there was a need for art here. I could tell everyone was craving it. I could also tell that the College is all about its students and helping them learn and working with the community to help people have the education they deserve," she said.
"I appreciate the education I've been able to have and I want the students at Polk State to have those same opportunities. I will invest my time in my students and work with them one-on-one to expose them to as much knowledge as possible for their educational path."
Teaching Photography is David Woods, a Polk State instructor since 1989 who holds degrees from Virginia Commonwealth University and the Savannah College of Art and Design.
Woods has photographed presidents and celebrities and worked as the head photographer at amusement parks including Cypress Gardens.
In his time at Polk State, the College has added photography courses and created a state-of-the-art studio and lab space, all of which has contributed to students receiving the education they need to carve out viable careers in photography. He can name numerous students who have gone on to start their own photography businesses.
"Our students are learning skills here at Polk that allow them to go out and independently support themselves. That's huge," Woods said, adding he is excited to expand the College's photography instruction to southeast Polk County.
Additional credit classes — including Ceramics and Music Appreciation — began in late January.
Polk State Winter Haven Provost Sharon Miller said the College is committed to the Lake Wales area and looks forward to growing its offerings at the Polk State College Lake Wales Arts Center.
"We're helping to infuse the arts deeper into this community," she said.
For more information on the courses at the Polk State College Lake Wales Arts Center, please call 863.298.6883 or 863.298.6830 or visit polk.edu.