Polk State & Amazon put student's dreams within reach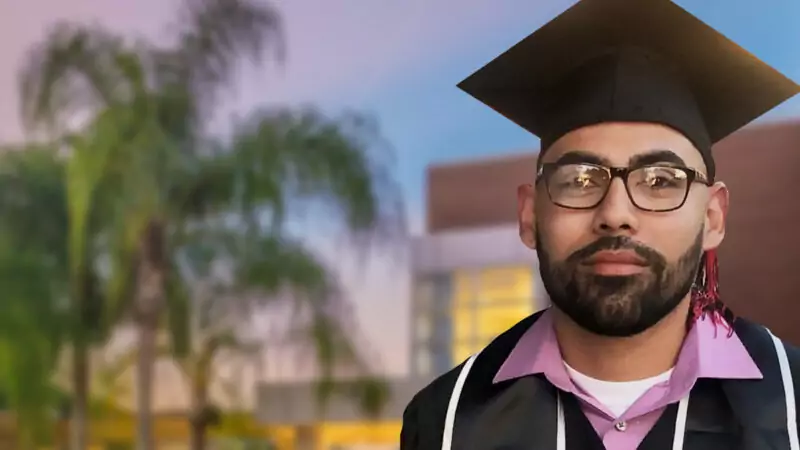 After 10 years at Polk State College, Chris Montero achieved his Associate in Arts degree in December and is now enrolled in the Bachelor of Applied Science in Supervision and Management Program thanks to support from his employer, Amazon.
When describing his educational journey, Montero explains that work got in the way, whether it was struggling to balance a full-time job with going to school, or paying for classes when he was unemployed.
"When I started college, life hit me. I had to work, and I was working a lot – so much that I actually dropped out of school for a couple of years because it was just too much," Montero said. "Then when I lost my job, I had the time to go to school, but I didn't have a way of paying for it."
In 2017, Montero attended an Amazon hiring event in Kissimmee. While he was initially discouraged by the crowd of more than 200 job seekers, Montero landed a position and would soon realize that this opportunity would provide more than just a paycheck.
The Amazon Career Choice program provides more than 750,000 employees with funding for their college tuition at 180 partner institutions across the country. Polk State College is one of those institutions.
"It just makes sense to go to Polk State because it's half the cost of universities. The staff here really cares about the students too."
"If it wasn't for my job with Amazon, I don't think I would be here," Montero said. "My employer has paid $12,000 toward my education so far and it's not only about the money. Amazon also provides flexibility and accommodations for their workers to go to class, complete assignments, and study."
Montero works Wednesday through Saturday from 10:30 a.m. to 9 p.m. and can request time off when he needs to complete coursework or projects. Amazon allocates their employees who are in school with leave time for these specific purposes, he said.
From a young age, Montero wanted to be a doctor. Born prematurely, he spent a lot of time in hospitals and feels called to help others the way doctors have helped in.
He is pursuing the Health Administration concentration in the College's BAS Program and plans to apply for the Physical Assistant Program at the University of South Florida.
"It just makes sense to go to Polk State because it's half the cost of universities," said Montero, who paid his way through school for six years until he had one year of employment under his belt with Amazon to qualify for tuition payment.
"The staff here really cares about the students too," he added. "(Student Success Advisor) Jesus Jaime has been a huge motivation for me."
In fact, Montero and Jaime met when they were both Polk State students. Jaime, now an advisor who helps students with navigating their educational journeys, is pursuing his own higher education – a master's degree.
"Jesus is inspiring to me because not only is he pursuing his higher education; he is also helping others along the way and that's what I am inspired to do," said Montero, who is also a member of Polk State's Brother 2 Brother organization which Jaime serves as an advisor.
"Working and going to school used to feel like a sacrifice. I'm glad I stuck it out. It is definitely easier now with the support I receive from Amazon and Polk State College."
With Brother 2 Brother, Montero provides mentorship and support for other students.
"Students may not have the money or the academics to go straight into a university," he explained. "I'm here to tell them that that's OK. That doesn't mean you can't achieve your higher education. Don't let that stop you. Polk State provides a way."
Nearing his 30th birthday, Montero says he is an example to others not to give up on their goals.
"Working and going to school used to feel like a sacrifice. I'm glad I stuck it out," he said. "It is definitely easier now with the support I receive from Amazon and Polk State College."