Polk State alum from Nigeria achieves dreams and medical degree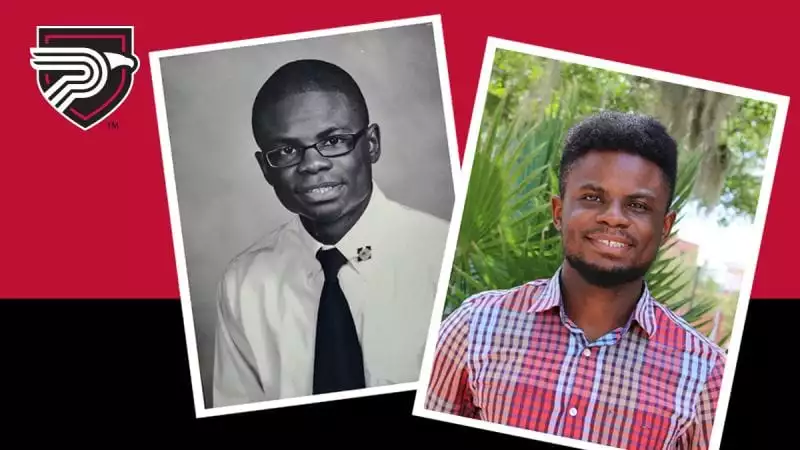 When Dr. Ojochide Shaibu moved from Nigeria to the United States, he was armed with a dream to serve humanity through medicine and only $70 in his pocket.
"I knew what I wanted to do, but I didn't know how I was going to do it," said Shaibu, who received his Polk State Associate in Science in Nursing in 2008 and his Polk State Associate in Arts in 2010. He recently achieved a Doctor of Medicine from Ross University School of Medicine and will begin residency at the Medical College of Georgia.
When Shaibu was 17 in Nigeria, his uncle was in a horrific car crash that left him with a brain injury. The nearest neurosurgeon was a four-hour drive away and his uncle was in a coma for three days, suffering severe complications before passing away.
"It was the first time I saw my father or any man cry, and it was in that moment that I knew this is what I was going to do with my life," said Shaibu, who once aspired to become a Catholic priest and now plans to be an endovascular neurosurgeon. "What I've learned is that with brain tissue, the more time you waste the more functions you lose."
Since then, Shaibu hasn't wasted any time working hard toward his education and career goals, although his parents inherited his nine cousins in addition to his three siblings, "and I realized my education was not the highest priority anymore – my cousins needed to go to school and they needed our support also."
Despite the financial challenges he faced, Shaibu remained undeterred and in 2004, moved from Nigeria to the United States – his birth country. His father was an international student at the San Francisco Art Institute in California when Shaibu was born.
"I knew what I wanted to do, but I didn't know how I was going to do it. Support from the Polk State community was the catalyst to my education and career path."

— Dr. Ojochide Shaibu
Polk State College alum
Shaibu settled in Winter Haven where he lived with a cousin and sought a job that would allow him to support his family back in Nigeria, as well as start on his path to education.
His cousin connected him to resources at East Area Adult School, where he completed his GED, and encouraged him to begin his journey as a certified nursing assistant (CNA). He also worked as a stock clerk at a local Publix Super Market, where he shared his story and aspirations with Manager Bill Maynard, who became Shaibu's mentor.
Maynard encouraged Shaibu to complete free CNA classes at the Winter Haven Health and Rehabilitation Center and offered support during his transition to Polk State, where nursing appealed to Shaibu not only because he could gain experience valuable to his pursuit of a medical career, but also because it would provide him with higher income that would allow him to better meet his family's financial needs in Nigeria.
College seemed financially out of reach for Shaibu, but a Polk State advisor assisted him with obtaining a waiver granting him in-state tuition and the Polk State College Foundation awarded him a scholarship, allowing him to start on his path to success. Tuition at Polk State is half the cost of tuition at state universities and the Foundation awards approximately $1.5 million in student scholarships each year.
"Support from the Polk State community was the catalyst to my education and career path," Shaibu said.
While working as a CNA, Shaibu achieved his Associate in Science in Nursing.
"It was tedious – I had not been challenged that hard in life until that point," Shaibu said. "I was worried at times that I could fail, but I persisted, remained diligent with my studies, and was successful."
Polk State Nursing taught Shaibu how to conduct himself as a professional, to always put patients first, and to advocate for their health and safety, he added.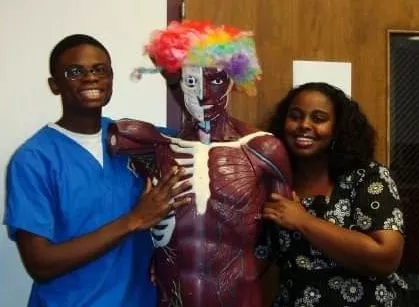 Before graduation, he had already secured a job at Winter Haven Hospital and had met his "anchor and life partner," Rita, who also holds a Polk State Associate in Nursing degree and now serves as a nurse practitioner.
Shaibu jokingly shared that after many dates, she asked why he always wore the same jeans and shirt.
"It was because I was sending most of my money back to Nigeria for my family. She gave me some new clothes from her father's closet. I don't think I would've come this far without her support," he said.
While working as a nurse, Shaibu continued his education by achieving his Polk State AA degree before transferring to the University of Central Florida, where he received his bachelor's degree in biology.
"There has been a lot of time buried in books, but every piece of knowledge and every experience has been enriching," Shaibu said.
In 2012, before leaving for medical school in Dominica, he moved his parents to Florida.
"My wife has held the entire family together," Shaibu said. "I would tell her the only way I can repay her is with good grades and that's what has kept me motivated."
Shaibu graduated from medical school with highest honors and completed clinical experiences at St. Anthony Hospital in Chicago and Cleveland Clinic in Weston.
He's home for only a few weeks before he leaves for Georgia to complete four years of neurology residency.
His message to others is simple.
"My advice to students is to think deeply about what they want to do, find a mentor who can guide them, create a plan and follow that plan to accomplish their goals," he said.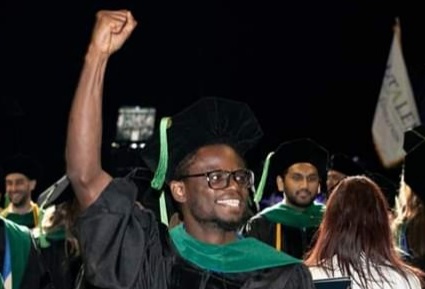 "A lot of people have guided and supported me along the way, which has allowed me to achieve my dreams," he added, pointing to his mother who emphasized to Shaibu at a young age the importance of developing a plan and sticking to it.
"Growing up in Nigeria has given me a special appreciation for the opportunities I have received in the United States. Our basic needs are met here, while in Nigeria it is challenging," Shaibu said. "I admonish students to take advantage of opportunities because in the United States they have the freedom and the resources they need to make their dreams reality."