Polk State Aerospace Has Its First Licensed Pilots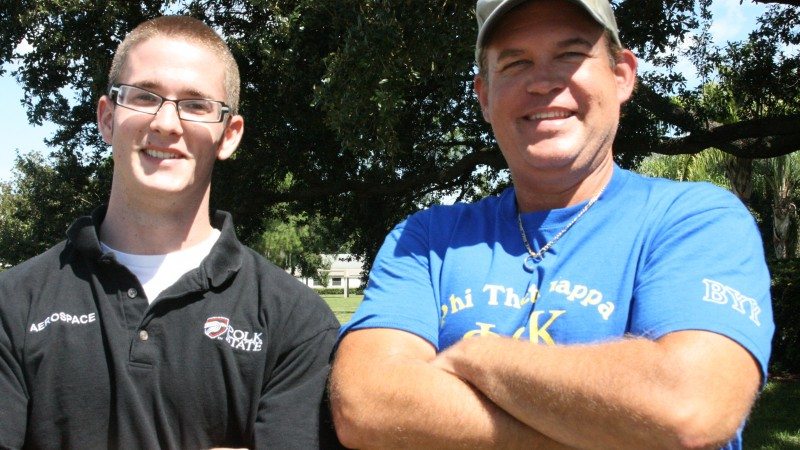 Two Polk State Aerospace students are now officially pilots.
In late August, Tanner Atkinson, a resident of Auburndale, passed the Federal Aviation Administration's Private Pilot Practical Test.
He is the first Polk State Aerospace student to reach the milestone.
"It feels great. It's a big hurdle," said Atkinson, who aims to either become a commercial or corporate pilot.
The Private Pilot Certificate is typically the first step for aspiring pilots. With it, Atkinson can fly any single-engine aircraft, anywhere, day or night. He can even fly passengers. He just can't get paid to fly.
"It's the equivalent of a flying-for-fun license," said Polk State Aerospace Program Director Eric Crump. "He can take as many passengers as the aircraft will hold. He can fly someone for lunch, to the beach for the weekend, across the country, to the Bahamas. He has completely unlimited flight privileges."
To reach private-pilot status, aspiring pilots must have at least 40 hours of flight training and must pass a computer-based and oral exam, as well as the practical test, which covers takeoffs and landings, emergency in-air situations, and basic aircraft control, Crump said.
Robert Gerber, of Bartow, followed up on Atkinson's achievement just days later, also earning his private pilot certificate.
"It's exciting that now I have the freedom to fly about the country," said Gerber, who wants to ultimately become an airline pilot.
Both Atkinson and Gerber have been enrolled in Polk State Aerospace since it launched in January. Crump noted that both received "glowing" reviews during the practical test.
"They didn't just pass, they excelled," he said.
At its launch, Polk State Aerospace offered an associate's degree in Professional Pilot Science, for those interested in careers as pilots or flight instructors. Since then, it has added an associate's degree in Aerospace Administration, for those seeking management positions at airports or related operations.
Atkinson and Gerber are both studying toward the degree in Professional Pilot Science.
Crump said seeing the first students become private pilots is immensely satisfying.
"It proves that our program works, that our training model and curriculum does what it's supposed to do," Crump said. "I couldn't be more proud of them. Every time I see someone go through that process, it reminds me of why I do this."
Polk State College Aerospace launched in 2013 to meet the needs of local students seeking careers in the growing field of aviation. Through the program, students earn an associate's degree in Professional Pilot Science, preparing them to earn their commercial pilot certificates from the Federal Aviation Administration. In fall 2013, it added an associate's degree in Aerospace Administration, which focuses on the business side of aviation.