Polk State Aerospace Marks First Student Flight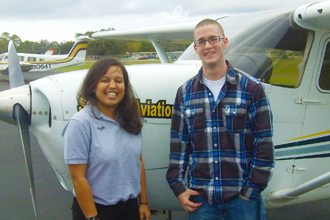 Polk State Aerospace students are now officially airborne, with student Tanner Atkinson having completed his first flight last week — a moment that serves as a visual milestone for a quickly expanding degree program.
Atkinson, 21, a resident of Auburndale, flew above Polk County for about an hour — and he won't soon forget a single second of it.
"It was exhilarating and definitely fun," Atkinson said. "It was my assurance that I'm moving on, that from here on out, I'm going to be a pilot. It was my first step in success."
Atkinson has wanted to be a pilot since he was 14, inspired partly by an uncle who is a pilot, but mostly by the freedom that comes from being above the clouds.
"Being up in the air is just awesome. You have total freedom of movement," he said.
Though he'd dreamed for years of being a pilot, Atkinson began his college career at Valencia College studying electrical engineering. But when he heard that Polk State Aerospace was getting off the ground this January, he switched course.
Atkinson said he definitely made the right decision to enroll in Polk State Aerospace. He especially appreciates the program's use of flight simulation technology.
"Using a flight simulator helps take away the stress of flying the airplane," he said, adding that he also experiences air sickness and using the simulator has helped him prepare for that queasiness before he's in the sky.
Atkinson performed his first flight with Polk State Aerospace with his flight instructor from SunState Aviation, the College's contracted flight training provider.
Polk State Aerospace also received unanimous approval on Monday from Polk State's District Board of Trustees to begin development of a four-year degree in Aerospace Sciences. The College will now concentrate on developing a curriculum for the new degree to submit to the state's Board of Education.
Also, on Friday, FedEx will donate a Boeing 727 to Lakeland's SUN 'n FUN. Through the College's partnership with SUN 'n FUN, Polk State Aerospace will use the plane to teach cockpit procedures and for maintenance training.
Polk State College Aerospace launched in January to meet the needs of local students seeking careers in the growing field of aviation. Through the program, students earn an associate's degree in Professional Pilot Science, preparing them to earn their commercial pilot certificates from the Federal Aviation Administration.