Graduating Parents Choose the Stands Over the Stage to Watch Daughter March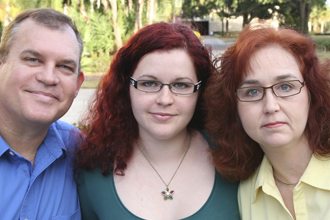 As students, Stephanie and Robert Gerber have earned their march at Polk State College's upcoming commencement ceremony.
As parents, however, there's nowhere they would rather be than in the stands, watching their daughter receive her degree from their shared alma mater.
"We want the focus to be on her," said Robert, 47, of his daughter, Danielle.
Though they may eschew any attention, the story of how Stephanie and Robert Gerber reached their graduation day is certainly worthy of congratulations.
First, Robert, who is graduating with his Associate in Science in Accounting Technology — his third degree from Polk State, but not the last he has planned.
In 1983, Robert was, in his words, "bored to death" with high school. He played in the band and for the tennis team, but when it came to his work in the classroom, he just didn't see how it related to his post-high school plans. The son of a single mother who hadn't gone to college, Robert envisioned for himself a life of work, not studying.
He dropped out of school and worked a series of part-time jobs before earning his GED in the late 1980s.
Eventually he made his way to Ridge Career Center's Fire Academy, where he earned credits that he later learned were transferrable to Polk State College.  Once all his coursework was tallied, Robert realized he was halfway to an associate's degree in Fire Science Technology.
With so much of his Fire Science degree already finished, Robert enrolled at the College. He was determined, but also a little scared, especially about math.
Robert knew that for him, earning a college degree would hinge on overcoming algebra. That first week as a college student, he met with Math Professor Catherine Frank and asked her to explain the subject.
As it turns out, she knew just the right things to say.
"She explained algebra to me in such a way that my light bulb kicked on. I went to her the first day of class and told her that I have one question that would determine whether I finished college or not, 'What is algebra?'" Robert explained.
"She told me that algebra is the language of geometry. I had always been OK with geometry, and with her saying that, it made me think of algebra in a whole different light. I reprogrammed how I thought about algebra, and I got it."
Frank said Robert deserves all the credit for his success.
"He's one of the hardest working students I've ever met. There was never any doubt in my mind that he would succeed," Frank said. "No matter what I do in the classroom, the students have to go home and learn it. Robert wanted to learn."
With the algebra hurdle cleared, Robert earned his associate's in Fire Science Technology in 2006. Then in 2010, he earned an associate's in Liberal Arts from the College.
But he's still not done.
He will be back on campus in January as one of the first students in Polk State Aerospace, a program that will allow him to fulfill his long-held dream of becoming a pilot. Farther down the line, he hopes to add a bachelor's degree to his resume, too.
Robert's wife, Stephanie, is also a multiple Polk State degree holder.
She graduated from Winter Haven High School and headed straight to Polk, where she decided to become a nurse.
"I was very lucky that Polk State was in my backyard and that it had one of the best Nursing programs in the state. I just lucked out by living where the College was," she said.
Stephanie graduated with her associate's in Nursing in 1993 and currently works as a neonatal nurse at Winter Haven's Regency Center for Women and Infants.
When Polk State launched its Bachelor of Science in Nursing degree last year, Stephanie was quick to sign up.
"In today's society, you need a bachelor's degree much more than you did 20 years ago," said Stephanie, who lives with her family in Bartow.
Back in the classroom, Stephanie began accumulating credits, and at the end of this semester realized she had enough to earn her associate's degree in Liberal Arts.
So, she officially graduates with that degree, though she continues along the way to her BSN.
The end of this semester, though, is about Danielle, who is graduating with her associate's degree in Nursing. Like her dad, she dropped out of high school and got her GED. Also like her dad, she plans on returning to Polk, and like her mom, she plans on advancing her nursing education; this time a year from now, she plans on being a student in the College's Bachelor of Science in Nursing program.
But this, her first graduation, the one she's sharing with her parents  — even if they're letting the spotlight shine only on her — will certainly be unlike any others to come.
"I can't tell you how elated I am to be able to start my career," she said.
Polk State College's 107th commencement ceremony will take place at 4 p.m. on Dec. 13 at the Winter Haven Health Center, on the campus of Polk State Winter Haven, 999 Ave. H N.E.