Polk State Aerospace graduate blazes trail to Delta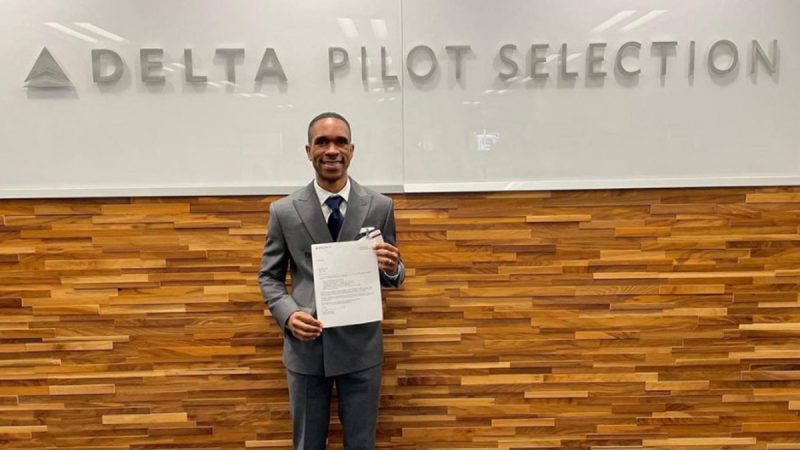 Inspired by a movie based on trailblazers, Ani Olafemi has become one himself.
Olafemi, 31, is the first known Polk State College Aerospace graduate to work for Delta Air Lines. Hired in August, his class date – the day he reported and was issued a plane – occurred on Sept. 13.
Headquartered in Atlanta, Delta is one of the largest airlines in the U.S. and one of the oldest in the world still in operation. According to Forbes in January 2020, Delta was the largest airline in the world in terms of revenue.
"I always had a passion for flight," Olafemi said. "I remember watching The Tuskegee Airmen at 6 and from there, I wanted to be a pilot."
Blazing a trail
The Tuskegee Airmen was a group of Black American fighter pilots, who famously saved fellow servicemen from enemy fighters in World War II. The 1995 movie based on their life and heroics starred Laurence Fishburne, Cuba Gooding Jr., and others.
"I didn't see many pilots who looked like me," said Olafemi, who is Black. "Seeing someone who looked like me in that space really inspired me. The historical mystique and importance appealed to me as well."
According to Zippia.com, only about 1.2% of airline pilots are Black. Olafemi hopes to inspire young Black people interested in aviation the same way the Tuskegee Airmen inspired him.
"I've been fortunate to speak at schools and let kids know that becoming a pilot is a tangible thing," he said. "I've now seen firsthand that I could be a conduit for someone and show that becoming a pilot is something that can be done."
A second career
A native of Tampa, Olafemi has always had a passion for aviation, but as a young adult, making it a profession seemed unattainable.
"When I graduated high school, there weren't that many flight schools around and the ones that were around were just too expensive," he recalled. "My dreams of aviation were kind of shot."
Instead, he decided to enter a field where family members had previously excelled – the fire service. For five years, Olafemi served as a full-time firefighter – two at Polk County Fire Rescue and three Hillsborough County Fire Rescue.
Looking to move up in his field, Olafemi first enrolled at Polk State in the Paramedic Program to pursue a new certification. It was a Hillsborough Fire Rescue colleague who ultimately told Olafemi about the Aerospace Program at Polk State.
"That was a sign for me to try this out," he said. "Polk State had a brand-new program and I figured I'd give it a shot."
Becoming a pilot
Olafemi enrolled at Polk State in August 2016. An original member of the Polk State Flight Team, Olafemi said Jim Spears, then assistant flight instructor, served as a mentor.
"He was always a good person to talk to. It was a great group of guys," Olafemi noted. "Many of us stay in touch."
At Polk State, Olafemi earned his private pilot license and instrument rating. Initially, that was enough to satisfy his desire to fly.
"I wasn't certain I was going to do commercial," he said. "With my private and instrument, it kind of cured my bug."
For more than four years, Olafemi has worked professionally as a pilot. His aviation career began as a medivac pilot for Express Air Medical. Ultimately, he decided to further his aeronautical education and has since earned his commercial pilot license and multiengine rating from Global Pilot Academy.
"At first, becoming a commercial pilot seemed expensive and I was married," he noted. "My wife and I, we talked about it, and we decided this could be a lucrative profession. We scraped our pennies together and here I am."
Polk State's Aerospace Program was ranked as the second-most affordable in the country by Best Value Schools. Olafemi worked as a certified flight instructor over about a year to become a commercial airline pilot. Previous stops prior to Delta include Piedmont Airlines and Atlas Air.
"The most rewarding part for me is having the experience of traveling the world," Olafemi added. "It makes the world that much smaller."
According to the U.S. Bureau of Labor Statistics, the median annual pay for commercial pilots is about $100,000. The number of needed commercial pilots is expected to grow by 13% from 2020 to 2030 – faster than the average for all occupations.
"Polk State really gave me a good foundation and understanding of aviation in general," Olafemi noted. "They really broke down what it was going to take for me to get where I wanted to be. Right now, there's never been a better time in history to become a pilot. We're in the second golden age of aviation."