Polk State Actors Gain Cultural Awareness, Empathy Through "Brighton Beach Memoirs"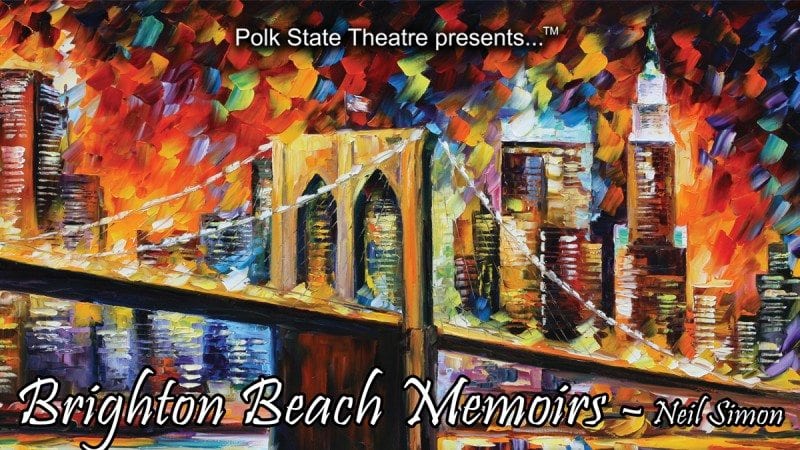 Weeks ago, what Alainna Whatley knew of Jewish culture and tradition had mostly come from the The Nanny, the 1990s sitcom starring Fran Drescher, who rattled one-liners in a thick, nasally New York accent.
Then Whatley tried out for Polk State Theatre's upcoming production of Brighton Beach Memoirs. She landed a starring role, as Kate, the matriarch of the large Jewish family in Neil Simon's semi-autobiographical classic, and along with learning her lines and timing, got a crash course in Jewish family life from director Ilene Fins.
Now, just days before the production opens, Whatley can say what she's learned extends far beyond the stage — and she'll remember it long after closing night.
"This is really the first experience I've ever had with Jewish culture," said Whatley, an Auburndale resident who dual enrolls while also attending Lakeland's Lois Cowles Harrison Center for the Visual and Performing Arts.
"We just get these comical archetypes on TV, but that doesn't give you the ability to really understand people from other cultures. Once you learn something about their cultures and traditions, you start to understand how they're different from you, and also how they're the same."
To prepare her actors for their portrayal of the Jerome family — a large, extended bunch who face all sorts of trials in the years just before World War II — Fins called upon her own family and friends.
A perfect resource was Fins' mother, Caroline, who grew up in Brighton Beach during the late 1930s. Caroline, who now lives in South Carolina, did two phone interviews with Fins' students to give them insights into their characters and life in Brighton Beach at the time of the play.
"It was about giving the students a frame of reference," said Fins, also a theatre professor. "The play was already going to stretch the students because it is set in 1937, but then the food and the culture is also so far removed from the experiences they've had growing up."
Fins has long used the theatre as a means of teaching other subjects. Last year, she headed the Polk State Lake Wales Arts Integration Summer Training Institute, a three-day program for teachers that focused on ways to incorporate the arts into everything from geometry to poetry. She's also dedicated much of her career to using the theatre to improve children's literacy.
Given her prior work, it's no surprise that with Brighton Beach Memoirs Fins saw an opportunity to teach beyond the script. In addition to phone interviews with her mother, Fins also hosted her students for a traditional Shabbat dinner, the Friday night gathering when Jewish families light candles and begin their weekly day of rest.
"We had matza ball soup and brisket. I wanted to convert," said Whatley, a lifelong Baptist, adding on a more serious note:
"The dinner was really helpful. There is a dinner scene in the play. I feel like after our own Shabbat dinner, the dynamics between my fellow actors and me changed. We have a deeper relationship and it makes for a more authentic performance."
Playing patriarch Jack in Polk State's rendition of Brighton Beach Memoirs is Matthew Pyle, a Lakeland resident who plans on graduating with his Associate in Arts degree later this year.
Pyle too said experiencing a real Shabbat dinner — and getting to talk to Caroline during it — deepened his understanding of the play's dinner scene.
"One of the things that was really funny is we got to ask Caroline if her family ate liver and cabbage. There's a part in the play about how terrible liver and cabbage is. Caroline said that it is awful, and that she and her family called it a 'medieval Jewish torture,'" he said.
"Knowing that, and getting to hear how she talked about it, it adds a lot more realism to the dinner scene."
The Shabbat dinner, and getting to know Fins and her family and friends, has created in Pyle a deepened understanding of his own Jewish friends.
"I've known some Jewish people for a long time," he said. "But now, playing a Jewish person, and learning what I have, I feel I understand them a little better. There's a connection that was not there before."
Fins said instilling empathy for others — no matter their religion, race, age, or background — is at the heart of the theatre, and it's the ultimate lesson she hopes each of her students learns.
"The theatre teaches us about human beings and the human condition," she said. "This play has not necessarily been about learning Jewish culture. It's been about learning to empathize with others. Everyone has a story, and a big part of being an actor is getting out of yourself and into someone else's shoes. We have to learn to think beyond ourselves."
Polk State Theatre will present Brighton Beach Memoirs Feb. 5-8 and 11-14 at the Polk State Winter Haven Fine Arts Theatre, 999 Ave. H N.E.
Tickets for Polk State students, faculty and staff are free with College-issued ID. Tickets for the general public are $8. The Feb. 5 show is a free preview.
All shows are at 7:30 p.m.
The cast of Brighton Beach Memoirs includes:
Isabella Coterillo, as Laurie, Lakeland
Ashley Kochenburger, as Blanche, Lakeland
Zain Mann, as Eugene, Bartow
Matthew Pyle, as Jack, Lakeland
Alayna Shumate, as Nora, Auburndale
Jacob Thomas, as Stanley, Auburndale
Alainna Whatley, as Kate, Auburndale
In addition to Fins, the crew includes:
Alisha Bermudez, assistant stage manager and run crew
Kaylee Bledsoe, property manager and run crew
Paul Carbonell, producer
Lizett Echevarria, stage manager and soundboard operator
John Ettinger, sound designer
Mark Hartfield, production manager
Orlando Mora, lighting designer
Stephen Packard, set designer
Caleb Redman, run crew
James Sharp, technical director
Cordell Timmons, assistant stage manager and light board operator
 In addition to Polk State Theatre, Polk State Fine Arts include Music and Visual Arts, all of which enjoy outstanding statewide reputations.