Teaching the Teachers: Polk State Institute Helps Educators Integrate the Arts Into Lesson Plans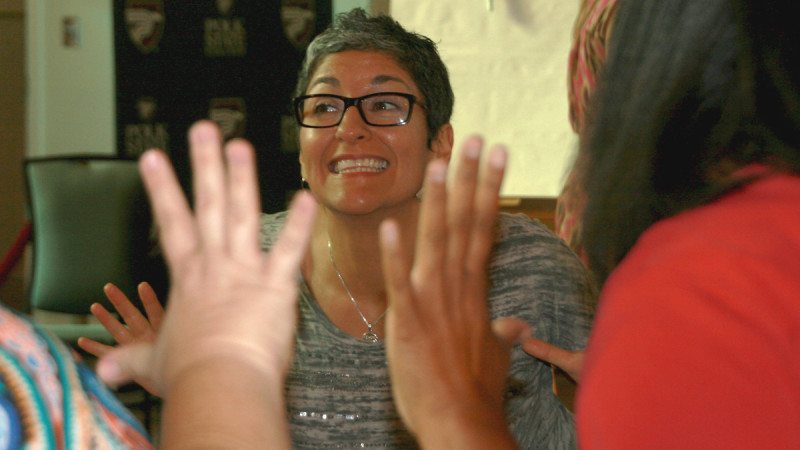 In the sanctuary of the Polk State College Lake Wales Arts Center on Wednesday morning, more than 30 teachers lounged on the floor, stared at the ceiling and listened to hip-hop music.
A last bit of summer laziness before the school year resumes? Hardly.
These teachers are the first participants in Polk State Lake Wales' Arts Integration Summer Training Institute, a three-day program focused on using the arts to teach everything from geometry to poetry.
Educators and artists from Polk State and across Polk County are leading the Institute, and say participants will leave with fresh perspective on engaging their students when school starts again Aug. 19.
"In no uncertain terms, we're trying to change the world," said Polk State Lake Wales Arts Center Director Osubi Craig.
"Teachers are the most direct link to our young people, they are some of the most influential people in their lives. We want to keep the educational approach fresh and new, and engaging and joyous for the students and the teachers. Through this program, we're giving teachers the toolbox to help their students absorb information in new ways."
Speaking of "new ways" of presenting information, take for instance Wednesday's opening activities.
The teachers began the day by introducing themselves to one another — but instead of handshakes, they used full-body gestures. All around the room, arms flailed, hips shimmied, feet shuffled — one participant contorted her body in a way that would challenge even some yoga students.
The point of the exercise, said Polk State Adjunct Professor Ilene Fins, who is teaching in the Institute, was to promote creative thinking and foster a safe environment for self-expression. It didn't hurt that it also got the participants up, moving, and having fun.
For all those reasons, Susan Yolmeh, a fifth-grade teacher at Spook Hill Elementary, said she will use the exercise in her own classroom on the first day of school.
"It will be a great way to start a new day and a new school year," she said. "It allows the students to show their strengths in a positive way, and it's something anyone can do no matter their ability levels."
After their full-body introductions, it was time for the teachers to lie down on the floor and listen to Sean Combs' (aka Puff Daddy, aka P. Diddy) late-1990's hit "I'll Be Missing You," about the loss of his friend and fellow rapper Notorious B.I.G.
The song, and the images and words that came to mind as the teachers listened to it, were used to introduce a discussion about, believe it or not, Shakespeare.
"Rap is poetry, just like Shakespeare," Fins said. "They both use words to express emotions."
For young students, the lesson, pulled from the Kennedy Center's Arts Edge, an online source for arts integration resources, makes important connections, bringing something even as foreign as Shakespeare home.
By the end of the program on Friday, the participants, who teach every grade from kindergarten to high school, will have learned ways to incorporate dance into subjects from math to language arts.
They will also have completed an activity led by Jaci Hanson, a longtime arts educator and author, in which they will draw images that come to mind while listening to a poem, a lesson that teaches vocabulary, reading comprehension and editing.
Participants will also be introduced to various arts integration resources — like Arts Edge — and brainstorm with one another and their instructors on ways to infuse the arts into their existing lessons plans.
It will all add up to new ways of teaching that just may make all the difference in the coming year, said Jeremy Henry, who teaches theatre at Jewett School of the Arts and is also an instructor in the Institute.
"We want them to start thinking about ways to start engaging their kids through things the students might find enjoyable, but that still allow them to carry out their lessons," Henry said.
"If you can do that, the kids forget they're learning. We want to create lifelong learners, and you can't do that if the kids are thinking in terms of 'I have to.' It has to be, 'I want to.'"
In addition to Fins, Hanson and Henry, the Institute's instructors include Shelley Bourgeois and Laurel Renfroe, dance teachers at Lois Cowles Harrison Center for Visual and Performing Arts in Lakeland.
Two days into the program, Brannan Lawson, a visual arts teacher at Hillcrest Elementary School, said she was full of new ideas for the coming year.
"I'm excited to go back to my fellow teachers and show them that arts integration doesn't have to be extra activities you add on to your day. It can be easily incorporated into any subject or any lesson," she said.
Nancy Leatherland, a physical education teacher at Hillcrest, said another huge benefit of the Institute has been the bringing together of educators who may otherwise not interact.
"It's been a great team-building experience. I have new people that I can contact if I need an idea or want to bounce something off of," she said.
Craig will also be gathering the teachers' thoughts on future programming at the Polk State Lake Wales Arts Center that would support the instruction they deliver.
In Lake Wales, Polk State operates the Polk State Lake Wales Arts Center, 1099 State Road 60 East, and the Polk State JD Alexander Center, 152 E. Central Ave.