"Yessssss": Kids from Across Polk Flock to College for All Kids Read Event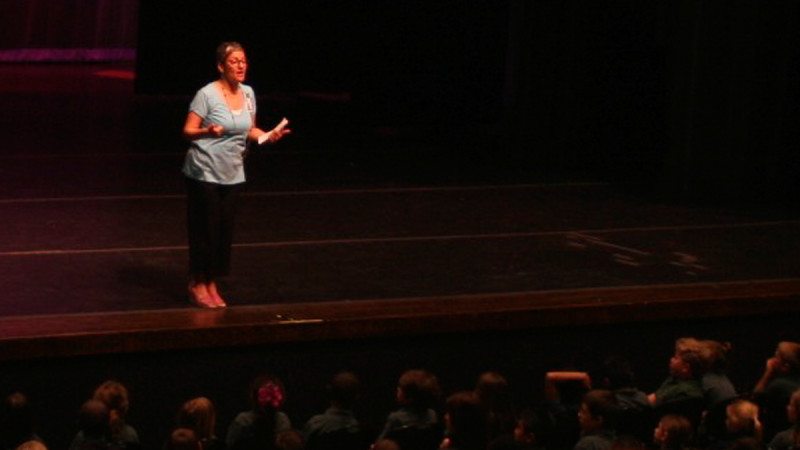 It's been a week of firsts for more than 3,600 second-graders across Polk County — their first visit to a college campus, their first live theatre performance, and for some, maybe even the first time they've seen reading as pure fun.
The students traveled to Polk State Winter Haven on May 1, 2, and 3 for "All Kids Read with Polk State," during which Polk State Theatre students performed four children's books.
The books had all been selected through collaboration with the Polk County Public Schools, ensuring the second-graders had already studied the books prior to visiting the College.
The Polk State students' job was to make the books come to life on stage.
Judging from the reactions on Thursday morning, the students succeeded beautifully.
More than 600 students from Elbert, Highlands Grove, Lake Alfred, Lena Vista, Lincoln Avenue, and Palmetto elementary schools filled the Polk State Winter Haven Fine Arts Theater.
Waiting for the show to begin, they played hand games, bounced in their seats, and excitedly chattered about what would happen on the stage — not a movie, they understood — but what?
Just prior to the show, Polk County Public Schools Senior Coordinator of Library Media Services Jacqueline Rose asked the kids how many had never before been to a college campus.
Nearly every hand in the theatre shot into the air.
Pre-show formalities taken care of, it was finally show time. Polk State students first performed Memoirs of a Goldfish, about a goldfish that wants his personal space, but loves his friends, too. Next up was The Day Dirk Yeller Came to Town, about an outlaw who discovers the joy of reading, followed by One, about feuding colors who come to accept their differences, and The Sneetches, a Dr. Seuss classic about the costs of prejudice.
During each performance, the excitement in the theatre was almost tangible. Students, anticipating the funniest lines of the books, leaned forward in their seats. They pumped their fists in the air. Many an excited "yessssss" was hissed between friends. The children even interrupted The Sneetches with a round of applause when an especially favorite line was performed.
Later, as the kids boarded busses back to their schools, their teachers were thankful for all the new experiences of the morning.
"When we read to them in class, we tell them to picture what's happening in the book," said Stacy Davis, a media specialist at Lake Alfred Elementary. "But this morning, they got to see it come to life."
Added Heather Hensley, a teacher at Lena Vista Elementary:
"These kids don't get exposed to this sort of stuff very often — to theatre and the cultural arts. This was very exciting."
Polk State Theatre Adjunct Professor Ilene Fins organized the event and assigned the performance as the final exam for students in her Oral Interpretation class. The assignment, she explained, served multiple purposes — to stage a performance that will encourage children to read over the summer and also to teach her own students about the power the theatre has to influence lives.
"Theatre can make reading more fun. It engages the full imagination and all the senses. It's a great way to get people excited about learning and imagining," Fins said.
Fins' students will stage their performances again at Saturday's All Kids Read with Polk State College Festival from noon to 3 p.m. on Saturday at the Polk State College Lake Wales Arts Center, 1099 State Road 60 East. That event, which will also include children's performances, face painting, a professional dancer, a balloon artist and book readings, is free and open to the public.
In addition to Polk State Theatre, Polk State Fine Arts includes the College's Music Department. Both the Music and Theatre departments enjoy outstanding statewide reputations.