Polk Metallica Scholar finds inspiration at home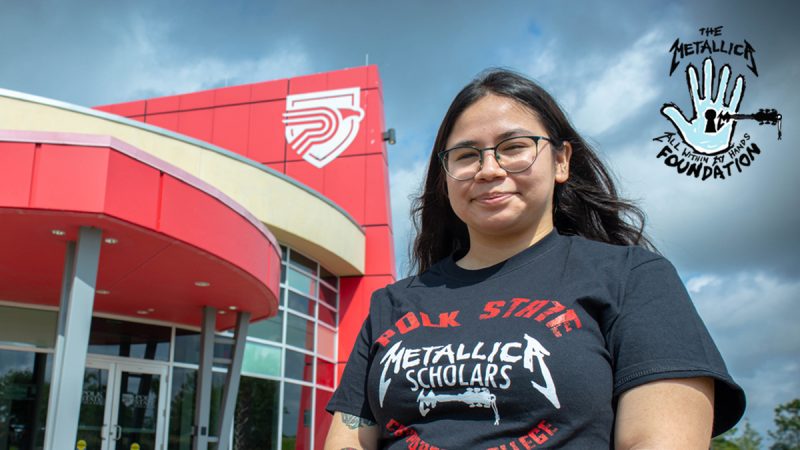 For inspiration to pursue a career in machining, Nidawi Collom didn't have to look beyond the walls of her own home.
Collom, 24, of Wauchula, was persuaded by her husband, Doyle, to apply for Polk State College's Metallica Scholars Program, which provides opportunities for students to receive computer numeric control (CNC) machining training at no cost thanks to a grant from Metallica's All Within My Hands Foundation in partnership with the American Association of Community Colleges. He had recently completed the high-intensity, eight-week course in the CNC Machining Program at Polk State's Clear Springs Advanced Technology Center in Bartow and thought she could as well.
"Ultimately, what led me here was my husband," Collom said. "He took the class first and he really enjoyed it. The experience he got out of it, in his words, was amazing. The amount he learned in a short amount of time was outstanding and it was very impressive to me. It didn't take very much for him to convince me to jump on board as well."
The legendary metal band Metallica's All Within My Hands Foundation aims to build sustainable communities through supporting workforce education, critical local services and in fighting hunger. In 2020, Polk State was selected as one of 15 schools to originally participate in the program.
"The most rewarding thing about the program, so far, has been the enormous amount I've learned in such a short amount of time," Collom said. "It's interesting to see that I've been able to pick up so much so fast compared to a normal classroom setting."
Trading Medicine for Machines
Born in Sebring, Collom saw herself working in the medical field from a young age. And for about a year, she did. This isn't her first time attending junior college or trade school.
Collom previously completed the certification course at Southern Technical College in Auburndale to become a medical assistant. She worked briefly as a medical assistant at a small family-owned office. After her hours were cut, she decided to follow in her husband's footsteps.
"My biggest inspiration was my husband, because he came to class before me," Collom said. "Seeing that he could do it really gave me a push."
Collom said her family was surprised by her new ambition but has been fully supportive. Her father, Albert Ortiz, has always been handy, especially with wood. For the first time, Collom said, she's able to talk about tools with her dad.
"I'm realizing my own capabilities in a field I had not had hands on prior to," Collom said. "All of this is completely new to me. Seeing as I'm able to jump in it and do as well as I'm doing is really rewarding."
Polk State and Metallica Provide a Path
Collom has seen the difference firsthand that Metallica's initiative and the CNC Machining Program can make. Prior to the program, her husband was working at a gas station. Inspired to do something greater, he's now working in the field at Ferrera Tooling in Lakeland. For the couple, machining is now a common interest and a topic of conversation at home.
"Since he's in the field working, he tells me about what parts he saw that day," Collom explained. "He'll tell me if he ran a machine or crashed it. Some of the stories are very funny, but we do compare notes."
Collom is happy to receive support at home and she appreciates the support at Polk State as well. The CNC Program is led by James Gibbons, who arrived at Polk State with 40 years of experience in the field. His tutelage, Collom said, can be unconventional, but it works.
"He's a great teacher," she said. "He's very supportive. He's got a very different teaching style, but it's very effective. Compared to my other instructors, he's probably the best. That's not an exaggeration."
The eight-week course can be strenuous, she added. Classes meet five days per week and usually take up most of the day. Homework can also be extensive, but in the end, Collom thinks it will all be worth it.
"It hasn't been easy," she said. "There have been things that I wanted to do that I missed out on, because I realized that this takes importance."
Collom said the entire staff at Polk State has been friendly. Set to complete the course in early May, Collom sees her confidence growing as the days go by and she becomes more comfortable with the machines.
"If I had the chance to say something to a future student, I would say, 'go ahead and take the class,'" she said. "Do not be intimidated because you see the machines. They're not scary at all. They're actually very fun. You learn a lot and the opportunities after you complete the course are enormous. It's well worth it."
Collom said she hopes to specialize in the lathe – a machine that rotates pieces for cutting, drilling, or sanding among other uses — or the mill, which is used for cutting or carving. Without Metallica's generosity, Collom acknowledged that she likely would have never have this opportunity.
"I would like to say, 'thank you' to Metallica," Collom said. "I appreciate the opportunities you have given myself as well as the others around me. It's very generous. For that, I myself, and I'm sure everyone is very grateful."
The next class of Polk State Metallica Scholars will begin on May 9. More information is available at www.polk.edu/metallica.